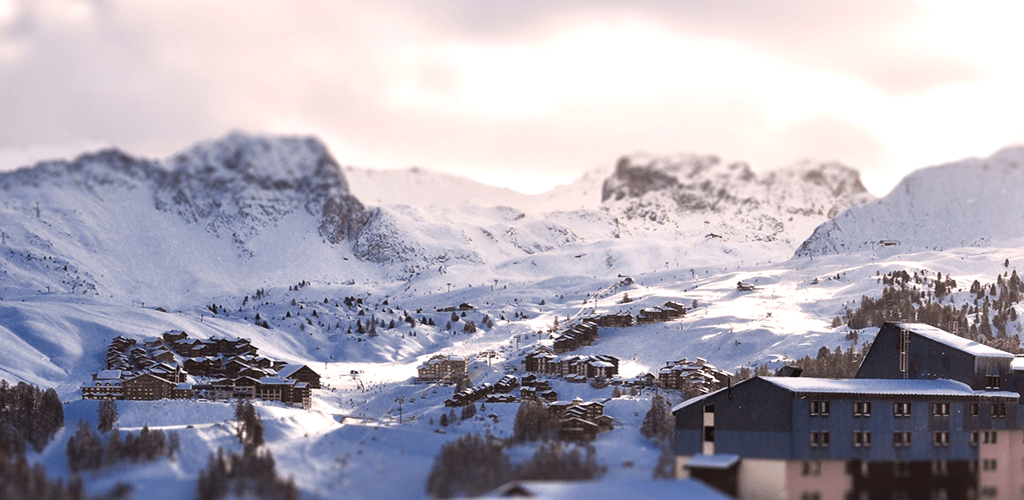 La Plagne's growth from seedling to forest
A land of forest covered mountains surrounding a sunlit plateau with smoke gently drifting from clusters of timber chalets and barns. La Plagne was once a small rural collection of hamlets with a modest lead mine in the area of the modern resort of La Plagne 1800. Development grew apace from the discovery of silver in the lead mines around the slopes. Along with farming La Plagne grew into clusters of villages around and below the high plateau amongst the trees. At the turn of the 20th century as the population grew & the world around was changing the younger generation started to look for jobs in the city. The urbanisation trend of seeking modern lifestyles and prosperity meant that the population of La Plagne as with many Alpine villages at the time, started to deteriorate.
In 1960 the La Plagne towns of Aime, Bellentre, Longefoy and Macot came together to create an association to protect the interests of the area. Dr Borrione, mayor of Aime, oversaw the development of La Plagne's first ski lifts at Aime in 1961. With just 2 drag lifts it was a small start but the dwindling community began to recover. Our article on La Plagne's history and development looks at this in more detail.
La Plagne has an interesting history that spans back through the ages. You can still find parts of the old Alpine culture amongst the mega resort it is today. Aime is now the place to go to soak up La Plagne's history. There's the Basilica of St Martin which has a colourful history and is full of beautiful sculptures and frescos. Then there's the Musée de Pierre Borrione which exhibits the local history back to the Gallo-Roman era with roman relics and Baroque art amongst it's interest range of artefacts.
The Super Resort
La Plagne can't only be described as a resort as it's more like a cluster of resorts, all interlinked and unique. There are 11 villages in all, across 750m of altitude suiting a whole range of abilities and tastes. The central resorts, Plagne 1800, Plagne Bellecote and Plagne Centre, are the ideal places to be for great access to La Plagne's pistes, shops, bars and restaurants. This is where the treeline begins so you'll find some amazing tree lined pistes on the runs down to Plagne Montalbert as well as wide open pistes on the slopes above.
There are also the higher villages of Belle Plagne & Plagne Soleil. These are all above the treeline outside of the central resort group each modern developments with good access to the ski area.
The La Plagne domain is enormous & yet is only part of Paradiski, below you'll find a La Plagne piste map showing the various villages. Look out for the Vanoise Express on the left just up from Montchavin (yellow dashed lines), this connects you to Les Arcs and the rest of Paradiski.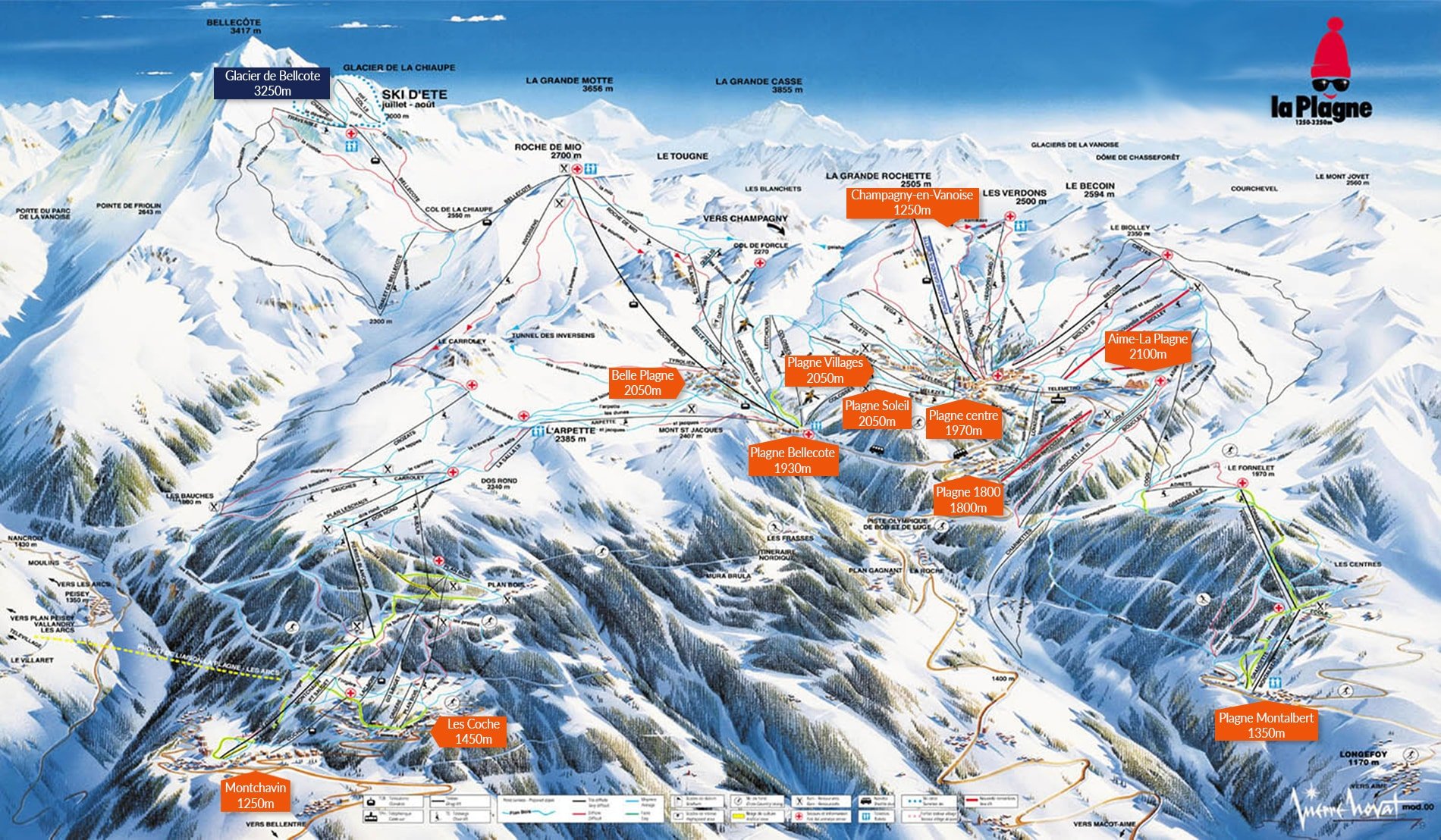 View bigger version View large piste map View Paradiski piste map
Resort Stats & Info
Gallery
We took some pictures to share the beauty and variety La Plagne has to offer.


Just click on the pictures to view a bigger version.
Pistes for all abilities
La Plagne is one of the biggest resorts in the Alps, its pistes vary from mysterious tree lined runs, with sharp twists and turns with steep forests dropping away at the sides, to wide open slopes glistening under the sun with vast powder fields beside. You can descend from the highest peak in Paradiski, Bellecote at 3417m (ski from around 3250m) to the resort of Montalbert at 1350m that's 1900m of skiing altitude.
The slopes are so varied that the resort is perfect for skiers and snowboarders of a huge range of abilities and tastes, cruisers, adrenaline junkies, off pisters, carvers… the list goes on. There's also several snow parks to test your skills and plenty of space on the slopes, even when it's busy you just need to take care when there's ski schools around.
The excellent piste maintenance in La Plagne keeps this wide variety of slopes fresh with thick snow throughout the season dealing with fresh dumps quickly and using snow reserves if snow levels drop.
Skiing the pistes in La Plagne
Rochette (Red run)
Take a look at these videos for some of the amazing views from the piste of La Plagne. The run from La Grande Rochelle at 2505m down to Plagne centre has several off piste areas and easy couloirs, it's also great for spring skiing.
The Tunnel (Blue run)
From Roche de Mio to Belle Plagne is a beautifully scenic run, without being tested your mind is free to soak up the glorious views with lots of excellent places to stop to take some photographs or have a drink.
Paradiski
Although La Plagne offers a complete package with everything you need in a ski or snowboarding holiday. Some want to work up the kilometres on the skis and for those keen enthusiasts there's the entire Paradiski ski area to explore.
As the second largest linked skiable domain in the world Paradiski has 232 pistes of all levels clocking up 425km, 263 hectares of man-made snow, 2 glaciers over 3000m high and 70% of the skiable area is over 2000m high.
La Plagne sits within the Paradiski domain and has two main neighbours, Les Arcs and Peisey-Vallandry.The three resorts sit in a chain over 3 ridges of mountains. You can access Peisey-Vallendry using the Vanoise Express, a double decker cable car which takes just 4 minutes to span the beautiful mountain side between Les Coche and Vallandry. From there you access lifts to climb the mountain and ski or snowboard down into Les Arc.
Staying in La Plagne
La Plagne has plenty to offer most skiers and snowboarders from warn and authentic wooden chalets to functional and budget friendly self catered chalets. Chalet Perle, for example, is a detached catered chalet nestled on a tree covered slope overlooking Plagne 1800. Surrounded by other wooden chalets, the area has a real alpine feel, it is right on the piste and has amazing views from the outdoor hot tub.
La Plagne does a fantastic job of offering great facilities, fantastic skiing and varied accommodation to suit a range of budgets, although those looking for extreme luxury might have to go elsewhere. Budget seekers should look towards Montalbert, where we have the Montalbert apartments, a range of 4, 5, 6 and 8 person self catered apartments on the slope at the top of Montalbert. Ski from your door down to the ski lift which will bring you into the varied La Plagne pistes.
If you want to be well looked after after your days skiing then why not look at our catered chalets in La Plagne. We have fully catered chalets for 8 – 10 guest which can be booked as whole chalets or by the room. Our chalets benefit from fantastic locations and first class service from our friendly chalet hosts.
The best of La Plagne
The chair lift between Belle Plagne & Plagne Bellecote stays open till midnight during the ski season (normal chair lifts close at 5pm)
The tree lined runs from Plagne 1800 down into Montalbert are the some of the best in the area.
Plagne Centre, Bellicote and Aime-La Plagne are the biggest of La Plagne's villages with more facilities but tend to get busier.
Bar La Mine is a great pub in La Plagne 1800. With live sports, bands, great food and good prices it's a great place to be in the evening.
Bowling de La Plagne, in Belle Plagne, is a bar/restaurant cum bowling alley/live sports pub. With something for everyone this place is a must have on your visited pubs list.
Le Forperet is a beautiful standalone piste side pub restaurant with charm and sophistication. With its own farm adjacent this is a self sufficient business producing a range of delicious mountain goods.
Le Loup Blanc is a lovely little restaurant in La Plagne 1800 serving delicious food from a varied menu 11am till 11pm, they do takeaway and on Wednesdays, which is most chalet hosts night off, they take just 20 minutes to cook a pizza (other restaurants had 1h waiting times!)
The Pros and Cons of La Plagne
Pros
Cons

Not a huge number of difficult pistes.

Some great, easily accessible powder.

Not many very steep runs.

Quiet compared to Les Arcs.

Architecture isn't very pretty (but is lovely in some places).