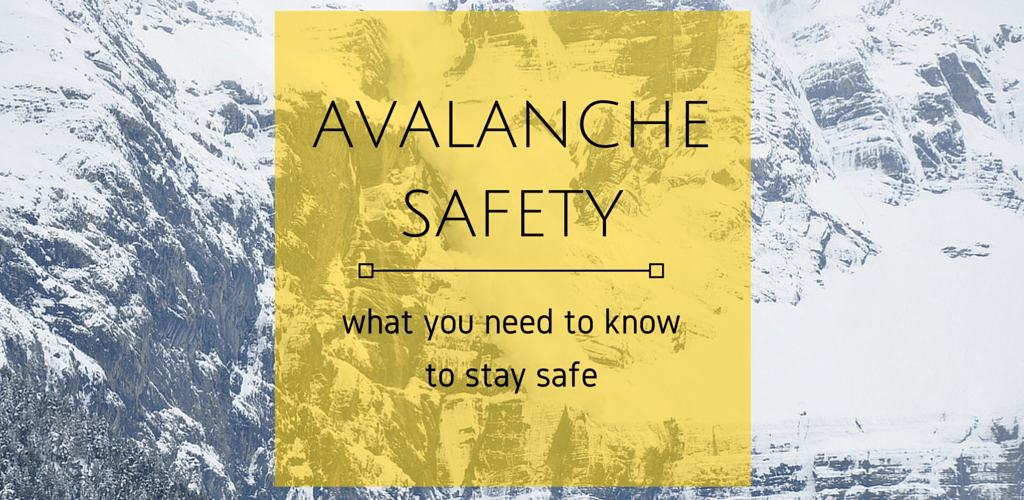 As we're sure you'll have seen across the news, January 2016 was a terrible month for avalanches in Europe.
Avalanches are dangerous and should not be underestimated, which is why it's always important to refresh your knowledge of how to stay safe on the slopes. Read our guide to avalanche safety below for a refresher of the essential knowledge that will ensure you don't put yourself at risk, which we know is all part of having a great ski holiday!
Avalanche risk if you're skiing on marked runs
Major thaws and heavy snowfall are what increase avalanche risk. Marked runs are well maintained, which is why they are much less likely to occur on the green, blue, red and black runs. You have the 'Securité des Pistes' (piste rescue services) to thank for making them safe.
So there is no real danger from avalanches on the marked runs in Europe, but they can occasionally occur next to them and even more rarely on them – nothing is guaranteed. However it is when you go off-piste that you really have to be aware as the area is no longer secured.
Avalanche risk if you're skiing off-piste
In Europe, skiers and snowboarders are completely free to go off-piste, so it is very much the individual's responsibility to ensure you are ready to handle off-piste skiing. It is great fun to go off-piste, and when staying in our ski chalets in La Plagne you'll be close to some great opportunities, but always be wary.
If you're ready to get stuck into some awesome off-piste skiing, there are 3 steps to ensure you're prepared for the avalanche risk that comes with it:
1. Is today a good day to go off-piste?
The first step is the most important – ask yourself: should you go off-piste at all? Are the conditions right? Find out before you make any plans by checking the electronic notice boards in every resort. They will give you the most accurate and recent information about avalanche risk levels.
In European resorts this is the European Avalanche Hazard Scale they use, an easy-to-remember colour-coded flag system. The score of 1-5 indicates how unstable the snow is likely to be. Unstable snow combined with the disturbance of off-piste skiers is what causes 90% of avalanches, so take this into account when deciding.
| | | |
| --- | --- | --- |
| FLAG RISK LEVEL | AVALANCHE RISK | RECOMMENDATIONS |
| 1 – LOW | Safe conditions in general. Avalanches are unlikely, although can be triggered by groups. | Essentially no restrictions to off-piste skiing. |
| 2 – LIMITED | Large and spontaneous avalanches not expected. May be triggered by groups and on identified extreme slopes. | Generally good, but select your route with care. |
| 3 – CONSIDERABLE | Triggering by individuals is possible. Spontaneous avalanches may also occur. | Only to be carried out by experienced off-piste skiers with avalanche training. Avoid certain steep slopes. |
| 4 – HIGH | Triggering is likely by individuals and on many steep slopes. Medium and large spontaneous avalanches likely to occur. | Only ski on low-angled slopes. |
| 5 – VERY HIGH | Large, spontaneous avalanches can occur on all gradients. | Do not ski off-piste. |
2. Things to bear in mind when skiing off-piste
So you've decided to ski off-piste, great! You've got to your start point and are ready to get stuck in, but take a second to bear these things in mind when planning your route down:
Avoid skiing on the windward side – when snow is blown by the wind from one side of the slope to the other, it can cause a build-up of loose snow.
Steeper slopes are the most risky – slopes that are 30-40°, pretty much a red or black piste in comparative terms, can encourage snow to slide. On slopes that are a lot steeper it will a) be too steep to ski, and b) snow will not build up in such large amounts.
Be aware of potential hazards below – trees, rocks and cliffs can all cause injury if an avalanche pushes you down the mountain.
Go one at a time – if you're skiing off-piste in a large group, make your movements one at a time to lessen disturbance of the snow.
3. Improve your chances of survival
If the worst comes to the worst, having the right gear can make all the difference. We recommend the following as essentials:
Avalanche transceiver – go for a digital transceiver and whatever you feel is easiest to use. These are worn by individuals and give out a signal continuously. If there is an avalanche and some members of your group can't be seen, turn yours to receive rather than transmit to find them.
Collapsible avalanche probe pole – this will help you measure the depth of anyone who is buried under snow and find their exact location. A 2-metre pole is recommended as the minimum length.
Collapsible shovel – time is of the essence when the supply of breathable air is limited. A shovel will speed up the time it takes to remove the snow covering an avalanche victim.
You should also consider inflatable air bags, which can also help but are more expensive.
For more information on avalanches, check out Henry's Avalanche Talk – he's an expert with over 20 years of mountain experience.
Image Credit: Sean Gillies (flickr.com)