Catered Special Offers
We have a range of catered chalet deals!
Book before 15th Nov!
Note: You can combine these offers with our environmental travel discount (see below)
14th December
La Rosiere – Free full area pass for all paying guests in The Penthouse and Chalet Valeriane
La Plagne 1800 – 50% off the full normal price of a La Plagne lift pass for all guests staying in Chalet Ammonite and Chalet Boule de Neige
Courchevel Le Praz Trial week in Chalet Louis, at only £299pp! (A lift pass must be bought form Mountain Heaven Ltd for all guests staying in this chalet)
21st December
50% off all lift passes for the following chalets/resorts:
4th, 11th and 18th January
Free local area pass on all bookings in La Plagne 1800, Courchevel Le Praz
View chalets in La Plagne 1800
View chalets in Courchevel Le Praz
50% off lift passes in La Rosiere and Morzine
View chalets in La Rosiere
View chalets in Morzine
All other dates
Free party leader lift pass and party leader place for all whole chalet bookings (excludes 15th February and 4th April weeks) when all other members of the party purchase a full area lift pass at the time of booking
Terms & Conditions: Applies to new bookings only. Upgrades available to the full area pass at the in resort pp price difference. No discounts available on any bookings e.g. child discounts etc. (excludes the environmental discount). This offer may be withdrawn at any time without notice. All catered Lift Pass offers are available only on full price holidays. All the above catered offers expire on the 15th November 2019
Mountain Heaven Environmental Travel Discount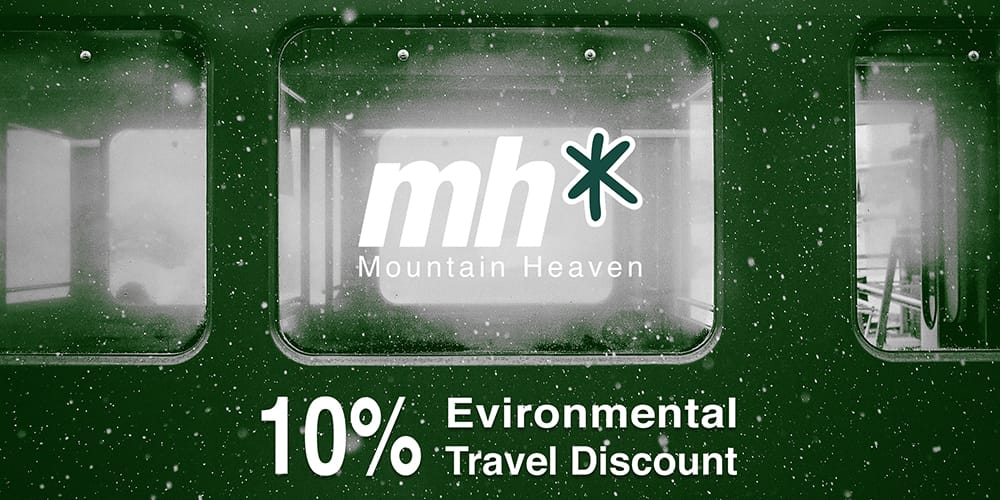 Until further notice Mountain Heaven will be offering a 10% discount to all of our catered guests who travel by train.
In 2018 air travel contributed 2% to the whole planet's CO2 emissions. Of all our optional purchasing choices, air travel is one of the most damaging to the environment. When we go skiing, a flight to the Alps and back will typically generate more carbon than the entire rest of the holiday put together including running of the ski lifts, transfers, meals and keeping your chalet warm.
Train travel produces much less CO2 than air travel or driving, often as little as 10% of a flight and at least half a car journey even if you share with a group. There's no doubt train is by far the most environmentally friendly way to visit the Alps from the U.K. Check out this article to out more about the benefits of getting the train to your ski holiday.
Mountain Heaven care deeply about the environmental impact of skiing. We want to encourage as many of our guests as possible to take the option of travelling by train and to achieve this we're putting a standing discount in place for all our catered guests.
The Offer
From this day forward (24th Sept 19) anyone who books a catered holiday with Mountain Heaven and is travelling by train will receive a 10% discount from the cost of their holiday.
The rules
You must not fly at any point in your journey
Transfers to and from the train stations are the only permitted road travel as part of your journey
You must travel from your home country to your local resort destination by train
You CAN combine this offer with any other Mountain Heaven offer. For example if we have a free lift pass offer, you can get that AND your 10% off if you also travel by train
This applies only to Mountain Heaven catered holidays booked after 24th Sept 2019
We reserve the right to remove or amend this offer in future
Bookings by phone only
Why not follow us on Facebook so you don't miss out on our news and offers?