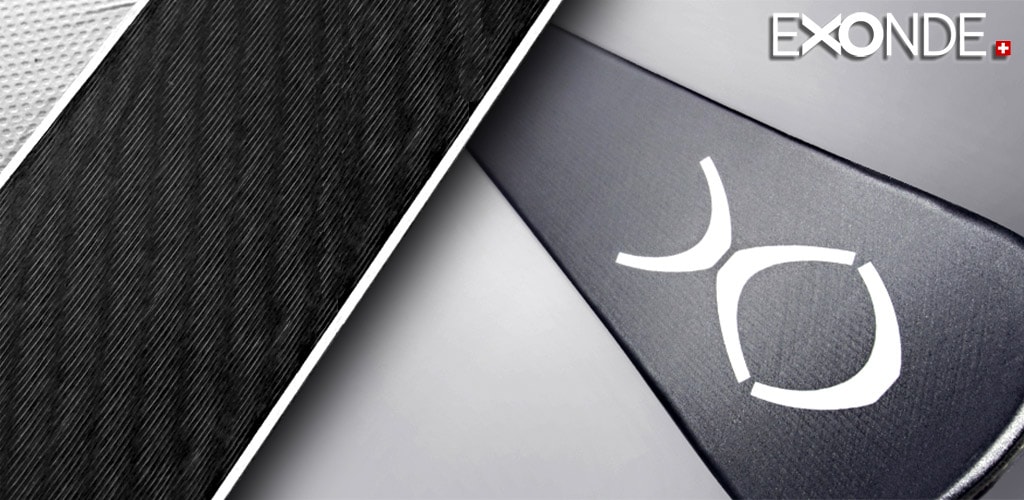 Our review of this ground breaking lightweight ski
The basics of modern ski construction are a wooden core sandwiched with fibreglass and a laminate top with metal edging along the sides. These days performance skis come in many forms and exhibit a range of design philosophies. Increasingly we see space age materials, integrated binding systems and metal layers in the core employed in ski construction pushing the envelope in the search for greater performance.
In this article we look at skis developed with a unique philosophy in the Swiss Alps by the craftsmen at Exonde. They use the best of traditional ski materials, a design honed by experience and manufacturer them with an incredible attention to detail. Exonde recently released the X.O, a high performance lightweight ski that bends the rules of traditional thinking around lightweight skis.



Since I first picked up a pair of the X.O from our friends at

Olympic Sports

they felt like something special. I was so impressed I talked to the company themselves. I found it easy to relate to a small company like us working to make an excellent ski product and although they're not cheap at €950 a pair they're worth every penny. If you want to give them a try why not book a week in one of our

chalets in Courchevel

, Olympic will have them ready just 100m from the chalet and you'll not regret it

Nick Williams | Mountain Heaven
The X.O is sharp and responsive and yet forgiving, being 30% lighter than the equivalent traditional skis they are less tiring on the legs and give a skier increased agility in the turns. In a recent review with Snow Magazine they were described as 'very strong on the edge' and yet 'super fun and super supportive'. Lightweight skis are traditionally unstable and 'flappy' at higher speeds and have always been seen as a compromise between the benefits of agility and the drawback of instability. Remarkably the X.O skis bend this rule and provide outstanding stability and resistance to vibration and keep cutting a strong steady line even at speeds well in excess of 50mph.



We cut all materials with precision to a hundredth of a millimetre.

EXONDE
Just as remarkable is how they've achieved this. Rather than adding new ingredients to the recipe, they've simplified, perfected and taken away. Exonde have gone back to the roots of ski construction with a simple mantra 'Simplicity, efficiency, lightness'. The X.O contain no binding plate in the sandwich and no metal in the core.
When asked how they have achieved this magic recipe they told us



It's common thinking that to be stable a ski has to be heavy. In fact until now light skis were synonymous with instability. With the X.O we wanted to prove that a low weight ski can be very stable even at high speed. To absorb and lower those vibrations, we worked the same way as the pioneers did in the 60's: adjust wood cores and fibreglass layers trying to find the best mix of flex, torsion and camber – of course, with the advantage of working with much higher precision machines compared to 50 years ago!EXONDE
In the style of a Swiss master watchmaker, Exonde combine precision design with high quality materials to achieve an optimal result of both grace and performance. The versatility of the ski allows it to handle any terrain and is appropriate for any skier who is at the intermediate level and above. The shape and balance of the core materials was developed and honed over the course of a year in Zermatt to get the perfect balance and performance across a range of conditions and speeds. Exonde believe it is their attention to detail that sets the X.O. apart from other skis: "Our secret Swiss recipe works only because we use the best wood, the best fibreglass, the best glue, the best base. We cut all materials with precision to a hundredth of a millimetre."
This small company is discerning in the extreme, with a limited amount of skis produced each year, X.O. skis are only stocked by ski shops of the highest quality or specialist rental shops. The quality and care of each ski may limit the amount of pairs produced, but Nick from Mountain Heaven really believes that this is what sets them apart: "I have been skiing for 40 years and these are the best skis I have ever skied on, so much so that I bought a pair when I actually don't really ever need to buy skis, as I can always hire high quality skis from one of our in resort partners."
Despite their customers' excitement, Exonde are adamant that they merely improved on the technology already available: "We did not invent anything. We just took the most efficient ski construction [around] since 60 years [ago] and tried to push the limits in terms of lightness and precision of work. This came without any compromise on performance, as we all have racing backgrounds at Exonde." Whether this classes as innovation or improvement, the X.O. is set to alter opinions and attitudes thanks to Exonde and their Swiss partners Montana in addition to giving their customers enormous satisfaction on the snow.
Where can I have a go on the X.O?
We can confirm that the X.O skis are stocked at our partner Olympic Sports ski hire shops in the resorts of La Rosiere, La Plagne Montalbert and Courchevel. If you're booking with us check out our Equipment Hire page or talk to Olympic Sports.
Take a look a these fantastic skis in action