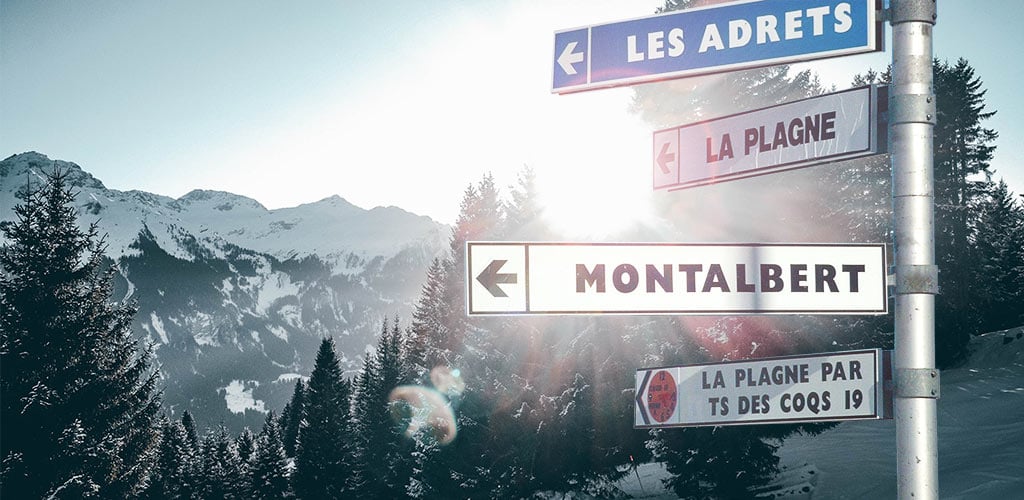 Sitting at 1350m amongst wooded slopes is the lovely resort of La Plagne Montalbert, it's a laid back, peaceful & relatively compact resort with great connections to the rest of the pistes of La Plagne and the entire Paradiski area. Those connections finally got even better with the eventual opening of the Les Envers chairlift. We've also discovered a gem of a restaurant, opened just a few years ago Union in Montalbert is not to miss.
As we look forward to the final months of the 19/20 season in Montalbert we've found there's lots going on, why not take a look and the events & activities, maybe you'll find a self catered holiday in La Plagne too tempting to ignore.
Events & activities in La Plagne Montalbert
First Tracks – An exclusive chance to be the first up the mountain
This is a great way to enjoy some of the best simple pleasures the Alps has to offer. After arranging your trip with the tourist board, you report bright and early to the lift station. Your guide will take you up on the mountain, apart from the lift staff you'll be the first up the mountain that day. Included in the price is breakfast up at the top of Restaurant le 360 at the top of the Fornelet lift where you can take in a sunrise in from a spectacular 360 degree panorama viewpoint. First Tracks is only available on alternate Thursdays and they can be cancelled due to bad weather so if you fancy adding this to your week away in Montalbert, it's best to book ahead.
When: Alternating Thursdays
Cost €15
Link: La Plagne Montalbert First Tracks
Festigliss – A celebration of alternative snow transport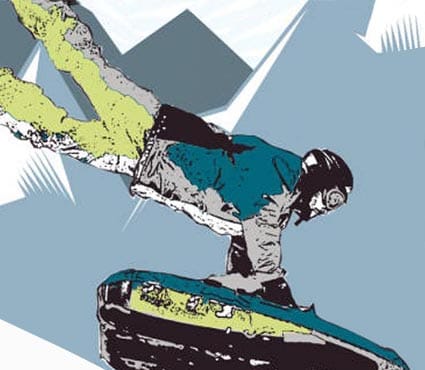 La Plagne has loads of alternative snow activities on offer. For two days in February, Montalbert hosts a free event to try out all kinds of snow vehicles. You can try things like yooners, ski bikes, air boards, snowscoot, Ski Trikke or the SMX. Then there's the Snake Gliss, Zipy, mini freestyle sled and the speedle snow! We're big fans of funny snow vehicles and alternative ways to carve and even we're not sure what all of these are! The only way to be sure is to go there and see for yourself. If you find yourself in Montalbert for this week in Feb, this free event is sure to be great fun.
When: 25th & 26th Feb
Cost: FREE
Video: Festigliss on Youtube
Link: La Plagne Montalbert Festigliss
Challenge des Villages by Super Slalom

Parallel slalom is an exciting head to head event where 2 skiers tackle 15 turns of slalom action on two identical courses next to each other. There's twice the action & more than twice the intensity compared to single-ride races as both skiers are spurred on to do their best with their rival just in eyeshot. Montalbert holds the 'Le Challenge de Villages' a race for anyone over 17 who skis at least at a 3rd star level. There's music & a good sized crowd of spectators to charge the atmosphere and it promises to be a fantastic display of slalom skiing.
When: 3rd March
Cost FREE
Link: Challenge des Villages in Montalbert
Zen Week – Free relaxation treatments in Montalbert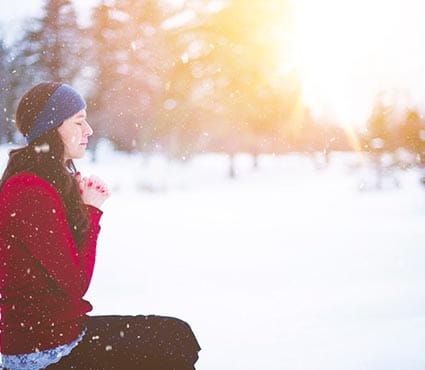 If you're looking for a place to be at peace with nature, heading out the Alps is a great start. For a week in March, La Plagne Montalbert hosts a range of relaxation sessions in the resort. They feature meditation, sophrology, yoga, qi gong & shiatsu. If you're looking to fill your days with relaxation & wellbeing this is certainly something you'd want to check out. More details aren't available yet, but you'll find you can contact the tourist office to arrange attendance.
When: 9th -13th March
Cost FREE
Link: Zen week in Montalbert
Snowball – Display & competition
Once upon a time football gave birth to the spin-off sport of handball. It's a bit like football except you throw the ball around the field and into the goal. It was only a matter of time until people started playing it on snow & that's how Snowball was born. On 29th March, local handball club members will come down to Montalbert for a tournament and a display of handball skills. Anyone visiting Montalbert that week are more than welcome to join the crowd and the fun, as with most sports gatherings there'll be music and refreshments.
When: 29th March
Cost FREE
Link: Snowball in Montalbert
Subli-Cimes – The festival comes to Montalbert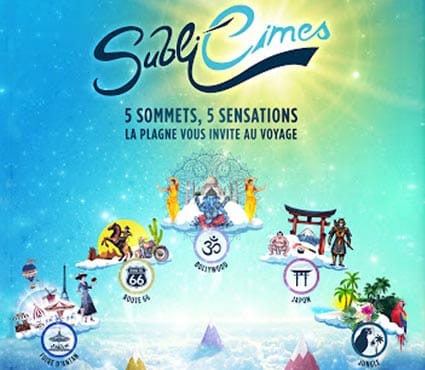 If you're a regular reader of our blog you may be aware of the Subli-Cimes April festival in La Plagne and all the interesting themed stations that pop up around the ski area. This year Montalbert will be host to the 'The Jungle', to find it you'll need to get the lift to the summit of Fornelet at 1970m. What you'll find there, we can only guess but it's described as a 'tropical paradise' so you can expect to relax in the sunshine with a cocktail and enjoy the fun!
When: 29th March
Cost FREE
Link: The Jungle – Subli-Cimes at Montalbert
With all this going on plus all the La Plagne winter season has to offer, Montalbert might be the ideal location for an action packed self catered ski holiday.
Want more reasons to visit Montalbert? Check out our top 5 reasons to visit Montalbert article
Ready to book? Check out our ski accommodation in La Plagne Montalbert or feel free to contact us