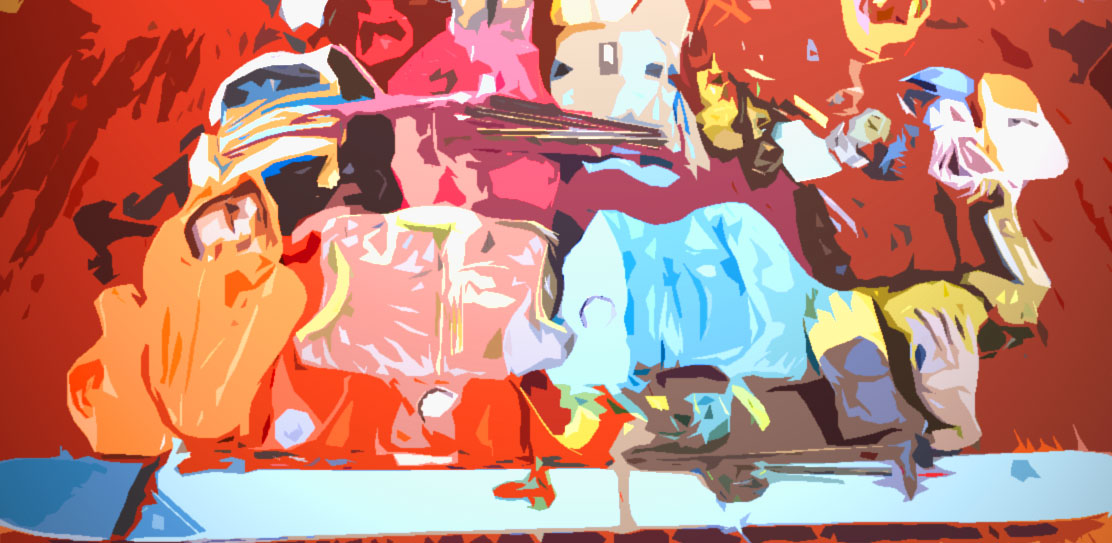 There's no doubt, if you're going away for a ski holiday in La Plagne or other ski resort destination there's a lot to remember when it comes to packing. We thought we'd make it easy for our guests and readers by writing out our own guide to packing for your ski holiday.
Did you know skiwear rental was a thing?
You can actually cut down on packing a lot of this gear with a ski wear rental service. By renting your snow outfit you can really cut down on what you have to pack and don't need to shell out to buy all the clothing.
Our packing list comes divided into sections and we've included hints and tips where we thought we can, we hope you find it useful.
Ski Holiday Packing List
Travel
Smartphone fully charged and loaded with boarding passes, necessary apps.
Consider protection for your phone for both travel and the holiday.
Mobile battery charger.
Password for online accounts you might need.
Details of your journey including contact details for transfers, accommodation.
Your ski holiday travel insurance details.
ID and/or Passport and boarding passes (if they're not on your phone).
Travel adapter (if you need to charge at Geneva they have Swiss plugs, not EU).
Your wallet/purse.
Access to currency. We prefer currency cards for ski holidays.
Resort
Grippy, waterproof boots (usually wear these for travelling).
Warm overcoat (some people use their ski jacket).
Warm hat (not your ski hat, consider ear protection).
Gloves for when you're not on the piste.
Scarf of other neck warmer.
A set of clothes to go out (usually jeans and a top of some sort).
Sunglasses, you might wear your piste ones but you will need a pair.
Walking pole (for those who need a little extra balance)
Chalet
T-shirts or other tops.
Plenty of underwear. We actually pack 2 pairs per day so what we wear out on slopes isn't what we wear in the evenings.
Lots of socks. We pack a pair a day plus a bonus pair plus some massive woolly ones if we want to double up.
Slippers can be great around the chalet and to and from an outdoor hot tub.
Comfy pants for hanging out.
Comfy sweater for hanging out.
Swimming stuff if you have a hot tub or the resort has a pool.
Toiletries, don't forget your toothbrush.
Ear plugs.
Entertainment
Chargers. Make sure you have all the chargers you need. We have loads of gadgets so bring an 8 port USB and USB-C charging unit, we can charge almost everything in one place from one plug.
If you're a non digital traveller you'll probably want to bring a book and/or magazine, maybe a DVD or two.
If you're a digital traveller your books, music, magazines, games and videos will all be consumed via a phone, tablet or laptop. You might need some extra storage so check out the next point.
Hootoo Tripmate. This gadget does a lot of things including streaming media wirelessly from a memory stick to mobile devices for a plane journey or transfer ride. Check out our review of the HooToo Tripmate Titan.
Headphones. Great for waiting at airports or on transport, don't forget your headphones. We favour the Bose QuietComfort 35 and SteelSeries Sibera 840 to block out the world.
Headphones for the mountain. Headphones that block out a crying baby don't work so well on the mountain. We like the Plantronics BackBeat FIT headphones for music while we snowboard.
HDMI adapter. Most chalets have a TV and you might want to play some content from your device on the big screen. The exact nature of the adapter depends on your device. You can usually get away with using an HDMI cable that the TV already uses for a sky box or DVD player.
Playing cards. Most good chalets will have a deck but it doesn't hurt to bring one along.
Ski/Snowboard clothing & accessories
Hat, balaclava or other head insulation. The bottom line is that you need thermal protection for your head and in bad weather, your face. Make sure it's compatible with your helmet, hood and other gear.
Scarf or neck warmer. There are all kinds of ski/snowboard scarf on the market. Avoid something bulky, you actually don't need that much material to keep your neck warm, fitting inside your jacket when you do it up is important.
Baselayers, some use thermal pants, others just go for the top but you'll need at least a couple of base layer garments to lock the heat in.
Some good winter sports gloves. We like the C-Zip snow gloves.
Ski or snowboard socks. You'll need at least 3 or 4 pairs of these for a week (unless you wash them), ski and snowboard socks are different so it's best if you get socks to suit your activity.
Ski or snowboard jacket. It should be waterproof and breathable there are all kinds of details to consider in a good jacket, check out our guide to buying a ski jacket.
Ski or snowboard pants, salopetes or dungarees. Again, waterproof and breathable is essential. We favour dungaree pants for snowboarding, you can slide on your back in powder and nothing gets down them!
Thermal sweater. Sometime a base layer and jacket are enough for the piste but it's a good idea to have at least one sweater or down jacket to wear or bring along on a cold day. Careful of hoodies, having a coat hood, a hat, goggles and then a hoodie hood to contend with can be a problem.
Small backpack. For water, sunblock, thermal layers, GoPro, battery pack and other useful bits.
High factor sunblock.
Sunblocking lip balm. If it's your first time and you think you don't need lip balm, bring it anyway and confirm that when you're back.
Goggles and/or glasses. Even if you prefer glasses, Goggles are the thing when the snow is coming down.
Helmet. People often ask us are ski helmets compulsory? In short, no they're not but they are considered essential by many skiers and boarders.
Protective gear. There is a range of protective ski and snowboard gear you might want to consider. It's not essential but important to consider staying safe on the slopes if you're doing freestyle or plan on crashing hard.
Bandage and/or joint supports. It's not a bad idea to be able to wrap up a knee, wrist, ankle or other damaged appendage.
Ski or Snowboard equipment
Skis or snowboard. If you have your own equipment the list gets a little longer.
Skis or snowboard.
Bindings & fittings (bring spare screws).
Poles (for skiers).
Boots (stuff these with socks to save space).
Carry bag. We like to use quite a large equipment bag as they seem to accept them at any size, we stuff a fair bit of our ski clothing in with the equipment.
Screwdriver, if you need to make adjustments you'll need a screwdriver. We like one with multiple driver ends that store inside the handle. It means it doesn't have a sharp point if you fall on the piste.
Avalanche gear. If you'll be going off piste, make sure you are well informed about avalanche safety, a primary rule being, don't go adventuring without a guide in addition to bringing the right gear.
Driving?
Driving licence & insurance details.
French legal car kit thing. You know the breathalyser and that famous jacket. It will be included in an airport hire car.
Snowchains/winter tyres. It's absolutely essential that your vehicle is has fully legal traction for the mountains.
Navigation. If you're relying on a sat nav or a phone, check and double check where it's taking you. Make sure the high mountain roads are actually open in winter and the pin is in the right place.
Extras
GoPro and accessories. Don't forget the mounts and tools you need for capturing great shots of your ski holiday.
Load up your phone with apps to capture ski videos.
Pay for a month of Fatmap, for superior piste mapping on your phone.
Get a specialist app for off piste, try Solomon's Powder Quest.
Snacks. It's great to have a bunch of your favourite treats for the journey and whilst out and about, but will you share them?
A hip flask can be a great idea. They even make them inside ski poles.
Multiplug with a decent wire. If you've got loads of stuff to charge it can be really helpful to have a multiple along.
How about bluetooth heated ski boots?
A plastic sledge for fun around the resort, check out the Axiski.
So that's the end of our list folks. We hope you've found it helpful in getting everything you need and not much you don't in your suitcase and ready for the mountains. If you're going to have to be buying some of your gear, check out how to buy some cheap ski or snowboard gear, you could save yourself some money. If you're not sure of where you're going yet, have you checked out our range of catered chalets?