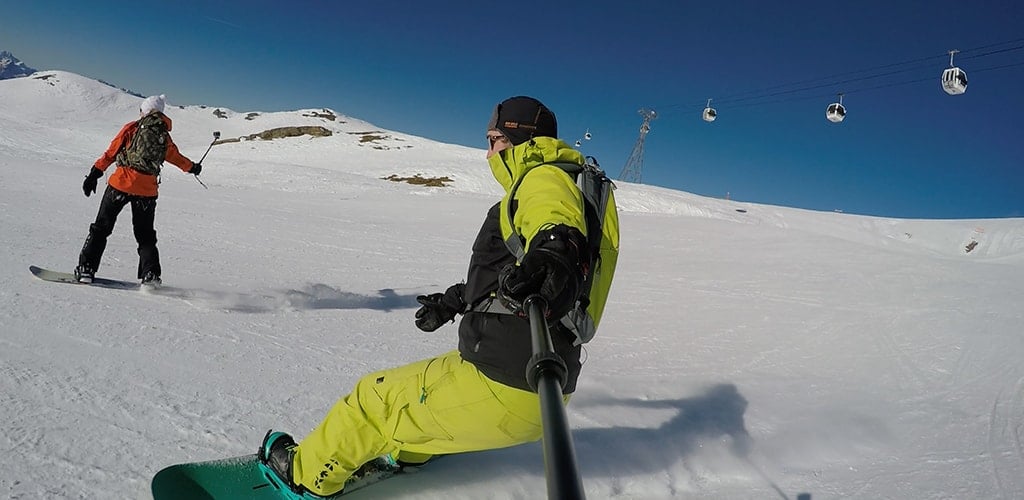 These days few of us are coming home from our ski holiday with only memories. Taking pictures and videos of our exploits has become a very normal activity for the majority of skiers and snowboarders. In this article we share some tips and recommendations from our years of taking shots on the pistes to help everyday skiers and snowboarders get their best shots yet.
Videography gear for the slopes
Getting good quality gear to capture the action on the mountains is bound to help get you some great looking footage. Action cams have really advanced over recent years with some offering 4K resolution and super high frame rates to allow you to slow down or zoom in on your shots whilst keeping them clear and sharp in the final edit. But it isn't all about how great your camera is and you certainly don't have to splash out on the latest GoPro model to make a video you can be proud of.
Choosing an action cam
GoPro
The main player in the action cam market, as you'll probably know, is GoPro and for good reason. They're excellent pieces of kit and take fantastic footage. This isn't only down to the usual camera stats advertised, such as frame rate and resolution, but also their colour and light balancing capabilities which result in vibrant footage. Their lens quality and photo sensors are also a cut above the rest adding to the quality and ability to capture detail.
GoPro have 2 main species of camera on sale, the 'Hero' range and the 'Session' range. The Hero cameras are the typical GoPro, they are thin and rectangular with a digital display on the front a little internal mic and a wide and impressive range of frame rate and resolution offerings. We're up to series 5 of the Hero cams now, the earlier models are still on sale and offer similar but reduced specs to the latest versions. The Session cameras trade off some of the features of the Hero to be even smaller, waterproof and more rugged. The GoPro Session cameras (4 and 5) are significantly smaller than the Hero and come 'pre-armoured' with a bolted down lens cover. You don't get a digital display and can't get resolutions and frame rates quite as high as the equivalent Hero but they're a great choice where keeping a low profile matters most of all.
We used a GoPro Hero 4 black for our latest trip and were very impressed, most of our footage was shot at 2.7k with a frame rate of 50fps and the shots were crystal clear. The higher than 1080p resolution has also allowed us to zoom in on certain shots meaning we didn't have to worry as much about getting the subject right in the centre while filming. Linking the GoPro to its app, Capture, makes it really easy to set the camera up at the right angle before setting off and allows you to review your footage quickly so you can make sure you're capturing what you want.
ChilliCam
Despite GoPros popularity there are a whole range of high quality alternatives to consider. We also have a ChilliCam 1080p by Chilli Technology which has a slightly less impressive range of features compared to the GoPro Hero4 Black. It records up to 60fps at 1080p and 120fps at 720p while the GoPro Hero4 Black can manage twice the frame rates at those resolutions (as well as higher resolutions at lower frame rates). So you'll be more limited it you want to slow down or zoom into your shots.
ChilliCam uses the same mounting mechanism as GoPro making it easy to find accessories to suit your needs and there is also an app to make it easy for you to review your shots. One downside is the non-removable battery, so if you're completely relying on this camera for all of your day's footage you'd better bring a power bank & USB charging cable.
Polaroid Cube
The Polaroid Cube is a stylish little click and go action cam. It has the major benefit of being extremely compact at just 3.5cm in length, width and depth. It also has a 124 degree wide angled lens which is a little less than the higher priced alternatives but plenty wide enough to capture your subject. Being a mainstream product from a well known brand means there are a range of accessories, cases and mounts specifically designed for the funky little cube. This makes it more desirable than a cheaper generic action cam but still far cheaper than the small cube camera GoPro make, the Session 4 and 5.
Budget cams
The market is packed with budget action cams made by lesser known manufacturers, try searching 'action cam' on Amazon, over 80% of the products on the first page are under £60 (albeit with Amazon's discounted prices!). If you're wanting to dabble in action cam videography or want to do it on a budget you have a lot of options. You'll find cameras for under £100 boasting almost the same list of features as a GoPro Hero 4 which can be very attractive when looking at the price tag on a new Go Pro. The downside is likely to be felt in the build quality of the camera the colour depth and clarity of the shots and in the software you get to interface with the camera. Although the quality of your shots may be lower and the camera might not be as durable you can still create an awesome video with the variety and creativity of your footage. A good budget action cam in the right hands will certainly deliver better results than a top of the range GoPro handled badly.
Accessories
Once you've chosen your action cam you'll need to get some accessories to protect and hold your camera while you capture the snow action. There are a huge range of action cam accessories available for you to experiment with to get a great variety of angles and perspectives to your shots. The most popular being the helmet mount but we'd definitely recommend considering others to broaden the diversity of your video.
Some accessories to consider including:
chest mounts (for skiers) & shoulder mounts (for boarders, but you need to make the camera rotate by 90 degrees!)
selfie sticks or camera poles
ski, board or boot mounts
time-lapse turners (check out our time-lapse turner article for tips on using this little gem)
You'll definitely want to get a protective case for your camera, preferably one that's waterproof, so that you can forget about the safety of your camera and focus on your videography. It's also useful to carry a lens cloth with you in case you get any snow on the front of the case (or on the camera lens) and anti fog inserts are available to stop condensation from clouding your shots.
If your action cam has a removable battery don't forget to bring along spares. An action cam may be advertised as having 3 hours of battery life, but that'll be while taking the lowest resolution at the lowest frame rate. Batteries will also run out quicker in the cold. If you don't have removable batteries then invest in a power bank, they're incredibly handy when you're out and about as they can also be used to charge your other devices.
Types of shots you can take
If you look at professional winter spots videography one of the things you'll notice is the variety in the types of shots taken, the different angles, perspectives and even speed of the footage itself. So while you're out there think variety and you'll have a great range of shots to create an interesting and varied video.
Head cams & Chest mounts
Helmet cams are by far the most popular way of capturing footage on the slopes, you just secure the camera, press record and you're away. Point of view footage is great but try to get shots of friends going past as well to vary the pace of the video and consider other types of mounts. Chest mounts are another great way to get point of view shots and they can also get your skis in on the action too which can be helpful if you want to review your skills. However they're not so good for snowboarders as you tend to just look out at 90 degrees to the action but shoulder mounts are a good alternative if you get a mount swivel that allows a boarder to turn the camera to face up or down the direction of travel.
On the ground with a camera spike
If you're an intermediate to advanced skier or snowboarder you might want to get some shots of jumps. It's great to get several shots of the same jump so multiple cameras can come in handy. One great way to get a shot of aerial action is to place the camera below the jump just after the lip down at snow-level. A camera spike stick is ideal for this, you just attach the camera to the end and stick the spike in the snow, simple! It does require a little set up but the result is well worth it and they make your jumps look bigger and more impressive. Check it out in the example below.
Footage of a snowboard jump from below

From selfie sticks/pole mounts
Love them or hate them selfie sticks & pole mounts are a great tool for getting awesome footage of piste action, their diversity means you can angle your action cam in all sorts of ways to get varied shots.
Try taking footage of a friend while you weave past one another, holding the camera stick out can bring the camera closer to the action than you'd want to get with a camera on your helmet.
Holding the camera right down close to the floor while your friend carves past can result in some amazing shots of snow billowing behind them. You may want to get the camera closer to their skis or board than you might at first think so you might want to do a couple of practise runs & review your footage to get a feel for the how these shots turn out. You can also hold the camera low down at the front or back of your own skis or board for a similar effect.
Holding the selfie stick directly above you looking down can work really well but sometimes it's hard to hold the camera in that position for long.
Selfie sticks also come in handy when taking shots in the park. If you're tracking your subject down through park obstacles, having a 3ft pole for your camera can make it easier to get close to the action without getting in the way.
Snowboarding with a selfie stick

Time-lapse
Time-lapse photography is a great way to capture the action of the piste over time. A photo is taken every 6 seconds or so (depending on the camera) and the resulting video shows a sped up version of the scenery. Combine that with a time-lapse turner and you can can get pan of the whole thing. A mid day stop off at a slope side ski bar is an ideal place for this kind of shot. For a little more detail check out our time-lapse photography in ski resorts article.
Aerial shots
I think we can all agree that drone footage is amazing, but in reality you can't really take them on your ski holiday with the restrictions and regulations in place in most ski resorts. However we think we may have found a perfect solution. The AER (or as we have dubbed it, the GoThrow). It's an incredibly simple idea, basically a GoPro with wings. You just clip your GoPro in, start recording and throw it in the air to get some truly amazing shots. Its aerodynamic shape lends its to super smooth footage from perspectives previously only possible with drones and your GoPro is safely housed in a protective, waterproof case. Launched on Kickstarter in October 2016 it rapidly gained support and is due for release early this year. We can't wait to give it a go!
Amazing aerial shots with a GoPro
Ski safe with your GoPro
It goes without saying that you must keep safety in mind while taking videos on the slopes, whether you're skiing, snowboarding or setting up your equipment on or near the piste. While taking video on the piste you need to be aware of the people around you and not allow your videography to distract you. If you're new to using video or photography equipment on the slopes or don't have much skiing or snowboarding experience we'd recommend getting some practise in when the slopes are quiet.
When using selfie sticks or pole mounts on the slopes make sure you have plenty of space and are fully aware of your surroundings and of other people on the piste. It can be very easy to get caught up in getting the best footage you can so make sure you keep alert.
If you use a camera spike stick mount on the piste be sure to set it up in a place that won't get in the way of other piste users and when you're done screw the spike back into the pole before setting off.
Editing your ski footage
Once you have a great variety of shots you'll need to stitch that together with titles, music and perhaps some digital effects to make your epic video. Video editing software is more widely available today than ever before and for far lower prices. Editing packages are available for virtually every type of computing device from mobile phones to desktop machines with varying degrees of complexity and capabilities. So you'll be sure to find something that suits your price range and technical ability.
Video editing is a vast, exciting and sometimes complex subject, a little out of the scope of this article. But please stay tuned for our upcoming article on editing your ski holiday footage.
A few final tips
It's likely that you'll have enjoyed all kind of snow related videos, both professional and amateur, and it's a good idea to do this more on the run up to your winter holiday. It's fun to think from the producers point of view when watching snow related videos try to deconstruct the shots and angles and figure out how professional videographers make such fantastic videos. It'll give you some ideas to try while you're out there.
So make sure you go out with a plan of the shots you want to get but keep your camera with you at all times as you never know when inspiration might hit you. And you can't get too much footage, keep the camera rolling even after you've taken the shot you wanted.
Your end goal is to make a video worth watching so gather your inspiration, grab your gear, get out there and get creative.