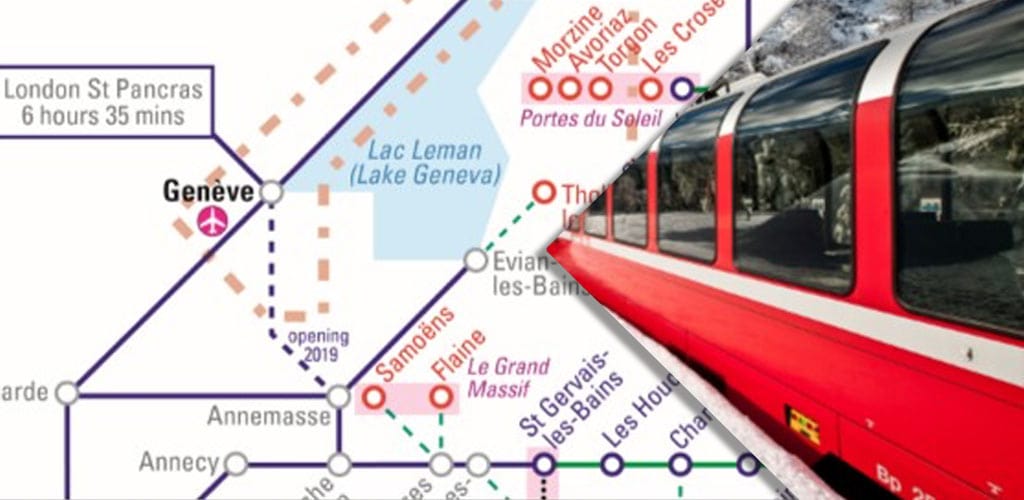 If you are a regular to our ski blog, you'll likely have noticed that we're particularly fond of train travel as a means of getting to your ski holiday destination.
In a recent article we took a look at the environmental benefits of a ski holiday by train and found that there's a lot to be said for train travel experience in addition to the eco benefits.
Many of us U.K skiers and snowboarders have a good knowledge of Alpine airports and resorts but may not be so sharp on the rail connections. You might be surprised to find how extensively rail connections run through the Alps. Train tracks follow valleys, cut around peaks and sometimes go right through the mountain to deliver the network we can enjoy today.
Nearly all of our favourite ski resorts are much nearer to their nearest train station than they are from their nearest airport. But how to get an good idea of how this network fits together?

There are online resources like Snow Carbon that will help you literally plan a train journey to the Alps, they also share all kinds of train travel insider tips which can be handy.
But what about getting a visual understanding of the train travel options? That's where the new 'The Alps – Skiing by Train' maps from 2theAlps comes in.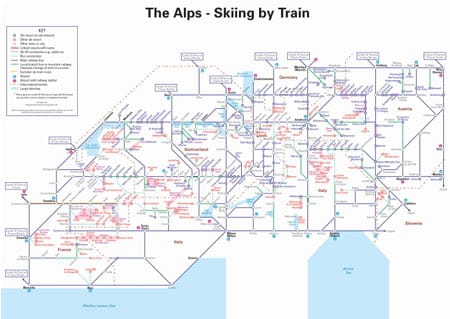 2theAlps Skiing by Train map
We've been aware of the ski map specialists 2theAlps for some time. They make all kinds of maps concerning the Alps and ski resorts, from scale maps of ski resorts to more abstract but no less interesting maps.
We noticed recently that they'd released a 'tube map style' map of train stations in the Alps and we loved it. This is a not-to-scale representation of the train network across no less than 7 Alpine countries. It's both stylish and packed with useful details. It can be an attractive thing to put on the wall and a help when planning a ski by train expedition of your own.
You can get them in a range of sizes & qualities, we'll be picking up a large print for the office wall but you can get a small folded map version. So whether for practical or decorative purposes (or a bit of both) we think this new map is well worth a mention to those interested in low carbon travel to the alps.
Check out the 2theAlps Skiing by Train map
Our train travel discount
In October we launched a special offer that applies to all of our catered chalets. It offers a discount across any and all of our catered holidays to anyone travelling by train. Best of all, the offer is 'stackable' with any of our other offers so many of our customers are getting great deal whilst reducing their carbon footprint.
If you're interested you should check out our offers page and look for the Environmental travel discount.