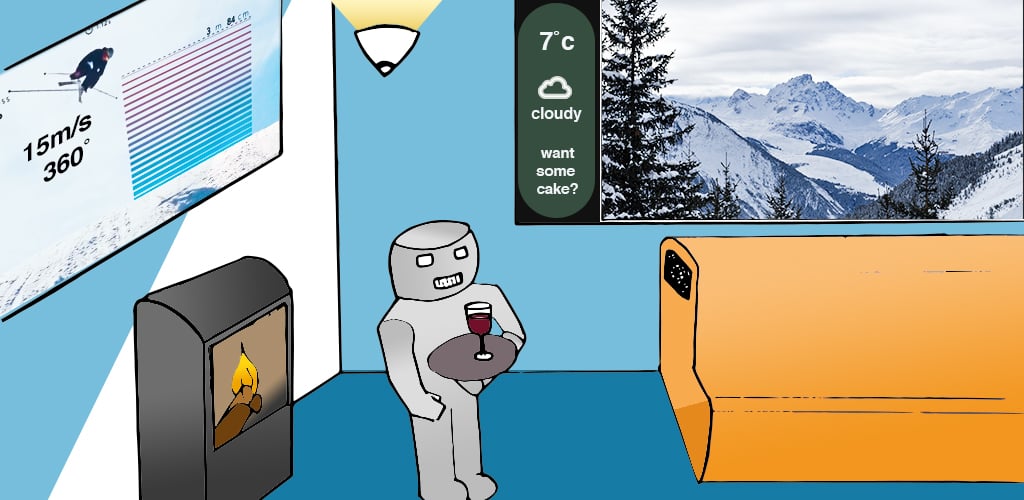 We recently took a look at the history of ski architecture but what about the future? Ski chalets in the future will be full of smart technology, we see some evidence of this today but we've barely scratched the surface of what's to come. We'll see new interior & exterior materials and so new inspiring designs that will look very different to the ones available today. What could be more comforting than your chalet being a home away from home that is able to play an active role in ensuring your trip is well organised and you are well looked after?
Automated monitoring and information systems exist today but soon are expected to not only monitor weather conditions, but track lift & piste congestion, snow quality & then deliver suggestions to guests based on the data it has received. You will be able to wake up in a chalet ready for a day in the mountains & the built in system will provide you with customised suggestions from routes to take, places to visit, where to eat, events that are going on in the area and even what gear you might need. It doesn't stop there, it will also be possible for the chalet of the future to take readings of all key signs to track & monitor health & performance. This information will automatically be available for you to be aware of how your fitness, your stats on the mountain and even give you tips on your technique. It can all be controlled with a simple touch of your fingertips or even simply serve you in anticipation of your needs without even being asked.
Chalets that adopt these fantastic innovations as they become available will have a competitive edge giving guests the kind of experience you can't get from today's chalets. Although we do not know for sure what the future will hold for chalets, we have high expectations for intelligent systems & gadgets that will make your trip a whole lot easier and more awesome.
From smart glass technology to automated wood burning fires, 3D holograms & robotic cleaning, we have a selection of creative & inspiring gadgets that we expect future ski chalets will hold.

What will the ski chalet of the future contain?