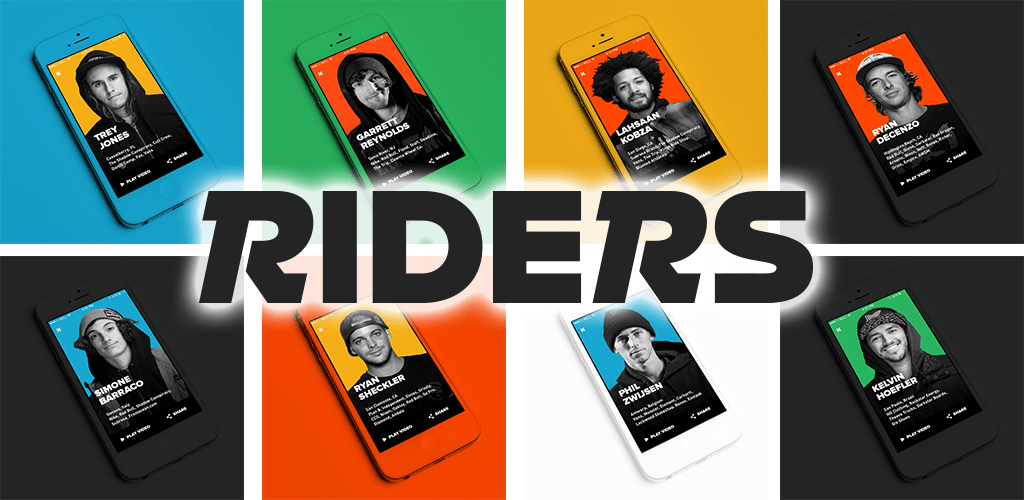 Many of us who love our snowsports are keen to get better & even emulate unbelievable tricks found on Youtube. For a good helping of these videos, see our inspiring videos article .
We all enjoy getting better at our chosen pursuits and when it comes to skiing and snowboarding this often means spending hours on the computer. It's clear from YouTube views that we spend a lot of time watching the likes of Candide Thovex deliver his mighty videos or watching step by step guides on how to ride a rail or simply control turns correctly.
The sedentary nature of web research doesn't exactly go hand in hand with extreme sports, wouldn't it be nice to have a handy app containing every trick in the book with updates and content from top riders?
Well now you can.
RIDERS is an Extreme Sports App that allows you to learn new tricks, improve your skills and share your progress with the global Riders community. It's an App that connects Riders everywhere, giving them access to the world's largest BMX, Skate, MTB, Wakeboard, Snowboard, and Ski tricks database containing detailed videos and step-by-step instructions from the pros. Riders can learn new tricks or simply upgrade their game, find spots, share videos and rate other Riders' skills.
"Riders is about staying outside. We want people to get away from their laptops. We thought an App was needed for those of us who want to learn right there on the spot. We used to sit at home and scan websites and forums for beginners' level tutorials and later for tricks. Now, with Riders, you can be on your skateboard, BMX – anything, and the world's largest tricks database is going to be in your smartphone, with some of the top pro riders out there helping you improve your skills"
Tolya & Igor (founders)
You can download the app for free for iOS or Android, find links on the Riders website.
Riders Features:
700+ tricks
80 exclusive videos with how-to's from the pros
Filter tricks based on sport type, trick type and skill level
Compete with other Riders
Look for fellow Riders of any level – near you or anywhere in the world
Upload photos and videos of your tricks
Tutorials, tips from the pros on how to gradually improve your skills

See your and other Riders' progress
The Riders app is for everyone who does a YouTube worthy sport, not just snow sports but BMX, Skateboarding, Surfing and more.