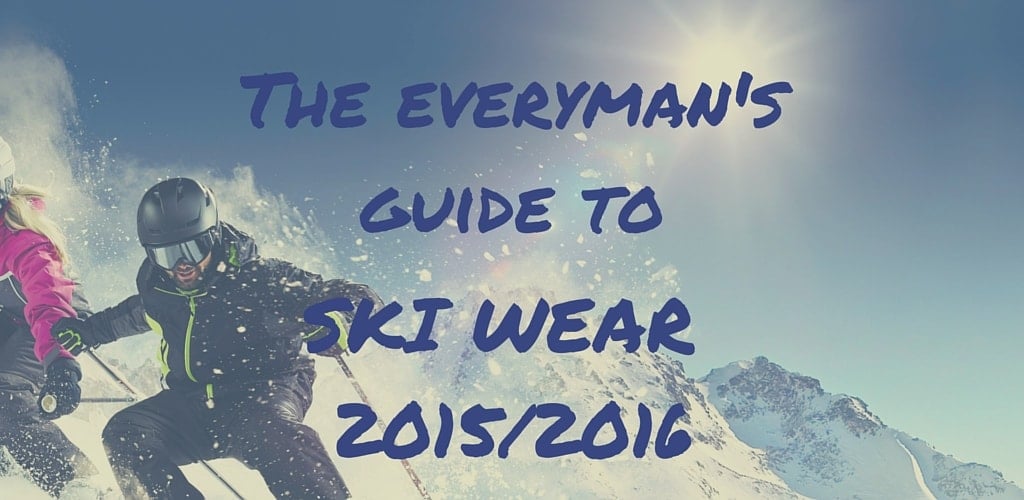 Don't you just love shopping for new ski wear? If you're heading out to one of our catered chalet properties in La Plagne, Courchevel or elsewhere in France soon, your holiday prep list will definitely involve digging out your ski wear. Or you'll be getting some new gear if you're skiing for the first time, need an upgrade, or just want to treat yourself!
Check out our top ski clothing recommendations below for 2015/2016, which are – to be frank – a bargain. Don't think cheap ski clothing – think affordable, quality ski clothing. You'd be surprised what great ski gear you can get online and from big nationwide retailers.
Aldi
That's right – you can pick up some quality ski wear when shopping for your Christmas Prosecco! The ski wear range is part of the Specialbuys range – 'while stocks last' so once it's gone, it's gone – so head down quick to see if you can pick something up for this season. If you've missed it this year, make sure to keep an eye out around the same time next year. This range launched on 3rd December.
Skiers can be completely kitted out for just £59.94 – this deal includes:
Adult's Ski Trousers (£16.99)
Jackets (£19.99)
Ski and Sports Base Layers (£8.99)
Ski tops (£4.99)
Ski Socks (£3.99)
Technical Ski Gloves (£4.99).
There's also the Aldi Pro range, which features an improved specification, including a 10,000mm waterproof rating, a fully breathable membrane in excess of 10,000 gr/m2/24h and 100 per cent windproof (wind resistance zero L/m2/sec). They offer jackets, salopettes, base layers and gloves – prices range from £8.99 to £34.99.
Some pro skiers have put the Aldi Pro range to the test to see if it lives up to their demanding expectations – check it out in the video below:
Children are also catered for with Children's Ski Wear (£16.99) and a wide variety of socks, gloves and accessories.
Nevica
Trendsetters in the 80s and 90s with their fluorescent fabrics, Nevica is back with some great, affordable ski wear that is available from Sports Direct.
It's nice to match, so our picks from Nevica are all ski sets. Sticking with the bright colour theme that is so Nevica, we like the Kyros men's ski suit for £79.99, and Tracy women's ski suit for £89.99. Waterproof and breathable up to 10,000mm and 5,000mm respectively, and with all the comfort and practical fastenings you need, there is lots to love about Nevica's range this year.
TK Maxx
If you're still on the hunt for big brands, TK Maxx delivers. Their slogan 'always up to 60% less' says it all.
Ski jackets and salopettes start from £34.99 each, and you can find great ski brands such as Dare2B, Trespass, Helly Hansen, Tog 24 and O'Neill.
One of our favourites for this season is this bright number by Hyra, which is just £79.99 with an RRP of £266. The zip fastening is ideal for gloved hands, and the numerous pockets are useful for your lift pass, sun cream, lip salve and all your other bits and bobs.
For the guys, we like this equally bright jacket by Bergson – £79.99 with a RRP of £200. As with the above jacket, you've got all your essentials covered – easy-access zip, multiple pockets, ski skirt and cosy hood.
Ellis Brigham – Barts
Some of the most important ski wear items go on your hands and on your head – it's not actually true that you lose most body heat through your head, but it has been found that when the head is allowed to get cold and the body is effectively insulated, the body's core temperature drops a lot more rapidly than you might expect. So after that piece of insight, make sure you get some good gear for your head, and your hands if you want to be able to feel your fingers!
You can get all kinds of ski wear from stockist Ellis Brigham – they have some excellent gloves and hats within their selection. On the hat front, you can't beat cool colours and a massive bobble, which is why we love the Maria Beanie by Barts – £19.99. If you're not a fan of the pink, there's still colour and bobble aplenty in the Wilhelm Beanie by Barts – £22.99.
And then there are the gloves. If you can make sure your pair are waterproof and come with adjustable cuffs to stop snow coming in, a goggle wipe section for practicality, and textured palm and fingers for grip, you're in a good position to get skiing. We thought we'd take the opportunity to show you an especially glamorous pair by Barts – the Empire Ski Glove for £39.99. As well as featuring all the essentials mentioned above, they have a faux fur cuff for an extra stylish look. We love them! They also come in white, and in mitten form if that's more your style.
1000 Mile
The human body's other extremity i.e. the feet need to be catered for as well. For a full day's skiing you want socks that are breathable, quick-drying, lightweight and super comfortable. If you have uncomfortable socks you will notice it – it is worth investing in a good quality pair that will give you years of comfortable skiing.
Sock specialists 1000 Mile offer affordable socks that are designed with snow sports in mind. The 1000 Mile Snow Sports Sock has padded zones around the shin, toe, ball and heel zones with Tactel® which wicks away moisture. They are ultra-soft, lightweight, and durable to help you stay dry and comfortable throughout the day. At £15.95 for a pair, they are an affordable investment.
Image Credits: Aldi, TK Maxx, Ellis Brigham, 1000 Mile