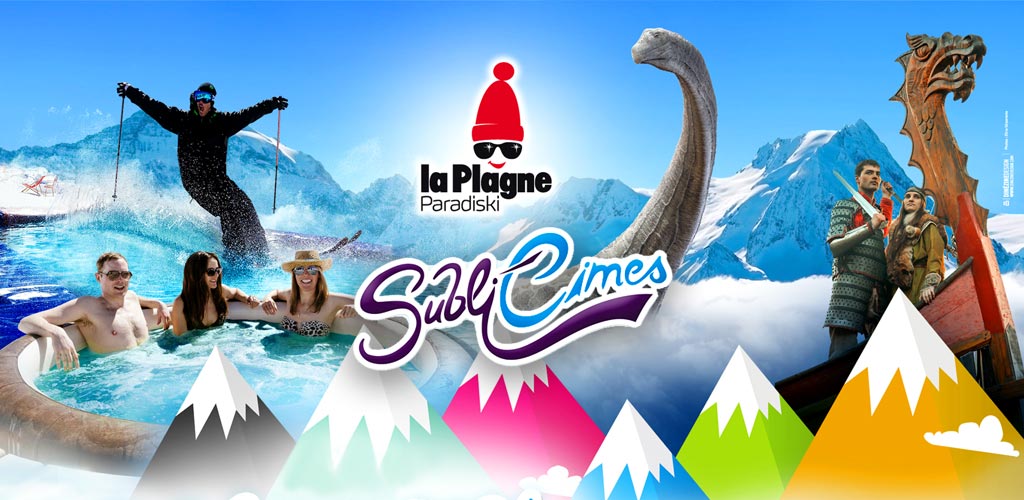 Across the Alps as winter fades into Spring the mountain folk celebrate with traditions old and new alike. It's a special time with sunshine, snow & the explosion of spring growth, you can start at the top of a mountain in winter & by the time you run out of snow it feels like summer.
One of the most interesting, exciting & diverse of these Alpine festivals has to be Subli'Cimes in La Plagne. It takes place over 12 days from the 5th to the 18th April. Before I attempt to explain this it's fun to see what Google translate made of the French description on the La Plagne tourism website, "The recipe of Subli'Cimes: a bowl of pure air, a pinch of magic, an ounce of adrenaline, a trait of meditation, a hint of well-being, a zest of madness."
Upon 6 summits of the La Plagne ski area you'll find a range attractions and activities, they last for a full 12 days over Easter. It's best to get around them on the pistes though it is possible to reach some of the peaks as a pedestrian. Subli'Cimes is a family friendly festival with attractions that appeal to all it's a variety pack of things to do and see on your ski holiday in La Plagne.
Attractions include
– Zen Altitude Space – Above Montchavin La Plagne between 10:30 & 16:00 you can relax and unwind in this mountain spa with large hot tubs, saunas, massive and plenty of relaxing seating and hammocks.
– The waterslide , back for the 3rd year running, skiers and boarders can hit his pool of spring melt waters at speed and either coast to the end like a champ or wipe out in the frozen pool like a legend.
– Wipe out assault course – 15 meters of bouncy mayhem where participants attempt to cross the inflatable gauntlet
– Giant Airbag – A chance to try out some aerobatics without the hassle of stacking it and ending up on a stretcher. Jump from a platform onto the huge bag, test your nerve and your skills.
– Les Dinos – It's a dinosaur themed hangout for kids of all ages with snow sculptures, play area & activities.
– Piste DJ – Daily sets from 11:00 – 15:00 from DJ Matt Jamison keep a party going on high up the mountain with the best views you ever had dancing.
If this is sounding like fun, why not check out our catered and self catered special offers.
If you're still not convinced, check out the video of last year's festivities.
Summits & Themes, where to find this stuff
– Zen Altitude – summit Arpette
– Adrenalin – summit Roche de Mio
– The Vikings – summit Grande Rochette
– Enchantment – summit Fornelet
– The dinos Time – summit Rossa
– Beauty and Nature – summit Bécoin
You can find these peaks on the piste map section of our La Plagne Page.
Gallery