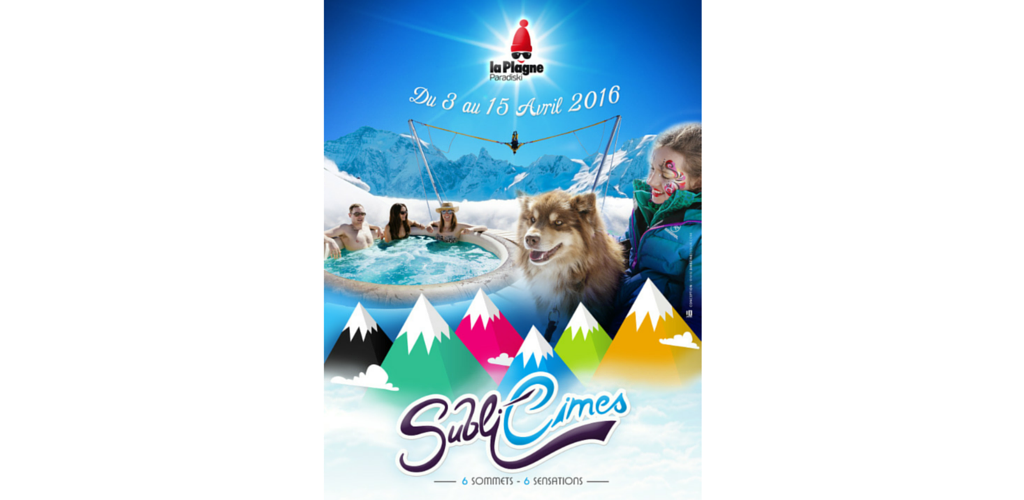 Subli'Cimes 2016 is almost upon us, and after the success of last year, we think there is no better way to say hello to spring. If you're asking 'what on earth is Subli'Cimes?', or just want to know what this great event has in store for you in 2016, read on.
Where?
La Plagne, in the Paradiski ski area. If you're staying in our catered chalets in La Plagne during the event you will be well aware that something is going on!
* We're also offering a discount on full Paradiski lift passes for the weeks of 2nd and 9th April – buy two adult Paradiski passes and we will give you one child pass (13 and under) free of charge. These will be essential for getting to all six peaks included in Subli'Cimes 2016. Book lift passes here.
When?
3rd-15th April 2016
Who?
The event is open to everybody. However the events are held on the peaks, so pedestrians should be aware that they won't have access to the peaks that you need skis or a snowboard to get to.
How much?
Free!
What?
Over 11 days, six peaks in La Plagne are transformed into six 'sensations', basically six different themes. Here is a summary of the six different experiences you can try at the six peaks:
Zen Altitude, Arpette – 2,385m
Relax on top of the world with nothing but sky above you and nothing but snow below you. You can take your pick from Jacuzzis and a 'Cosmic' barrel sauna, which seats 5 and is encased in a panoramic glass bubble. Enjoy a seated massage before relaxing in a hammock, or try your hand at a workshop in tai chi, yoga, qi gong and more.
It is recommended to plan ahead by bringing your own bathing suit and towel – they have changing areas.
Open from 10.30am until 4pm (except Saturday 9th April).
---
Travelling East to West, Grande Rochette – 2,505m
The Funiplagne gondola will be transformed into a Trans-Siberian train with decoration everywhere. Once you get to Grande Rochette you will be transported into a Mongolian atmosphere. The staff are dressed in Mongolian attire, there are snow sculptures everywhere, a furnished yurt, and, best of all, opportunities to meet animals – Cashmere goats, Bactrian camels and Tarpan horses.
Get involved with crafts (felting, wool spinning, jewellery craft), play some traditional games (Mahjong, Gorodki, Shagai) and taste some traditional food and drink (arkhi – milk vodka, airag – fermented mare's milk).
Open from 10am until 4pm (except Saturday 9th April).
---
Adrenaline, Roche de Mio – 2,700m
Get your thrills from a different avenue with one of these adrenaline activities. Try the freefall experience where you land on a huge inflatable mattress, or fly from the Ejector – like bungee jumping but backwards! Fly along the waterslide on your skis or snowboard. To top it all off there will be DJs to give your adventure a bit of background music.
Open from 10am until 3.30pm (except Saturday 9th April).
---
Enchantment, Fornelet – 1,970m
In this land of fairy tales and legends your senses will awaken. The wonderful smell of the gingerbread house will be hard to miss, and there will be candyfloss, sweets and face paint. There will be live shows throughout the day featuring Merlin the wizard, fire sticks and juggling sprites.
Open from 2pm until 5pm.
---
Yeti Land, La Rossa – 2,380m
See the Grotte du Yeti 'cave' giant carved in the snow and have a go at balloon twisting, and making Yeti masks and Yeti footprints. There will be musical entertainment and magic, both with a Yeti theme, and plenty of inflatable games – slides and castles!
---
Beauty & Delights, The Bécoin – 2,350m
Get some pampering on the slopes, whether you're male or female. Enjoy a nail treatment at the beauty salon with beauticians from Silvya Terrade school and products from Peggy Sage, or take a trip to the barber. For the ladies there is also a 'Burlesque corner' where you can dress up with frills, feathered fans and face masks, before striking a pose.
Open from 10am until 4pm (except Saturday 9th April).
Get a taster from the video below of Subli'Cimes 2015: