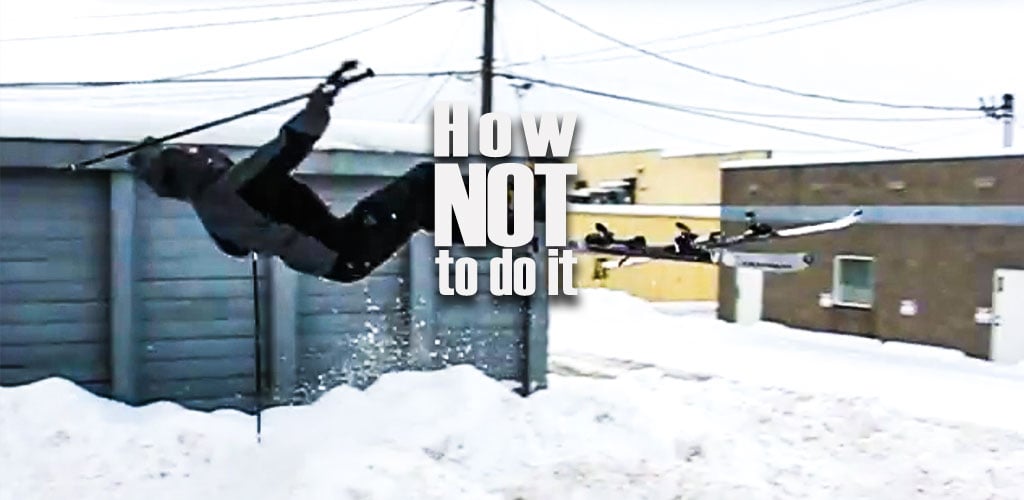 Who would have thought it, you can really get it wrong at the snowpark…
We're back with another episode in our 'How not to do it' series. This time we look at those times when a trip to the snowpark goes wrong. We're not interested in times when serious riders fail to land their unbelievable tricks, where's the fun in that? Instead we've scoured YouTube for the most entertaining and educational clips of mere mortals getting it wrong on jumps, boxes and airbags. We hope we can all learn something from what we're about to see.
There's only one way to get hurt with an airbag
The beauty of pulling jumps onto an airbag is that you can really launch yourself without having to worry about the pain of landing badly. It seems there is one critical exception, make sure you have enough speed to reach the thing!
Oh wait, maybe there are two ways to get hurt with an airbag

Just when you think you are safe. Our heart goes out to this fella who really launched himself but caught quite an angle coming off the ramp and found 2nd way you can get hurt with an airbag.
At least try to mount the box
Taking a rail or box works best when you get yourself on top of it, fail to get your skis high enough and you're gonna have a bad time.
If at first you fail indeed… fail, fail, again.
The snowpark is tough to master, as a beginner you have few options, you have to get out there and fail. Although this learner fails hilariously, they are on the path to greatness so we salute their every attempt.
If the park is closed, it might be for a reason
Having the park to yourself can be worth the walk up with your board but you'd better watch out, you can get yourself in a tricky and potentially lethal situation.
Touch and go
Just enough speed means you can climb the obstacle, tap the end and go back the way you came, neat. A little too much speed and you'll stand out in the crowd.
Homemade backflip failure
When a video starts with a man standing on the roof of his house wearing skis, you tend to expect a mishap. Let's see how this one works out.
The moral of this tale?
Every great snowpark rider leaves a long list of failure behind them, it's a place that you WILL stack it at some point. So try to take it easy, build your skills slowly and concentrate on good technique. Oh yeah, and think twice before getting out on your roof with your skis. Always remember to keep your camera running and keep an eye out for our next purely educational 'How Not to Do It'!
Want to see more 'How not to do it?"
Episode 1 – Ski lift fails
Episode 2 – People causing crashes
Episode 3 – Off piste