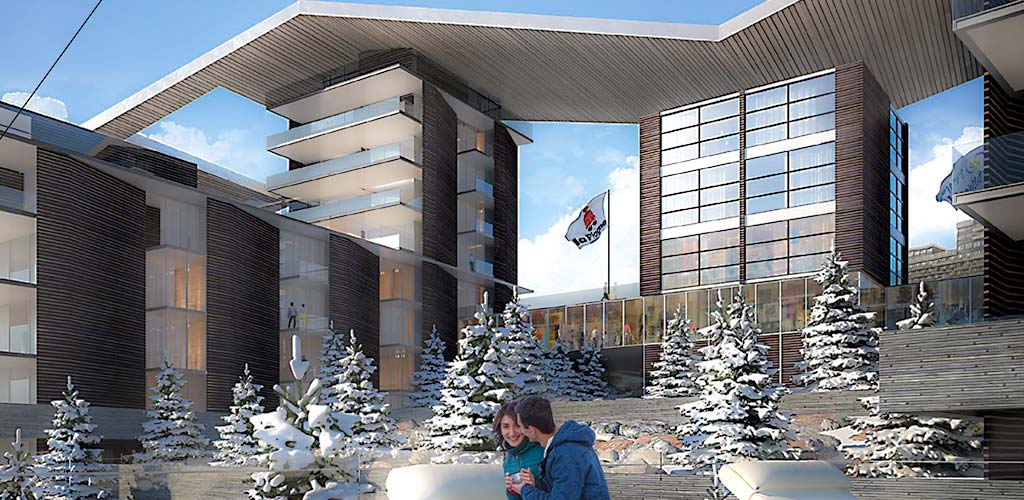 When we're out in the Alps, the buildings we see come in all shapes and sizes and from different points in time. We tend to know what we like and what we find to be an eye-sore. Sometimes we wonder what they were thinking when they built certain developments and yet most of us always appreciate the rugged agricultural buildings from centuries ago. In this article we look at the way ancient farming villages, market towns and even sheds for cattle evolved into international tourist destinations in the 21st century.
In many ways a ski resort is a living history of the local economy and both local and international design influences through time. Each resort has its own story and to tell them all would take a lifetime of research, we can only hope to highlight some interesting examples of French ski architecture and some of the interesting people who shaped it.
Many modern ski resorts were first settled by humans over a thousand years ago, the Alpine environment offers a life of farming in the valleys & herding cattle up to all but the highest peaks in summer and in winter, retreat down into the valleys as the deep snow sets in. Although this has been going on in the Alps for millennia, the oldest buildings we find in modern ski resorts today tend to date back to the 17th & 18th century.
There are few traditional villages at high altitude, in historic times it was unwise to make permanent settlements so high into the mountains. In the French Alps, the highest altitude modern resorts were nearly all built as new resorts, if you're looking for genuine traditional architecture in a ski resort, it's best to look at the lower and medium altitude villages.
Pre 19th Century alpine buildings
Their architects are mostly forgotten but these old buildings are still found at the heart of many ski resorts in the Alps. They are mostly agricultural or religious buildings, some retain their original purpose but most have been adapted over the years and serve a different purpose today.
The chapels in and around La Rosiere for example Chapelle Sainte-Jeanne d'Arc built in the 17th century (see picture). The chapel is just a stone's throw from the modern built ski chalet (shown on the right of the picture) but we can see how the modern architect has used stone in a similar way, the 19th century stone houses in the background (shown on the left of the picture) also use local stone and so the ancient chapel keeps its dignity in the shadow of the modern ski resort of La Rosiere. If you're interested in seeing them, the tourist board offer a tour of these chapels.
Morzine has been settled for hundreds of years, the farmhouse Le Mas de la Coutettaz was built in 1771 and is used as a rustic but modern hotel today. In the resort centre Morzine's Church of St Marie-Madeleine was begun in the 18th century & finished in 1805.
19th Century buildings
The 19th century brought more buildings of industry, agriculture and the beginnings of tourism to the French Alps. It was an era of optimism and discovery, trains and superior ships encouraged the growth of tourism throughout Europe. A love for mountains and belief in the health benefits of the Alpine environment lead to a new wave of hotels, inns, bars and restaurants being built at popular destinations throughout the Alps.
What is now La Plagne 1800 was a small silver mine abandoned in the 15th century. In 1807 however a mason named Francois Pelissier rediscovered the deposits and mining began again, this time with 19th century technology. Today Plagne 1800 has few full buildings from this period but if you're looking for a taste of the 19th century mining culture, Bar La Mine is perfect. It's on the site of and is partly made with stone from, an original mining station. It's packed with mining paraphernalia from the time.
The French resort of Chamonix was an international tourist destination as early as 1744 but by 1821 an official mountain guiding group was formed Compagnie des Guides Chamonix to govern the mountaineers access to the glacier & the approach to Mont Blanc . The growth of Alpine tourism in this period was largely driven by mountaineering, skiing had yet to draw crowds to the Alps, the 20th century changed that dramatically.
20th Century ski architecture
The 20th century cannot be viewed as one period in architecture, every decade has brought something new. We've chosen to look into particular resorts and architects to get just a few glimpses of the century in which skiing started as a pursuit of locals and a rich elite to a booming tourism industry enjoyed by tens of millions of people. Most of this change occurred in the later 40 years of the 20th century as global tourism really took off so we have more examples from this period than the early 20th.
​Laurent Chappis – Courchevel
Chappis created the ski resort of Courchevel located in the Trois Vallees in the 1940's. Not only was he a resort architect, he was a town planner keen to explore the mountains around Grenoble in the 1930's and served in the early stages of World War Two.
Chappis held the belief that the mountain should always come first in any development. He created a modern and functional style of mountain architecture which rejected the traditional styles of Savoie and Tyrolean. His ideas were often seen as controversial as developers were concerned with profits, whereas he favoured respect and functionality for the alpine environment.
Strongly devoted to the development of recreational sites, Chappis' aim was to create a resort that was as close to nature as possible, this meaning no concrete or high rise buildings. With the design of Courchevel, he invented the concept of a "new station" built at the altitude of the alpine pastures. It is known to be the only resort in France to have 6 buildings listed as historic monuments in 20th century mountain architecture. The Joliet-Curie, the Notre-Dame de l'Assomption Chapel, Lang and Le Petit Navre Chalets and La Goupille Grenier Mazot have all played an important part in Courchevel's history.
In 1949 Chappis along with fellow architects Denys Pradelle and Jean-Marc Legrand came together to found the Artelier d'Architecture de Courchevel, this school sought to formalise their design philosophy and influence not only the development of Courchevel but much of the mountain design in the Alps for the decades to come. Their architectural rules included:
Urban planning to build the resort around the pistes
Buildings at an equal or lower height than the surrounding trees
Integrating service buildings with housing projects
South facing windows and doors to get the most sun
Roof designs to cope well with snow, Skillion, flat and butterfly roofing
Chappis also completed designs for the ski resorts of Chamrousse and Sansicario.
Jacques Labro – Avoriaz
Labro was one of the three architects who designed Avoriaz in the 1960's. When asked about the style of Avoriaz, Labro stated "style is inherent in each architect, one has a way of imagining and creating, and the nature of the project or the era can have an influence on ones style".
Avoriaz is recognisable for it's dynamic architecture and few traditionally shaped buildings and roofs. Based on the concept that in nature there are no right angles, the overall visual impact of the resort is in harmony with its natural surroundings and the building being mainly fabricated from wood and slate. However, it abandons traditional paths, takes liberties with heights and original plans were considered absurd. Criticism grew of one of his ideas, making the resort traffic free, it embraced environmental issues which are a priority today but were not on people's agendas in the 60's.
Modern day Avoriaz is still known for its high rise accommodation buildings and contemporary style.
Marcel Breuer – Flaine
Flaine is an example of a purpose built resort that was built with the best of intentions and yet to people today it's mostly quite unpopular. Much of the resort was designed by Bauhaus Modernist Marcel Breuer, he saw the development as a prototype for a new way of combining urban planning, architecture and environmental concerns. He was prepared to be bold but wanted to ensure his creation complimented the natural environment.
What a wonderful site! How do we avoid spoiling it?
Marcel Breuer - architect of Flaine - 1960
No matter how you feel about the architecture, it certainly does not fulfil our 21st century idea of human dwellings complimenting the natural environment. It's an interesting example of how the thinking and mindset of a time, shapes its architecture and how times change.
Michel Bezancon – La Plagne
Michel Bezancon, the first to practise what was called "moun-tain" urban inspired architecture by building cities in the mountains with function being the predominant driver and inspiration in his work. (Words of Remy Knafou).
Bezancon was a true visionary, wanting to pour stories of an era based on heritage and culture into each site.
​New sites of La Plagne were built between 1961 and 1990 on an unspoiled area. However, 3 villages of La Plagne already existed before the resort was built at the start of the 70's. These were: Plagne-Montalbert, Montchavin-La Plagne and Champagny-en-Vanoise.
Bezancon's focus with La Plagne was to develop a tourist complex that could substitute for declining industrial and agricultural activities, the purpose being that freedom of movement was key. Although the only part of the resort to maintain a more traditional atmosphere were the village sites, the fact it was to be a pedestrian resort was a major attraction, ensuring pedestrians and skiers were part of the same experience. Aime La Plagne which was inspired by Tibetan temples, is a typical example of the modern architectural style which people were looking for, they wanted modern and practical.
Whilst it is never going to be as aesthetically pleasing as other villages of La Plagne, it exceeds its original purpose. It combines the characteristics of the stations: high altitude, ski-to-door residence, separation of cars and skiers to be traffic free. And it has helped La Plagne become one of the largest ski resorts in the world. La Plagne, over the years, grew in both size and stature and because of this, more lifts were built and new villages with their own atmosphere and character.
La Plagne 1800 & Plagne Montalbert – Late 20th Century resort design
In 1980 and 1982 Plagne Montalbert and Plagne 1800 were opened. When compared with the designs of a few decades earlier, it's clear that the trends had shifted dramatically. In Plagne 1800 for example we see timbered buildings that remain on a level with the tree-line and employ the local 'blue lauze' slate in more traditionally constructed roofs and walls. This trend is not just found in La Plagne, across the Alps ski architecture of the late 20th century held more in common with the 1940s vision of Chapis and his peers than of the brutalist modern architecture of the 60's and 70's. We've written an article if you'd like to find out more about La Plagne.
21st Century ski accommodation so far
In the 21st century we have a lot to be excited about. There are spectacular ski buildings from lift stations to hotels, increasingly they compliment the natural environment, draw from traditional building materials and styles and yet deliver 21st century performance.
Where the 1960's hi-rise developments remain, in the 21st century we're enhancing them and building around them to 'bring them into the fold' of the latest apartment developments.
A great example of this is a new development planned for Aime 2000 in La Plagne. It is to bring new apartments and attractions to the existing village. The existing high rise blocks are not the prettiest and have grown less popular over the years, however the new development manages to compliment and soften their stark shape. Although the underlying purpose of the new development is to be a block of apartments, the use of large glass windows, wooden panelling and long shallow incline sloping roofs does a lot to soften the impact of the existing development while adding lots more value for money accommodation to the village.
What does the future hold?
There are some really exciting possibilities for the ski architecture of the future and lots of incredible buildings already being built and more still at the design stage. We've taken a good look at an extraordinary example in our follow up article, The ski chalet of the future.
Also watch out for news on our own contribution to ski accommodation of the 21st century with our new build chalet in Morzine.