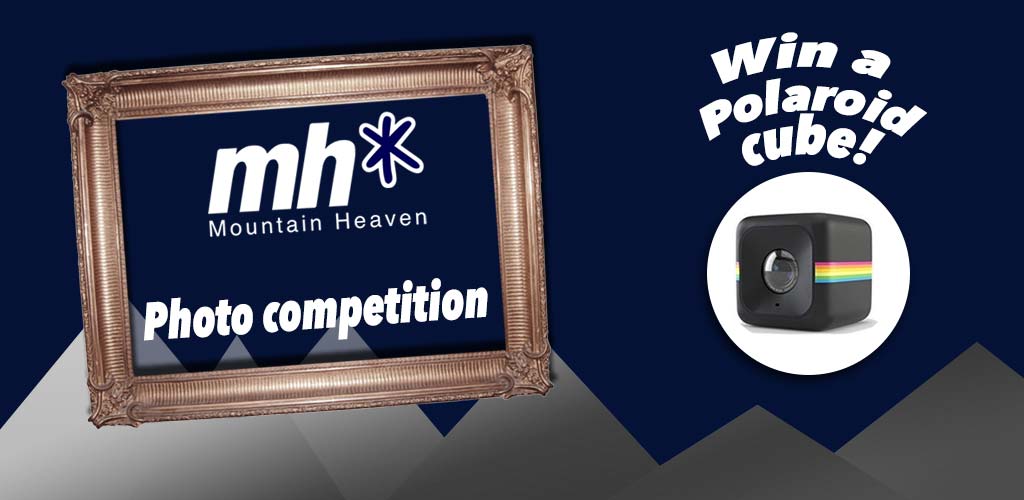 Have you been out to the mountains recently? Did you take any fantastic photos?
It's not just professional photographers taking amazing shots of snow sports and mountain scenery, every year, Mountain Heaven guests show us fantastic images captured on the mountain or about the resort. We thought it'd be great to see what the skiing and snowboarding public have captured over this last season and we're offering prizes for the best!
We would be like to be surprised by the range of subjects in the images we see. If your photo has something to do with the mountains, snow, winter sports or mountain culture then we'd love to see it.
The competition
We're offering 3 prizes for the 3rd, 2nd and 1st place photographs
1st Prize – A large printed canvas of your image AND a cute Polaroid Cube 1080p action camera
2nd Prize – Medium sized canvas print of your image
3rd Prize – Small canvas print of your image

How to enter
Please submit your photo along with a caption explaining what it is or what it symbolises. One person can submit up to 3 photographs, if you submit more, we'll just accept the first 3 in chronological order. We'll gather all of the entires together on the closing day & get the Mountain Heaven team together & pick out the 'Top 10 Photographs'.
You get to judge the winner!
After the shortlist has been selected the 10 competition images will be posted right here on the Mountain Heaven Blog for the public to vote on. The winner will be the one with the greatest number of genuine votes by the closing day.
We'll have the canvases made & then sent out to our winners along with the Polaroid Cube Cam.
The competition is now closed to new entries, the public will be voting on the winners from the top ten photos coming soon.
Terms & Rules. The photographs entered in the competition must be:
Taken by the entrant themselves
Taken between November 2016 & April 2017 in a snowy setting
Genuine images, no scenes composed or altered with photoshop. Filters & light/colour correction are fine but we are looking for real images of real things
Each entrant may submit up to 3 photographs, if more are submitted we'll only judge the first 3 that were entered
Of image format jpg, jpeg, png or tiff
If you win we will contact you for a high resolution version
File size must be smaller than 2MB
For full details of the terms and conditions
Here's one of ours
We took this one in December 2016 on a snowy day out around La Plagne, if you don't know La Plagne, our article all about La Plagne might be a good place to start finding out a bit more.