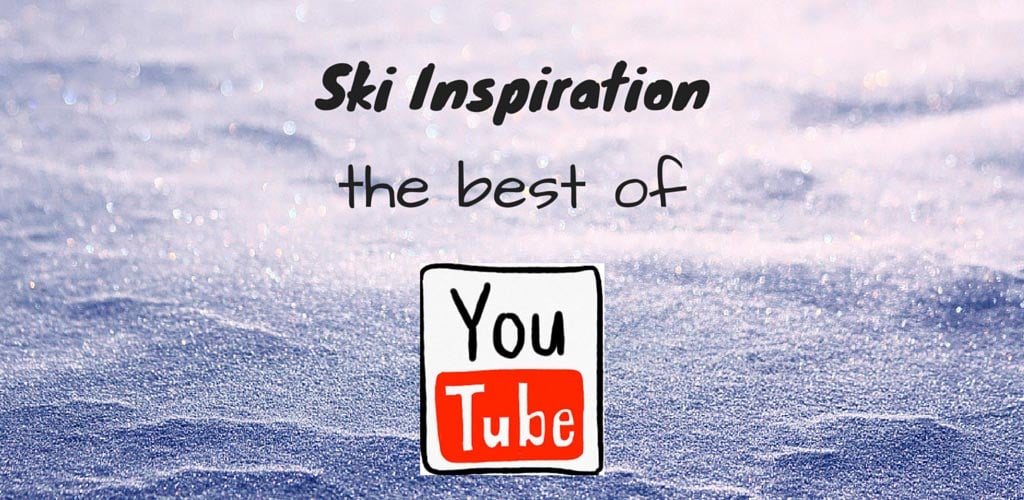 Where do you look for ski inspiration? You may have some friends who have told you stories about the awesome time they had in the French Alps, or you may have been lucky enough to see some amazing skiers and snowboarders first hand whilst staying in one of our catered ski chalets in La Plagne.
Wherever you get your inspiration from, there is a resource where you're sure to find inspiration if you're ready to go – YouTube. People have been sharing their ski adventures on YouTube for years, whether they're pulling some nifty freestyle tricks, showing off the beautiful snowy landscapes France is so well known for, or just capturing life in the popular ski resorts.
If you're looking for ski inspiration and want to see what YouTube has to offer, we've picked the best of the best below.
FAST FORWARD
Ok, so you're unlikely to be doing much of this yourself (unless you go majorly off course!) but that doesn't stop this video from being truly inspirational. Kevin Rolland and Julien Regnier show off some amazing skills in a rather quiet looking La Plagne in this video produced by Vecom Video. Check out more inspirational ski videos on Kevin Rolland's YouTube channel.
High-altitude Courchevel
Drones aren't everybody's favourite thing, but one is used to great effect here. Jesse Peters manages to get some incredible high-altitude footage of Courchevel. After watching this, you'll see why Courchevel is home to some of our favourite catered ski chalets.
GoPro in Courchevel
This video from Ollie Rodgers shows him enjoying a ski holiday in one of France's best resorts – with a mixture of scenery, tricks and fun times with friends. That's what ski holidays are all about! You can check out more videos on his YouTube channel. He's a frequent traveller, which you can see in action on his Instagram account if you're a user of this photo-sharing service.
Visuals from the French Alps
Get the full ski holiday experience from this video by Gareth Leonard – otherwise known as the owner of travel blog Tourist2Townie. During his time in the French Alps he crashes through fresh powder, tries his hand at skidooing, and samples some tasty looking morsels. There are also a couple of cute extras who walk into the shot – you'll see!
Off-piste powder
Ben Dunster shows you what it's like to head off piste in Paradiski in this video, with a mix of footage from a camera on his helmet and also from a pole mount. Zig zagging your way through the trees is definitely only for the skilled, but Ben may just inspire you to work on your technique and do the same.
Pro-skier Candide Thovex
Pro-skier Candide Thovex demonstrates how the pros do the French Alps in this amazing footage shot from his perspective. A slow-motion jump over helicopter blades, a leap over crowds of cyclists and a spot of waterskiing to finish – this could not get any more adventurous. Clearly a lot of preparation and editing has gone into this, and it certainly pays off here. For more like it, check out One of those days 1 and One of those days 2.
Off-piste in La Rosiere
La Rosiere is another of our favourite resorts, and you can see just how great the off-piste powder is in this video. Featuring the adventures of a snowboarder, Marc Rowley demonstrates the joy of being the first person to glide over untouched snow.
Snowboarding compilation
Snowboarders look effortlessly cool, as demonstrated in this excellent compilation video from Xtremify. From snow parks to incredible off-piste jumps, these guys will surely inspire you to swap your skis for a board at least once, if not forever.
Freestyle in the Alps
Credit goes to www.lightfoot.media for this masterpiece. Featuring high-altitude shots and close-ups, inspiration comes from both the landscape and the skiers and snowboarders. If you're wondering how you might go about enjoying a snow park, this will give you a pretty good idea.
La Plagne with friends and family
John Wheeler captures the sunrise in La Plagne, which is magical. Showcasing the kind of moments you might expect to have on your very own ski holiday with friends and family, this is a 'real' La Plagne experience – falls and all. The video is a departure from the other videos you'll find on his YouTube channel, which are based on fishing.
Real guys doing real tricks
The other side to a 'real' ski holiday is this video from Alex Broere. If you're skilled enough to be tackling a skate park, and your friends and family fancy doing so as well, these guys will give you some great ideas.
Image Credit: seyed mostafa zamani (flickr.com)