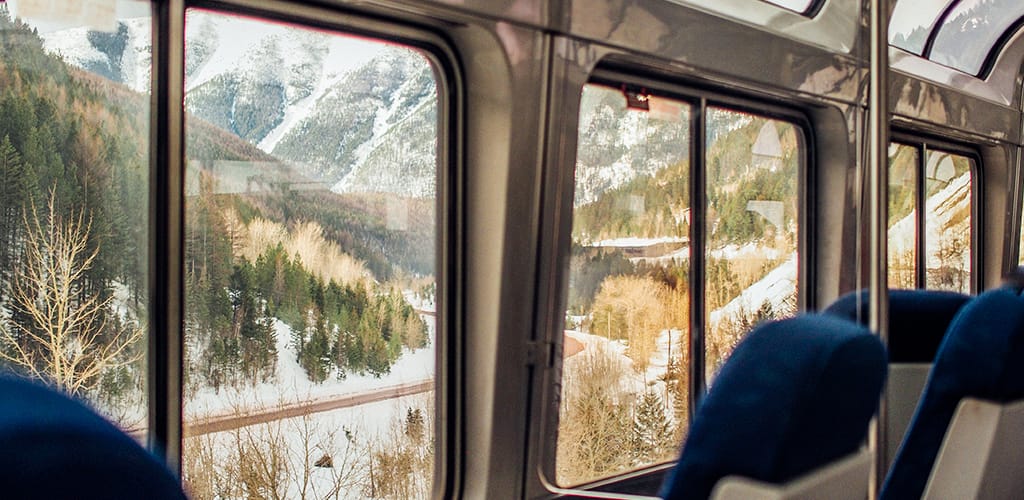 Climate change is a growing issue for the whole planet and the ski industry is especially close to this issue in several ways.
Any snow sports fan will have noticed stories about Alpine glaciers melting, it seems that many of our beloved glaciers days are numbered and this alone is changing our mountains as a habitat and affecting our sports activities. There are concerns about the future of Alpine weather, global warming is certainly going to affect our snow conditions but it's very hard to say exactly how. There's no doubt that climate change is at work in our mountains already and we just don't know where it's all going to lead.
Then there's the enormous carbon cost of a ski holiday. There are some things a ski company can do to reduce the environmental impact of ski holidays but 'in resort' activities do indeed burn an awful lot of power and resources keeping the show on the road. From the lifts to the chalet heating, there's a cost to keeping us warm, fed and having fun in that otherwise harsh environment.
Despite all the resources that go into your week in the snow, it's actually air travel that tends to have the biggest impact.
Flight shame – The carbon cost of ski holiday travel
Most U.K skiers and snowboarders travel to the Alps by plane. For many (but not all) journeys from the U.K to the Alps, plane is indeed the fastest way to the ski destination. Plane travel is currently usually cheaper than the alternatives. It is also by far the worst mode of transport in terms of CO2 emissions and this is becoming widely understood by the British skiing public. Perhaps one of the new buzzwords to come out of 2019 will be 'flight shame', we're sure it's been around for longer but this year it's trending. People are increasingly alarmed by climate change and are looking at air travel as a way to make a meaningful change, you only need to look at some comparative data on carbon emissions to see why.
Comparison of CO2 emissions for plane, train or driving to Alps for your ski holiday
We couldn't find a recent study that made all this data available to us easily. So we've gathered data from several sources to be able to make a reasonable comparison. This data shows actual CO2e figures in KG for just a one way trip to a ski resort.
Travelling by Plane
Getting to the airport
7kg
Plane to Geneva
120kg
Transfer of 190km
6.15kg
Total CO2 Per person
133.15kg
Travelling by car
Driving to Folkstone 231km
51kg
Eurostar
0.09kg
More Driving 965km
213kg
Total for car
264.09kg
Total CO2 Per person
66kg
Travelling by train
Getting to the station
3.5kg
Train to Alps
20kg
Transfer of 45km
6kg
Total CO2 Per person
29.5kg
Let's see it as a simple picture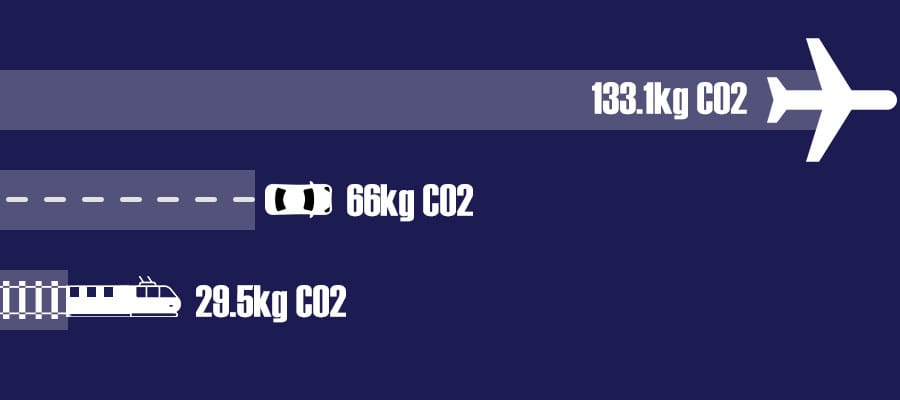 It's worth noting that different tools we tried out for measuring CO2 emissions produced slightly different figures. Please take our data as just a rough yardstick.
Ski holiday by train
We Brits have been using the train as a primary mode of transport to the Alps for a very long time, British Mountaineers started getting the train to Chamonix as early as 1901. In more recent years there have been those who have championed the train as an excellent way to visit the Alps, this October the website SnowCarbon celebrate their 10 year anniversary making train travel more convenient for skiers. Their founder Daniel Elkan has never seen the train as something you do just for climate change, he makes a fantastic case that the train is simply superior in many ways.
This year has also seen the birth of a new site promoting train travel to the Alps, Ski Flight Free is a venture aiming to bring this message to as many U.K skiers as possible. We hope this is a sign of a growing trend that'll be great for the ski industry and the planet.

Plan your train journey to the Alps
We would recommend SnowCarbon's journey planner tool as a great resource to plan your train journey to the alps.
So why is the train better than flying?
More relaxing
You can take in scenery and be at ease for the whole time. A plane has a view from a window but your time on the plane is the least of your journey time when you fly.
Kids love them
Plane travel for families can be a testing experience. A train offers more freedom and space and we've always heard that family travel is less stressful this way
Actually quite fast
In terms of door to door travel time the train can actually do quite well compared with flights. If you want to get a sense of this, you can't do better than the SnowCarbon's Top Gear style video, Plane Vs Train race.
Plane vs Train to a ski resort
Mountain Heaven Environmental Travel Discount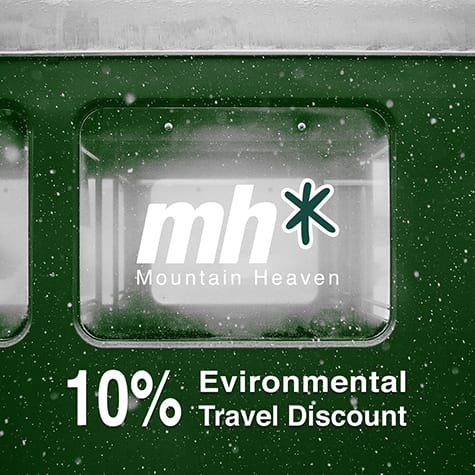 Although our beloved snow sports industry contributes to climate change we won't stand by and just accept that fact. We want to do all we can to reduce our environmental impact and have been taking steps to reduce our own footprint wherever we can. You may be aware that it's quite a tough time for the U.K to Europe travel industry but we can't let that stop us addressing matters of climate change in our business. This is why we have launched a very special standing offer to promote train travel to our guests in the strongest way we can.
10% off when you travel by train
No matter what other offer we are running, you will now get a 10% discount off the price of your Mountain Heaven catered chalet holiday if you travel to us by train.
Now you don't have to worry about whether the train costs a little more.