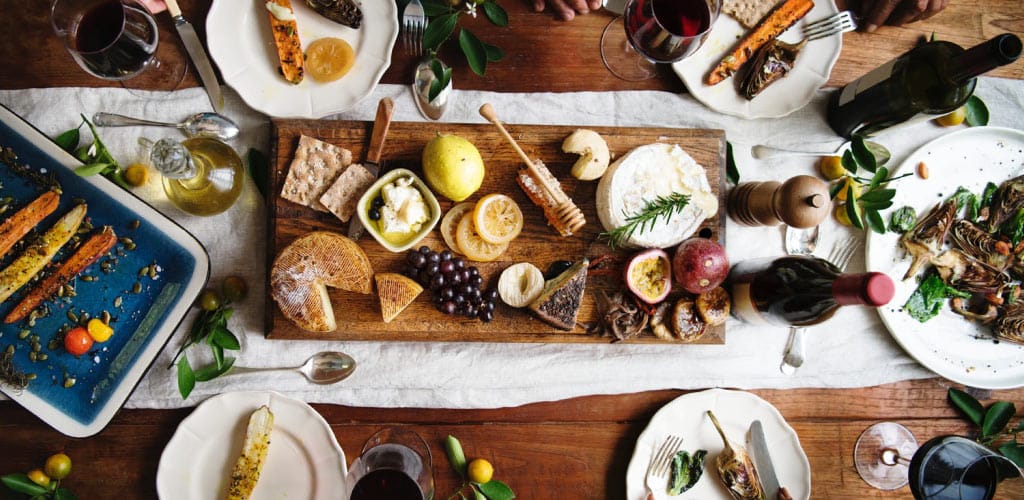 Every season, hundreds of thousands of U.K skiers ponder that age old question. Should we go catered or self catered this season? The pros and cons of each have been debated for generations and everyone has their own thoughts on the subject.
Thanks to innovative companies like Huski, there's now a third way to go and it might be what you never knew you always wanted.
When you book a self catered ski holiday you get all the freedom to eat what you want and when you want but that means either going out or cooking in. If you eat out every night you're going to spend an awful lot more money than if you'd gone for a catered week and yet cooking every night on a ski holiday isn't everyone's idea of fun.
Huski delivering food & drink to the Alps
Huski are the food and drink company made for the mountains. They offer anyone staying in the Alps a vast menu of delicious meals to be delivered to the door in an 'oven ready' state. So as a self catered ski party you can eat delicious food without the cost of going out every night or the burden of shopping and cooking. In fact you can mix it up and do a bit of all of them to suit your preference.
Now you can have it all your own way
Our interview with Huski
We spoke to Huski's own Mark Fielding and Head Chef Nick Casey to get some first hand details of their service that we think will interest our readers thinking about the Huski service.
Chatting to Mark
Do you really deliver to every Mountain Heaven resort in France?
Mark: Oh yes, here in the kitchens in Bourg St Maurice, we produce all the traditional Savoyarde food on site and our drivers take it out from here. We deliver to every Mountain Heaven resort, in fact we deliver to literally EVERY ski resort in the French Alps.
What about kids meals?
Mark: We have kids menus designed for the appetites of little skiers and snowboarders. They've been specially chosen to be well loved by kids and keep them happy and well nourished for the Alpine environment in winter.
Do you offer vegetarian and vegan options?
Mark: We pride ourselves on the dietary options in our menus , we're especially proud because it's so hard to find these sorts of ingredients out here in the Alps, we have worked hard to make sure we offer the widest range of choices for a range of dietary requirements. We offer a range vegetarian, vegan, dairy free and gluten free options, you can search our dishes easily by these options on our website.
Do you deliver drinks too?
Mark: We sure do, we have a fantastic range of wine and craft beer. For our beer we work with 2 local breweries making Alpine craft beer, we wanted a local properly made craft beer that we could introduce to our customers for the first time. These are the Brasserie de Petit San Bernard right here in Bourg St Maurice and the Two Hats Brasserie in Aix Les Bains. We can also reveal that we've been working on our own Huski bear, crafted specifically for skiers. We work with two wine suppliers who one to provide us with a selection of wine from around the world and the other a Languedoc region vineyard offering fantastic French
Chatting to Nick
Please tell us a bit about your food background?
Nick: I was born into a family restaurant and catering business, I grew up surrounded by food, events and catering. My parents always warned me against the difficulties of the food business but I couldn't stay away. I found enormous inspiration sailing on yachts from the Mediterranean to the Caribbean sampling the organic local foods and this lead me to where I am today. I ran a natural organic farm for 5 years focussing entirely on growing food in the most natural way without pesticides and artificial fertilisers, I've come from the grass-roots of food production and learnt it from that angle.
Where do your ingredients come from?
Nick: Wherever possible we source all ingredients from the local regional area, fortunately we have access to some phenomenal fruit and veg producers and local flower crops. Meat-wise, welfare is extremely important to us and me in particular, I make sure we source meat from the most reputable of sources. We are a bit fussy but we're proud of that, we really enjoy going out among the local markets, getting to know local producers and farmers, understanding what their story is, understanding their process for growing produce. Whatever we buy we make sure we know exactly where it came from.
How do you decide on your menu?
Nick: Our menu is really attuned to what we think people will want after a day on the mountain. We're looking for maximum flavour, recipes that suit the widest range of tastes and dietary requirements, we make food that brings people together around a table to share it. A lot of research when into the Savoyarde menu, we wanted our food to be the most authentic it can be. We worked closely with traditional French chefs to track down the essence of the perfect Tartiflette, we worked on our recipe and ingredients to make it as faithful to the Savoyarde food tradition. We've created what we think is the best Tartiflette in the region and its vegetarian sister the Courgettiflette has been extremely well received.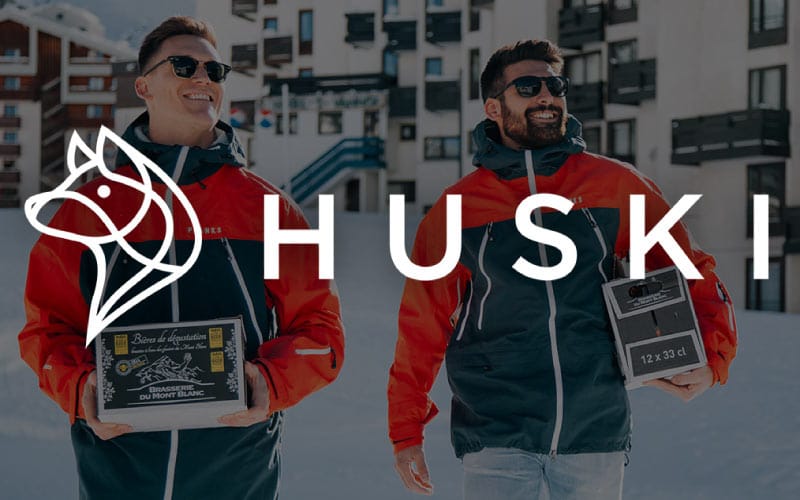 Take a peek the Huski menu
We wanted to give you a taste of what's on offer at Huski, these are just a small sample of the delicious dishes that caught our eye out of around 100 available to order on their website at the time of writing.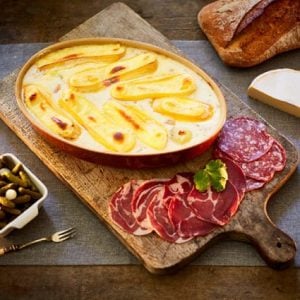 Traditional Tartiflette
– A traditional Alpine winter meal that really hits the spot after a day on the mountain
– Uses only locally sourced ingredients made fresh in Savoie Tarentaise
– Available in portions that serve 2
– Find out more about the Huski Tartiflette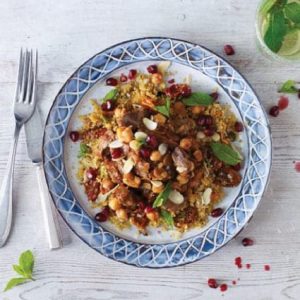 Moroccan spiced lamb Tagine
– Not a traditional Alpine meal but one that contrasts well with the local cuisine
– Slow cooked lamb with traditional blend of Moroccan spices
– Individual portions available so it makes a great alternative or addition to a group meal
– Find out more about the Huski Moroccan Lamb Tagine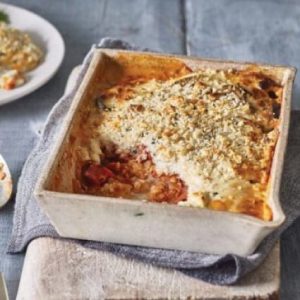 Red lentil & aubergine Moussaka
– A hearty vegetarian meal ideal for the mountains but with flavours from the Middle East
– Spiced lentils with potato, bechamel sauces, feta and oregano
– Available in individual portion size
– Find out more about the Huski Red Lentil Aubergine Moussaka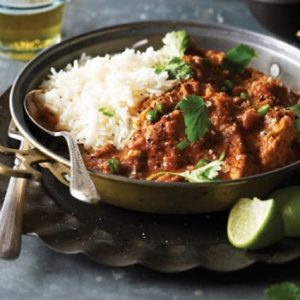 Chicken Tika Massala
– Rumoured to be invented by a Bangladeshi in Glasgow in the 70's this is an early example of an Indian fusion dish
– Curry and skiing may not be historically twinned but sometimes it makes perfect sense
– Huski offer this traditional British curry with yoghurt, lemon, coconut and paprika
– Find out more about the Huski Tikka Massala
The menus
Huski also offer great value set menus for a whole week, a few days or for special occasions like Christmas.
Browse all the Huski dishes on offer
Check out the set menus here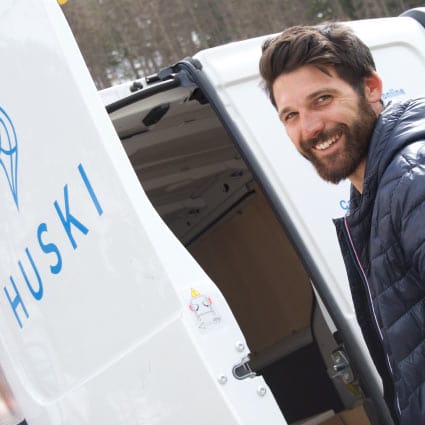 How to order
If you're staying with Mountain Heaven, you can place your order directly through our site, check out our food and wine delivery page.
If you're going to be elsewhere in the Alps and might be interested, check out the Huski website