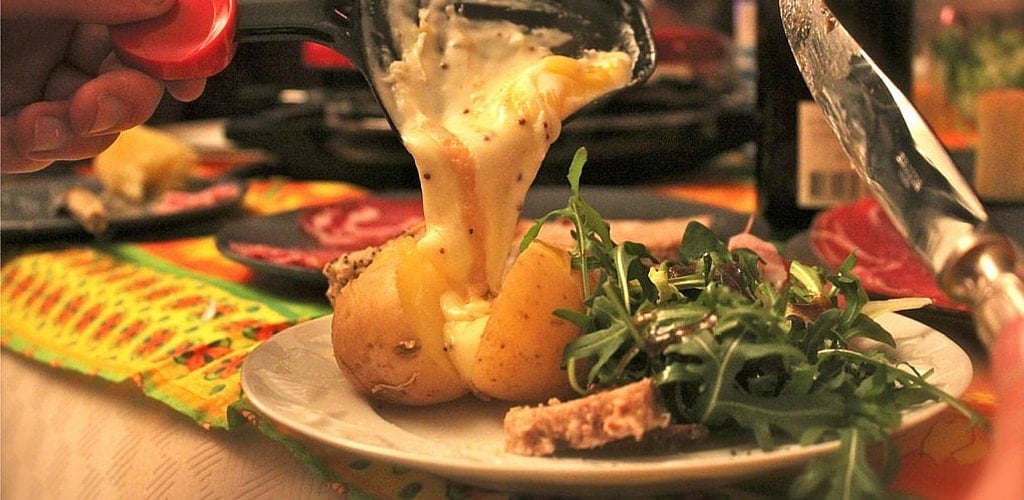 So you've come back from your ski trip and are drooling over the thought of that tartiflette you devoured. The good news is that some of your Alpine favourites can be replicated in your kitchen at home!
If you're in the mood to relive some of your ski food favourites, here are the recipes for ski food that will bring back all those taste sensations.
And if you've recently enjoyed one of the meals prepared for you in our catered skiing chalets in Courchevel, La Plagne and more, and would like to try it out yourself, please get in touch. We'd be happy to give you our recipe.
Savoury Mountain Dishes
After a morning of skiing, the perfect lunch break will involve a refreshing drink, a seat with a view and a warming and comforting lunch. Putting aside the burgers and pommes frites, these classics are authentic and delicious meals.
Tartiflette
This dish hails from the Savoy region of the French Alps and contains some of our favourite comfort food ingredients: cheese, bacon and potatoes.
Food blogger Girl Gone Gourmet has an excellent interpretation of this popular dish and says: "It's a wonderfully comforting dish for a cold winter's night." If you want that extra touch of authenticity, swap the brie for reblochon cheese, which is the most famous cheese from the Savoy region.
Serves: 4
Total time: 1 hour
Ingredients
450g yukon gold potatoes (alternatively choose a waxy potato – salad potatoes or Charlotte potatoes)
225g bacon, sliced
½ yellow onion, thinly sliced
1 clove of garlic, minced
60ml dry white wine
225g brie, rind removed (use a vegetable peeler to scrape off the rind)
1 tbsp. chopped fresh chives
Method
Find the full method on Girl Gone Gourmet.
Croziflette
Another comforting, cheesy delight is the Croziflette, another hearty recipe from the Savoy region. It's basically a tartiflette but with a kind of pasta instead of potatoes. So choose your preferred carbohydrate and get cooking! Croziflette traditionally uses a specific pasta – crozet.
This wonderful recipe from French Girl Cuisine is simple once you have sourced your crozets. Check the international food sections of your local supermarket, or buy online.
Serves: 4
Total time: 45 minutes
Ingredients
400g of buckwheat crozet (pasta)
1 onion
1 garlic clove
a bit of butter
2 tbsp. white wine
250ml cream
8-12 bacon rashers
4 small wheels of reblochon cheese
Method
Find the full method on French Girl Cuisine.
Diots
If you like your main meal to be based around something meaty and filling, diots (pronounced deeyo) are for you. Like the above two dishes, these sausages come from the Savoy region. They can be cooked and eaten like your typical sausage, but it is traditional to enjoy them in a white wine sauce.
Caro Blackwell from Taste of Savoie loves this dish: "This is a simple and very tasty dish, perfect warming mountain food, served with the Savoyard pasta Crozets mixed with a little local cheese!
"It would go well with a good white Savoie wine like Apremont or Chignin Bergeron – Bon appetit!"
Give it a try yourself with the recipe below, and serve with your choice of crozets or mashed potatoes.
Serves: 4
Ingredients
8 Diots nature
1 bottle of white wine from Savoie region – I used Apremont
2 onions – sliced finely
2 garlic cloves – chopped finely
1-2 bay leaves – optional
2 tbsp. flour
Good, large knob of unsalted butter
Method
Find the full method on Taste of Savoie.
If you're thinking of staying in one of our Morzine ski chalets next season, Taste of Savoie also has an excellent restaurant guide that covers the whole ski area. Check out the Les Gets Restaurant Guide for some suggestions.
Raclette
Raclette is an Alpine cheese and also the name given to how you prepare it at the table. It essentially means 'to scrape' – traditionally the cut face of the wheel of cheese is heated until it begins to melt, and then the soft, melted cheese is scraped off to enjoy with a variety of food items such as bread or potatoes.
If you're feeling extremely adventurous, you can make your own raclette by following the recipe by Jim Wallace from Cheesemaking.com.
In your average home, raclette is best enjoyed with friends and family gathered around a table top raclette grill – picture of one below. The grill comes with lots of small melting pans (called coupelles), in which you put a food item of your choice and some cheese before melting under the grill. Once bubbling away to your preference, enjoy!
A Glug of Oil has some great suggestions of ingredients to serve as part of your raclette meal.
Sliced mushrooms, sliced red and green bell peppers, sliced onions, jalapeno peppers, sweetcorn, baby tomatoes
Sliced new potatoes
Thinly sliced strips of beef
Thinly sliced chicken breast
Pepperoni
Your favourite dips
Cheese – raclette can be difficult to get hold of, so consider using cheddar or gouda
Many raclette grills also come with a stone top that you can use to cook meat and veg, which is a good idea as it ensures the food items are cooked thoroughly. This method of cooking is called pierrade.
Sweet Mountain Dishes
We all love a pudding. These classic sweet treats are sure to remind you of a ski holiday in the Alps, whether you picked up a bugne from the local bakery or enjoyed a slice of bilberry (or blueberry) tart.
Tartes aux Myrtilles
The French are known for their patisserie, and the tarte aux myrtilles is a simple one to recreate at home. The tart uses bilberries, which many people say are more flavoursome than blueberries. However, if bilberries are hard to come by, blueberries are the perfect alternative.
Using frozen bilberries, Veronica from La Recette du Jour has a tried and tested recipe that leaves not a crumb on the plate. Try it yourself below.
Serves: 8
Ingredients
Pastry
170g plain flour
85g caster sugar
85g butter, softened
1 tbsp. milk or water
Filling
2 tbsp. ground almonds
2 tbsp. caster sugar
1 tbsp. plain flour
350g bilberries (fresh or frozen)
2 tbsp. crème fraiche
1 tbsp. sugar
1 egg
icing sugar
Method
Find the full method on La Recette du Jour.
Basler Leckerli
This Swiss biscuit can be considered a type of Lebkuchen – German gingerbread. The Swiss variety is full of warming spices, honey, candied fruit, nuts and a touch of alcohol, and it has a little bite to it.
"The lightly spiced Basler Leckerli are not only one of the oldest gingerbread biscuits, they are also utterly delicious and easy to make," says Steffi from Ginger & Bread. It's the perfect Saturday afternoon bake, so why not give it a go?
Makes: 50
Ingredients
2 eggs
2 apple juice
250g caster sugar
70g honey
1/2 tsp. ground cloves
2 tsp. ground cinnamon
20ml rum
70g dark chocolate, grated
1 tsp. baking powder
250g plain flour
100g whole almonds
40g mixed peel
150g icing sugar
2 tbsp. water
Method
Find the full method on Ginger & Bread.
Bugnes
Closely related to beignets, these sweet fried pastries originate from the Savoy region. They were traditionally eaten just before Lent, but bakeries now make them to enjoy at any time of the year – the perfect sweet treat after a day's skiing. If you're into baking and are comfortable with deep-frying, you won't regret giving these a try.
Serves: 6
Ingredients
100g granulated sugar
Zest of 1 grapefruit
240g plain flour
½ tsp. salt
½ tsp. baking powder
6 tbsp. of unsalted butter, cut into cubes, room temperature
3 eggs, room temperature
2 tbsp. vanilla extract
Vegetable oil, for frying
Superfine sugar, for dusting
Method
Find the full method on For the Love of the South.
Drinks
There are of course lots of drinks you can try on a ski holiday in France – wine will be abundantly flowing! However, for a little pick-me-up of the warm alcoholic variety, mulled wine is the drink of choice.
Mulled Wine
Adeline and Lumiere have this excellent recipe that makes use of some really lovely spices. After trying out a number of mulled wine recipes, Emily from Adeline and Lumiere has picked out the best ingredients from each to combine them into the ultimate mulled wine recipe – enjoy!
When trying out this recipe, Emily says, "If it doesn't have enough 'zing' for your liking, add a few more spices to taste."
Ingredients
750ml red wine
150g castor sugar
120ml orange juice
Peel of one lemon
Peel of one orange
1 star anise
1 cinnamon stick
5 cloves
1 tsp. fresh nutmeg
Pinch of ginger
Method
Find the full recipe on Adeline and Lumiere.
Main image Credit: Alex Toulemonde (flickr.com)