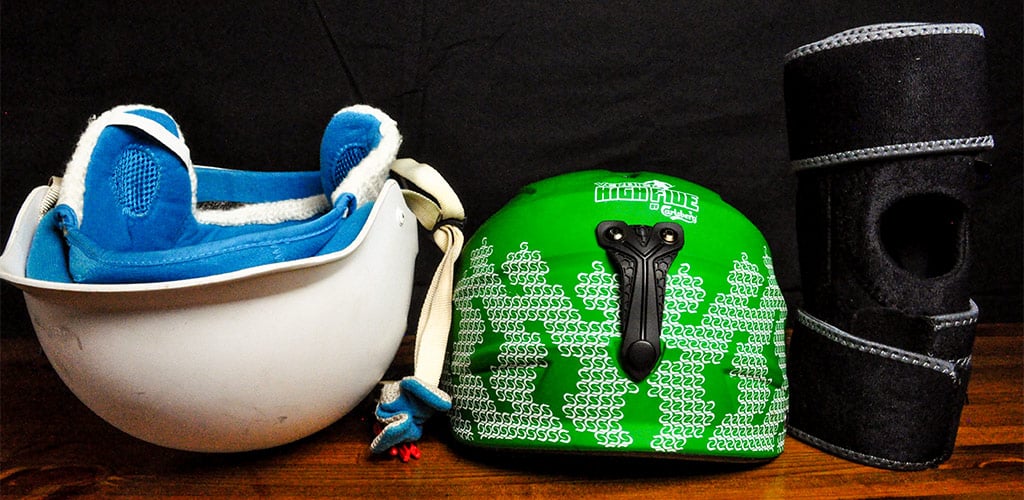 There are many items designed to protect you on the slopes in the event of it all going wrong. The dangers are many, you might crash into someone, get into trouble off piste or simply have a ski lift accident. The risk of injury exists to some degree at all times when you're out on a mountain but judging the degree of risk and the type of risk you'll face is vital to ensuring you do so with the right protective ski gear. While travel insurance is a must for winter sports holidays, it's not going to save you from injury, for that, you'll need some gear.
It certainly isn't the case that protective gear is for beginners, or just the experts. You can't be too good to use a helmet in a high speed or high risk environment. In fact, real experts have respect for the conditions and how much of their safety relies on that tentative mixture of skill and luck. Even Olympians crash but they always do so wearing a helmet and are commonly strapped up and armoured to suit their discipline.
Protective gear isn't only for experts and speed-demons. Not only can it prevent and reduce injuries when you're up in the mountains but in a busy resort like Courchevel travelling the piste, it can increase your confidence when a potential collision with someone can seem moments away. We don't mean that in a 'let's see how many times we can fall over' way, we mean it as in if you do happen to take a tumble, protective gear is there to soften the blow and help you get up pain free, ready to tackle the slopes again. It can be nice to know it's there.
There's a range of effective and affordable protective gear out there for you to take with you on your ski and snowboard trips. So with the right items, you can develop your skills while being safe and protected. Take a look at our selection of protective ski gear below!
Ski Gear Products