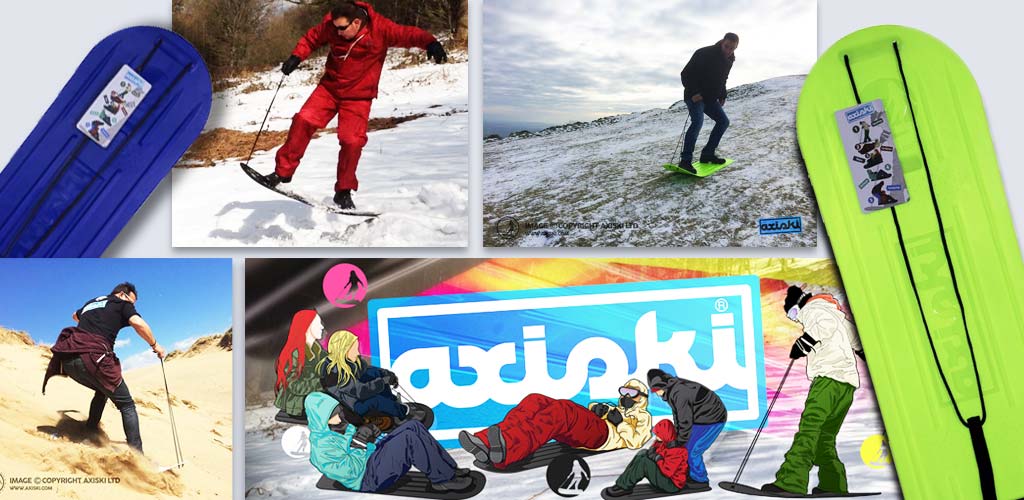 When you think about it, winter sports are just an advanced version of sledging. When you take away the competitions, the apres ski, the glamour and the sense of occasion you're left with people of all ages enjoying sliding down a hill. And there's nothing wrong with that!
In this article we look at a British made product that captures the fun of winter sports in its simplest form. Like many great British inventions, it all started in a shed. In this case our inventor wanted a sledge he could easily handle with his daughters. He didn't like what was available on the market and went to work with some laminate flooring to make something better and so the Axiski was born.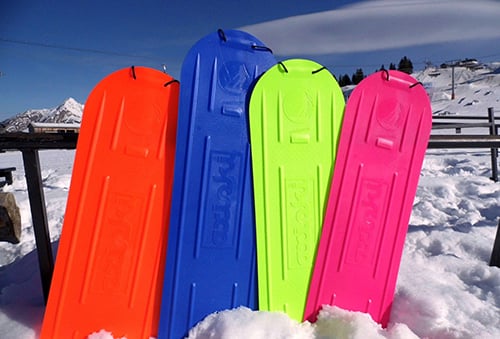 As children on the local sledging hill we soon learn it's not always the fanciest sledge that wins the race, many a brave child on a simple slippery tray have seized victory from the other kids. Axiski is a single plank designed to slide nicely over all kinds of surfaces including sand, grass and of course, snow. Over several years the design has been perfected with runners in the base, a grippy surface on top and curved edges to aid steering but in essence the product has remained very simple. It's big enough for a at least 2 kids or a parent and child or a even couple of grown-up kids. You get a loop of rope to either guide your course or simply hang onto for dear life. This also allows you to stand up and with a fair amount of balance, snowboard your beloved plank over almost any slippery, sloped terrain. So you get a versatile, highly usable fun-plank that stacks easily in the garage and the car boot, it's fun for kids and for adults and works where a normal sledge won't.
The fact is that a well designed plank can be an awful lot of fun. Perhaps we should be stocking them in all of our catered chalets?
Nobody is recommending that you take an Axiski to the top of a big mountain to tackle black runs (if you do, send pics!) but as something fun to do for kids and big kids of all ages it seems ideal. Axiski isn't just a great product, it's also a great British business success story. In recent years the product has grown quickly in popularity. It's not just popular in the U.K, Axiski are exported to 17 different countries. So if you're a Brit who likes to ski you might be glad to know your money supports a home grown and manufactured product.
This coming season we'll be getting hold of an Axiski and will be taking them for a spin around a ski resort or two in the French Alps. We'll have a play on some gentle slopes, off piste and use them to visit the pub, all in the line of duty of course. We'll be back to you then with 1st hand experience and hopefully some footage and we won't spare any crashes.
Buy an Axiski
Darren Mather-Hutchinson, inventor of the Axiski on BBC News