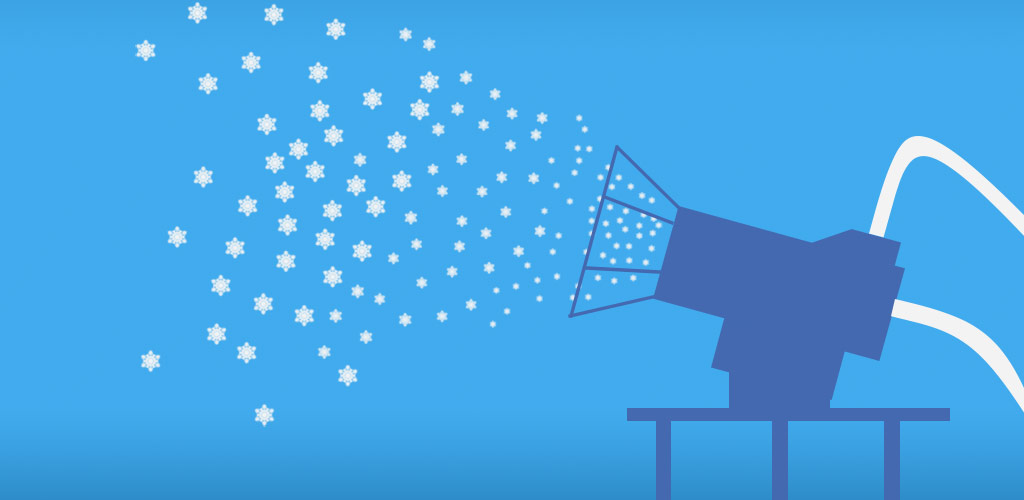 How do ski resorts ensure the pistes are in the best possible condition through a season?
Ensuring holiday makers can enjoy the snow is vital to a healthy ski industry but of course the weather may have other plans. Ski resorts are employing an increasingly diverse toolkit of snow management techniques to bring order to the chaos. The long term snow forecast is uncertain, climate change is clearly having an effect on the Alps but it's hard to know what that will mean for skiers. A study by the Swiss environmental office predicted that all European small and medium sized glaciers will have melted entirely by 2050 and glacial resorts seem to agree. Tignes, a high altitude resort with 9 months of skiing a year thanks to its glacier is planning to build an indoor snow centre at 2000m which could indicate they feel their glacier's days may be numbered. So we thought we'd take a look at the how snow management works today and wonder at what the future may hold.
Piste bashers


These mighty and fascinating vehicles are the workhorse of snow management. They come in all shapes and sizes but a typical model costs about quarter of a million euros and can weigh upwards of 10 tonnes. They use hydraulic blades, rotary tillers and piste shaping equipment to shape our slopes as they crawl around the mountainside in the middle of the night. The drivers are highly trained and have the best possible knowledge of the mountain, even in today's world of technology their personal knowledge and observational skills are the main reason piste bashers manage to find their way around the mountain safely night after night. The art of piste preparation could fill entire volumes, let alone an article maybe one day we'll get the chance to go out with a real piste basher driver and tell a more complete story.
Snowmaking
Snowmaking is commonplace in major resorts around Europe but the scale of snowmaking varies a lot from one resort to another and it is growing every season.
From the Journal of Outdoor Recreation and Tourism and their 2016 study into snow management operations in French ski resorts
This survey confirms that the snow conditions are a major priority for ski resort operators to provide comfortable skiing conditions, to ski back down to the village or even to connect with neighbouring resorts. The required minimum snow depth is shared by most resorts, decreasing from 60 cm in February to 40 cm in April with a minimum 40 cm to maintain regardless the date. Snowmaking also appears as the major method to mitigate the dependency to natural snow conditions.
Journal of Outdoor Recreation and Tourism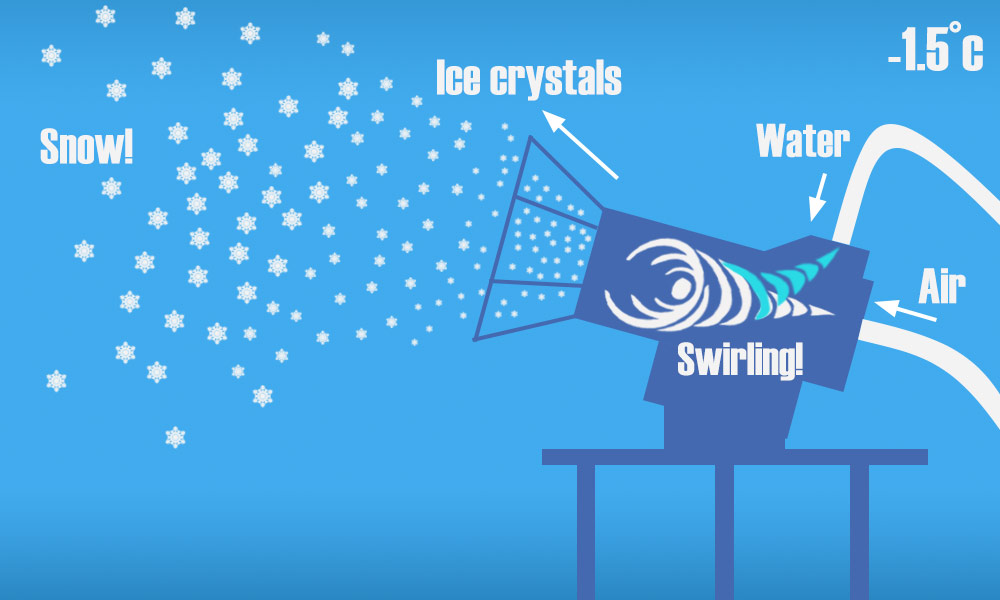 The principle is simple, when the air is cool enough (-1.5˚c) water and air are fired into a funnel together and then out into the air to become snow. The modern mechanics of snowmaking cannons are complex and advanced. The cannons themselves are able to atomise huge amounts of water to form large sheets of snow that shower onto the pistes below but the cannons are only half the story.
To feed a system of powerful snow cannons you need deep reservoirs of water at high altitude and the infrastructure to keep them filled and able to deliver water to the cannons on demand. This can mean major investment for ski resorts but it appears the resorts are finding it well worth it. As concerns about the climate grow the scale of snowmaking across the Alps is set to continue to grow.
Storing snow
Storing or farming snow sounds crazy but it has become increasingly common for ski resorts to literally stockpile snow from one season through to the next. As it turns out a big enough pile of snow at a high altitude will loose only 10-30% of it's volume over the sunny months when an insulating system is employed. We saw this happening over the summer and wrote about it in our article snow farming in Courchevel.
Resorts in France, Switzerland and Austria are looking after their own snow stash through this very summer and it should make all the difference when the season draws near. A range of insulating methods are being used, tarpaulins, plastic matting and even sawdust have been shown to be effective. In the Swiss ski area of Andermatt-Sedrun they are using some kind of fleece to save snow & were kind enough to make a video explaining all about their techniques.
How technology is improving snow management
Satellite coordinated systems are not a thing of the future, they exist today. Naturally today most piste grooming vehicles are using GPS positioning on some level as backup navigation to their excellent mountain knowledge and for location in the case of an avalanche or other accident. Systems are being developed to allow for more effective management of a piste basher fleet. Val Thorens of the Three Valleys employ the state of the art SNOWsat system that allows them pinpoint every vehicle in the network in all weathers and good old Caterpillar offer a system offering similar features. Centralised management of the snow management effort brings lots of potential benefits for example finding the the most optimum routes both for snow quality and fuel economy.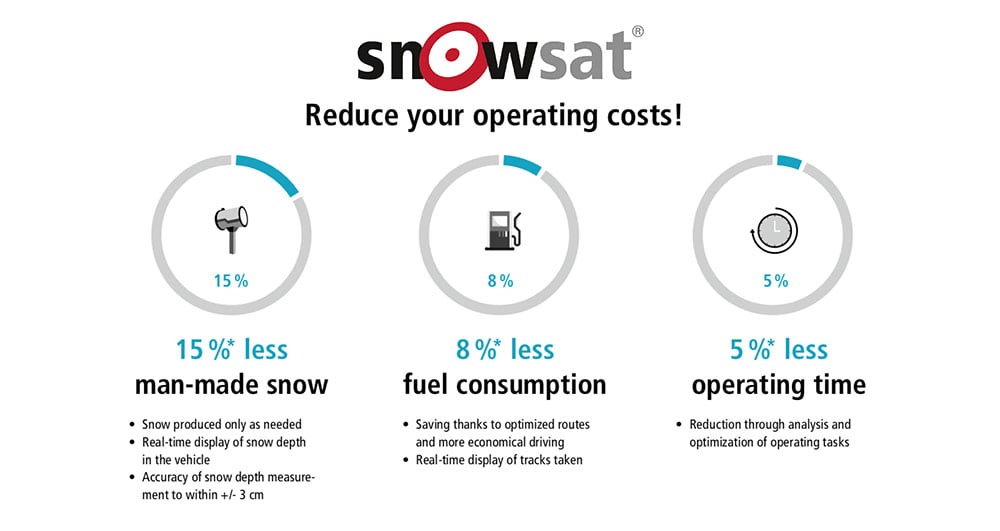 Better information on snow depth can allow resorts to make the right choices, see problems developing early and know when there's no need to use snowmaking machines. How do you get accurate information on the volumes of snow around the mountains in your ski resort? Systems like those from Sensoft use ground penetrating radar (GPR) and GPS mapping to produce 3D maps of the snowline and depth. How long will it be before they mount these monitoring systems on drones to get a full survey every day?
Drones are likely to be playing all kinds of roles in the ski resort of the future. Monitoring conditions and activities are tasks ideally suit automated flying vehicles, drones are already used to survey buildings and landscapes at altitude, it won't be long before they are carrying more specialist equipment and performing more automated functions.
We may find uses for automated vehicles for all kinds of snow management tasks but we expect it'll be a while before piste bashers drive themselves around the slopes at night. That job is harder than it looks and it looks pretty hard indeed.
If pressures on the climate continue to affect ski conditions, ski resorts can be expected to expand and refine their current snow management methods whilst continuing to innovate new ways of giving us the winter sports experiences we love so much.
We hope technology will offer further solutions to the problem of snow. Furthermore we hope that the driving forces behind climate change can be tamed and that the Alps will remain a haven of winter sports and natural beauty.