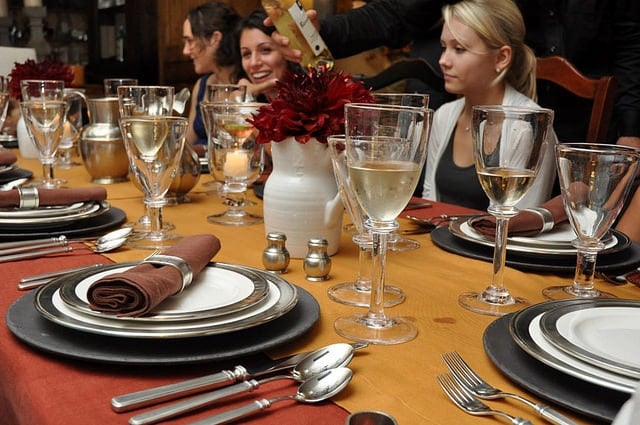 Holidays should be amazing experiences you can look upon fondly for years to come. Whether it is a skiing adventure at one of the chalets in the stylish, winter village Courchevel La Praz, or the solitude of the high-altitude ski chalets in La Plagne, there are many choices to make in creating your perfect escape.
But there is an even bigger question: when the skiing is done, who is going to cook? When enjoying a stay in a skiing holiday chalet, the focus is obviously on enjoying the slopes, so no one wants to spend their holiday cooking. But can you afford to eat out all of the time?
If presented with the option – catered or self-catered accommodation – which should you choose? Let's look at the advantages of each. In both situations, it is important to determine whether there are any hidden costs. Most reputable chalet providers are up front about what you will or will not get during your holiday stay.
Leave the cooking to the experts
Maybe the energy expended on the slopes is enough for you. At many of our catered chalets, you can put up your feet and relax with good company while someone else provides the service. With the catered services, guests can enjoy an extremely pampered holiday with a personal chalet host.
Catered meal services include:
Fully-cooked breakfast for most days
A delightful afternoon tea service with freshly baked cakes, coffee, tea, hot chocolate
Three-course evening meals
The enjoyment of pre-dinner drinks and a selection of quality bottled wine served with the evening meal
Children's early dinners, cots and highchairs
Service is key in catered chalets and because you are on holiday, a bit of pampering is in order. If you have particular diet needs, in many cases your catering staff can meet them.
Although your chalet hosts will be happy to prepare meals around your requests, any dietary requirements that would require specialist ingredients, e.g. gluten-free pasta and soya milk, should be made clear at least two weeks in advance to ensure that chalet hosts are well prepared.
Advantages of self-catering
As both catered and self-catered chalets offer linens, towels and basic amenities, the biggest difference in the two comes down to your meals.
Most self-catered skiing chalets have easy access to local shops, but of course you can bring some of your favourite food and drink to make your holiday an individual experience. Perhaps you have specific dietary restrictions or a must-have breakfast cereal. Either way, self-catering allows you to bring a bit of home with you.
A distinct advantage of self-catered chalets is flexibility. If you want to grab a drink after skiing, you can. If you're not hungry, no problem. You don't have your schedule tied to set mealtimes.
Cost is certainly an important factor, but self-catering may not actually be cheaper – it really depends on you. The advantage of opting for catered means that you know how much your holiday will cost, so you won't have to budget for meals, which can vary in price if you choose self-catered and end up deciding to eat out every night. Saying this, there are savings in doing it yourself if you plan your meals in advance and find some bargains at the local shops.
Image Credit: Didriks (flickr.com)