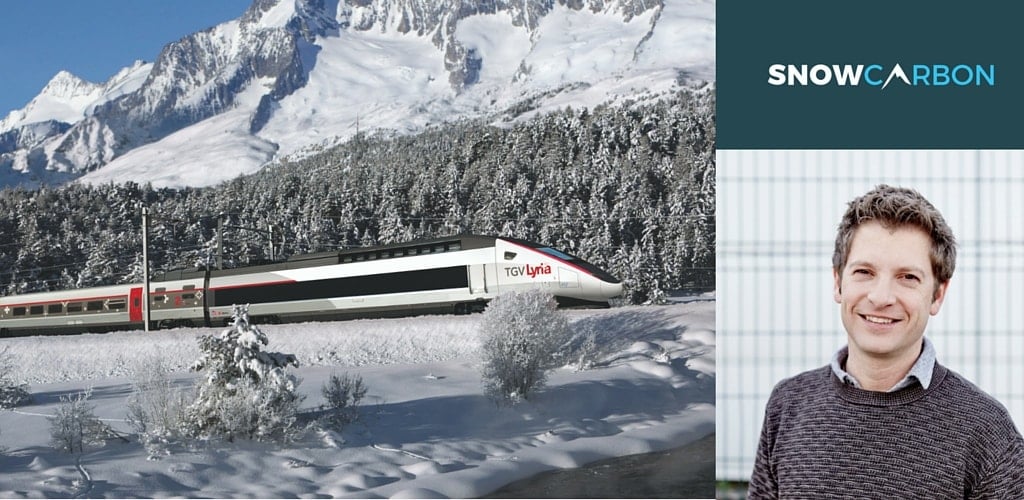 If you're preparing for your ski holiday next season and are thinking of taking the train, good news – Eurostar tickets are now on sale! If you want to get the cheapest ski train fare though, there's more to it than just getting in there early.
We've discussed this topic with Daniel Elkan from Snow Carbon, a veritable expert who is most definitely in the know when it comes to getting the train to France for a ski holiday.
Together with Daniel we've compiled our top tips for getting a great deal on train tickets, but for even more guidance do check out the Snow Carbon website at http://www.snowcarbon.co.uk/. You can use their unique Journey Planner to find the best train to get for the resort you're visiting.
If flying is more your thing, check out our article on how to get cheap ski holiday flights for 2016/2017. But if rail is the way for you, check out our top tips for getting the cheapest ski train fares for the upcoming ski season.
When is it cheaper to take the train over flying?
There is a lot to consider in answering this question, and overall there's no set answer. But there do appear to be general trends.
"I'd say that usually at half-term and peak times, the train travel to the Alps usually works out cheaper than flying independently – especially when you factor in the discounts that children aged 4-11 get, which is 30% off the adult price." – Daniel Elkan, Snow Carbon
Different airlines charge differently for ski carriage, which won't change throughout the ski season unless the airlines announce otherwise. So depending on which airline you choose to fly with, in peak weeks you can expect to pay peak flight prices and then ski carriage on top. This can be quite pricey. In non-peak weeks there is a lot more competition to offer cheap flights.
"In non-peak weeks it's much cheaper I think to take a flight." – Nick Williams, Mountain Heaven
With all the last-minute deals and discounts that both airlines and rail operators offer, it can be hard to say, so make sure to do your research.
Top tip for getting cheap ski train fares?
Try websites like Loco2.com as well as Eurostar.com and Voyages SNCF.
"These websites, as well as Snow Carbon, are the best for making sure you get the best deal on your train fare. Sometimes they can show different travel options that show cheaper journeys." – Nick, Mountain Heaven
"If in any doubt, phone a rail company too – as staff may be able to help you find cheaper journeys." – Daniel, Snow Carbon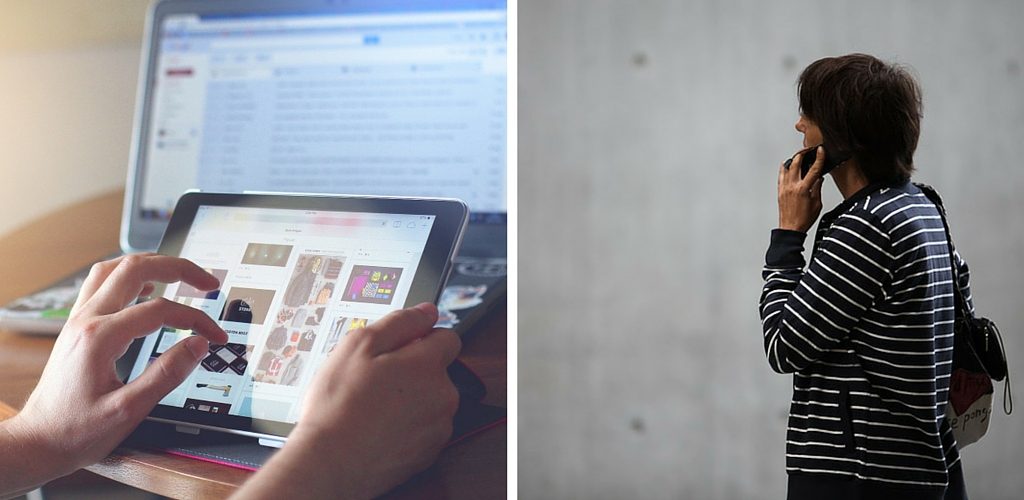 Image credit: cea + (flickr.com)
But, the biggest lesson to take away is that it's not all about cost. Though the cost of your tickets may be low, what value for money are you getting?
"Factor in the whole door-to-door journey when you consider cost, and the time that you'll spend travelling. Even when flying is a few pounds cheaper, the experience on the train is so much better." – Daniel, Snow Carbon
Getting on board a train is quicker and easier than going through all the stages of the airport: check in, baggage drop, security, passport checks etc.
So ask yourself: how much is your time worth?
What are the other advantages of rail travel?
Luggage allowance is a huge factor that makes taking the train better than flying – it is simply less confusing for rail travel.
On direct Eurostar ski trains you can take one pair of skis or one snowboard on board with you as well as your standard luggage allowance. You just have to make sure they're kept in a protective case.
Unlike airlines where you have to check each one for their individual ski carriage costs, it's free to carry your skis on all train services, as long as you follow the rules above.
Plus, when it comes to comfort, you can get almost poetic about the train experience.
"It's a more enjoyable experience compared to flying – the holiday can start on the train instead of in the resort. You've got so much space to move around, all the scenery gliding by. Take all the luggage you want, all the food and drink you want. Once people try it, few want to go back to flying or driving. Plus it's a lot better for the environment too."  – Daniel, Snow Carbon
Just take a look at this beautiful picture – sure you get an amazing view from your flight, but that's only if you get a window seat and you press your face right up to the glass! On a train these views are for all to enjoy, and you're immersed right into the fresh air and stark beauty of the snowy Alps from the word go.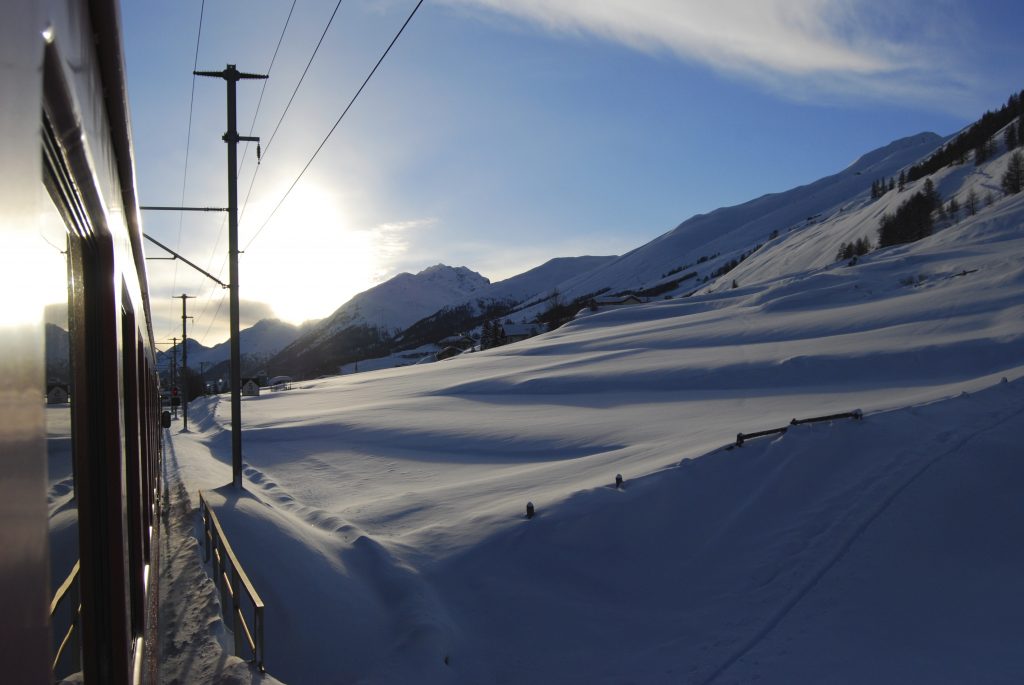 Image credit: ®iStock.com_kopvas
Is travelling by train the right way for you?
Some people like to fly, some people like to drive. Of course if you always rate rail travel above these two then it is an easy choice for you. But if you're undecided?
"I would say rail travel is ideal for anyone.  Families love it, the children have a great time and the adults can relax. And for groups, it's social time and a bundle of laughs. I take a big group of friends every year, and no one even asks about flying anymore – they all want to go by train because we have such a good experience on it." – Daniel, Snow Carbon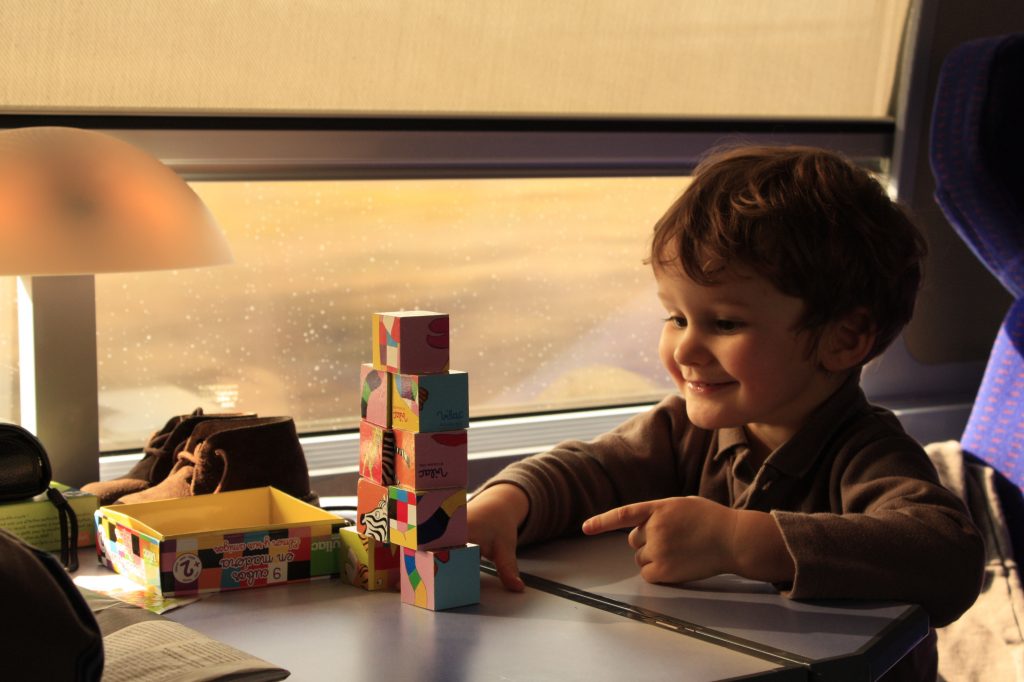 Image Credit: Daniel Elkan
It really depends on what are the most important aspects for you. If it's great value for money in terms of cost and comfort, rail travel is a great option.
"As a provider of catered chalet accommodation that is great value for money, I rate rail travel very highly. It's important to balance comfort and cost, and rail travel does this exceptionally well. If you're staying in one of our chalets in the French Alps, in La Plagne, Courchevel and other resorts, definitely consider rail travel." – Nick, Mountain Heaven
Many recommend travelling overnight – what are the advantages?
Now what if we told you that you can leave home at a sensible time on a Friday and arrive relaxed and ready to go at your ski resort Saturday evening? And that you can get the most out of your time in the ski resort because you can ski on the day you arrive and the day you leave? This is why overnight travel is popular with many seasoned skiers and snowboarders.
There are two main train options for travelling to the French Alps overnight: the Eurostar direct ski train, or Eurostar and then a sleeper train from Paris that comes with couchettes, compartments that have beds in them.
"For overnight travel, going via Paris is usually more expensive than going on the direct Eurostar Ski Train overnight. 
"However, the reason for going via Paris is to be able to lie flat and get to sleep. The Eurostar Ski Train only has seats, so unless you are one of those lucky people who can sleep sitting up, I don't advise taking it.
"The overnight train is good for skiers who want to get straight onto the slopes. For train first-timers and also beginner skiers, I normally recommend daytime travel rather than overnight." – Daniel, Snow Carbon
So, why not give the train a go for your 2016/2017 ski holiday? Find out if it's the right way for you by having a go – using the advice and websites above you can get the best deal on rail fares, and there is virtually nothing to lose by doing so.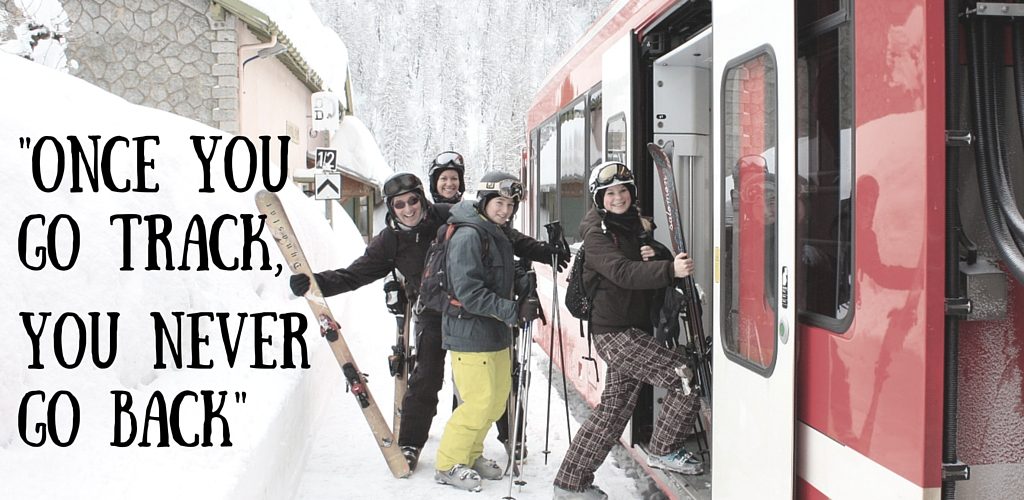 Image Credit: Daniel Elkan