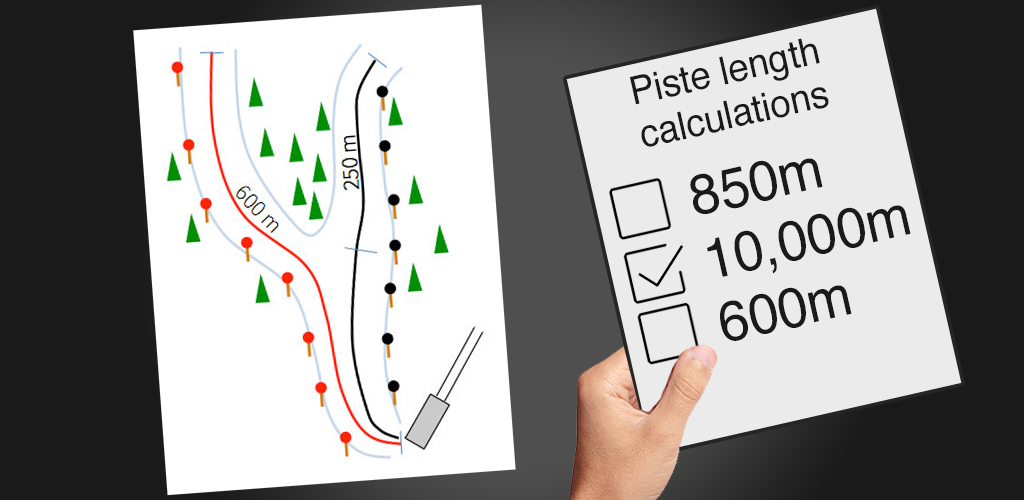 It's been known to skiers for quite some time that particular ski resorts across the globe have overstated their piste lengths in order to attract many more ski enthusiasts. Resorts have been counting a wide run, double or triple the official length, showcasing unreliable and exaggerated figures which evidently do not make skiers too happy.
The 'seal of approval' is a measurement standard certification that resorts should take advantage of to reassure skiers that they aren't telling little white lies! Isola 2000 for example, a ski resort in the southern French Alps claimed to have a total of 120km of runs when in fact, the measured total came to 54km. The certification is now putting pressure on ski resorts to follow suit and provide honest and accurate measurements to skiers and snowboarders.
The 'Seal of Approval'
From March 2018, a total of 38 ski areas in Austria, Germany, Switzerland, France, Italy, Greece and the United States will use the seal of approval for verified length of runs in their resorts. This provides a fair and worldwide standard of measuring ski areas as the size of a ski area is one of the most important factors when snow sport enthusiasts are choosing their ski getaway. Most recently, Espace San Bernardo became the 1st French ski area with a verified length of runs.
Ski resorts were measured by Christoph Schrahe from Montenius Consult. Christoph used google earth to measure pistes in the top 100 resorts in the world, as well as desktop mapping software. He has published the 'List of the world's largest ski areas' which include length of runs, total boundary area, number of lifts, skiable vertical drop and more!
My seal of approval is heavily opposed by the national ski-areas associations. It seems that their recommendations are just a fig leaf and that there is no real interest in reducing fraud and treating customer care with the highest priority. Sadly it is just too tempting to be able to charge a lot more for a lift ticket based on a lie.
Christoph Schrahe - Montenius Consult
Espace San Bernardo, the first French ski area with a verified length of runs
Espace San Bernardo is the popular international ski area which links La Rosiere in France and La Thuile in Italy. Nestled in the middle of the Alps in the Aosta Valley with great views of Mont Blanc, it offers a unique experience for every skier and snowboarder. On the French side in La Rosiere, it boasts long, gentle and quiet slopes. Thanks to it's south exposure, it's a very sunny resort which sits at 1850m altitude. On the Italian side, La Thuile is a small village and it offers the opportunity for more challenging skiing making the ski area the best of both worlds.
The ski area had the total length of it's ski runs calculated by an approved certification body – Montenius Consult in January. There are two methods of calculation that can be undertaken to verify the length of runs and they committed to the straight line distance method, which is measured down the centre of the marked slope. The results accurately showed that Espace San Bernardo will hold 152km of runs and this includes the new runs that will be developed in summer 2018 on Mount Valaisan.
This however does exclude cross country ski trails, permanent ski touring trails and sledging areas. Previously, the ski area was known to have 160km of runs and now it is the first ski area that has reduced it's official figure as a result of the certification. It is also the 13th biggest ski area in France and 34th in the world which is a rather great achievement.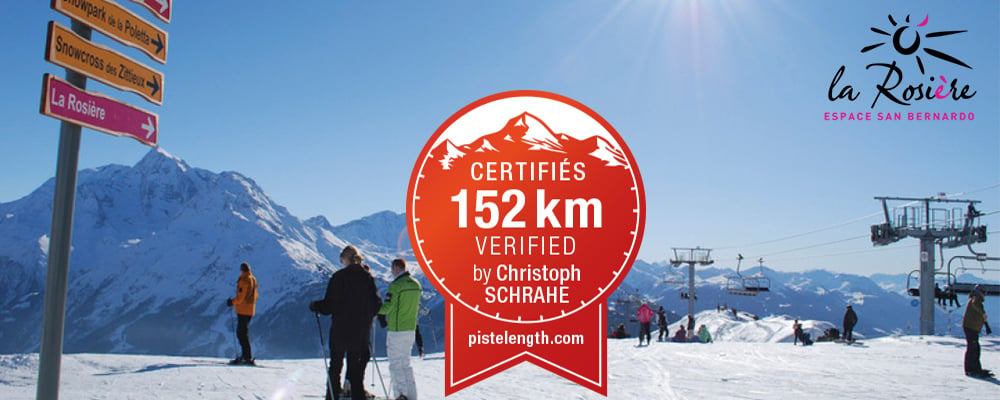 How are the runs measured?
The length of runs are based on a method which is used by all certified ski resorts and based on the recommendation of the international associations for the cable car industry – FIANET and OITAF. The runs are measured by undertaking an inspection with on site GPS or with the use of a mapping software. With a wide range of analogue and digital sources, they help determine the course of the pistes.
Experience La Rosiere Skiing
La Rosiere and La Thuile offer great runs and cater for all types of skiers and snowboarders, packed full of authentic alpine charm and great runs. If you're thinking of staying in La Rosiere for your ski trip, why not check out our catered chalets?
To better your ski experience in La Rosiere, the resort is expanding it's ski area with new pistes and lifts! We cannot wait to see the improvements, hopefully we'll see you on the slopes.
Now that the Espace San Bernardo ski area has received it's seal of approval for verified length of runs, we wonder which resort will take the dive next?