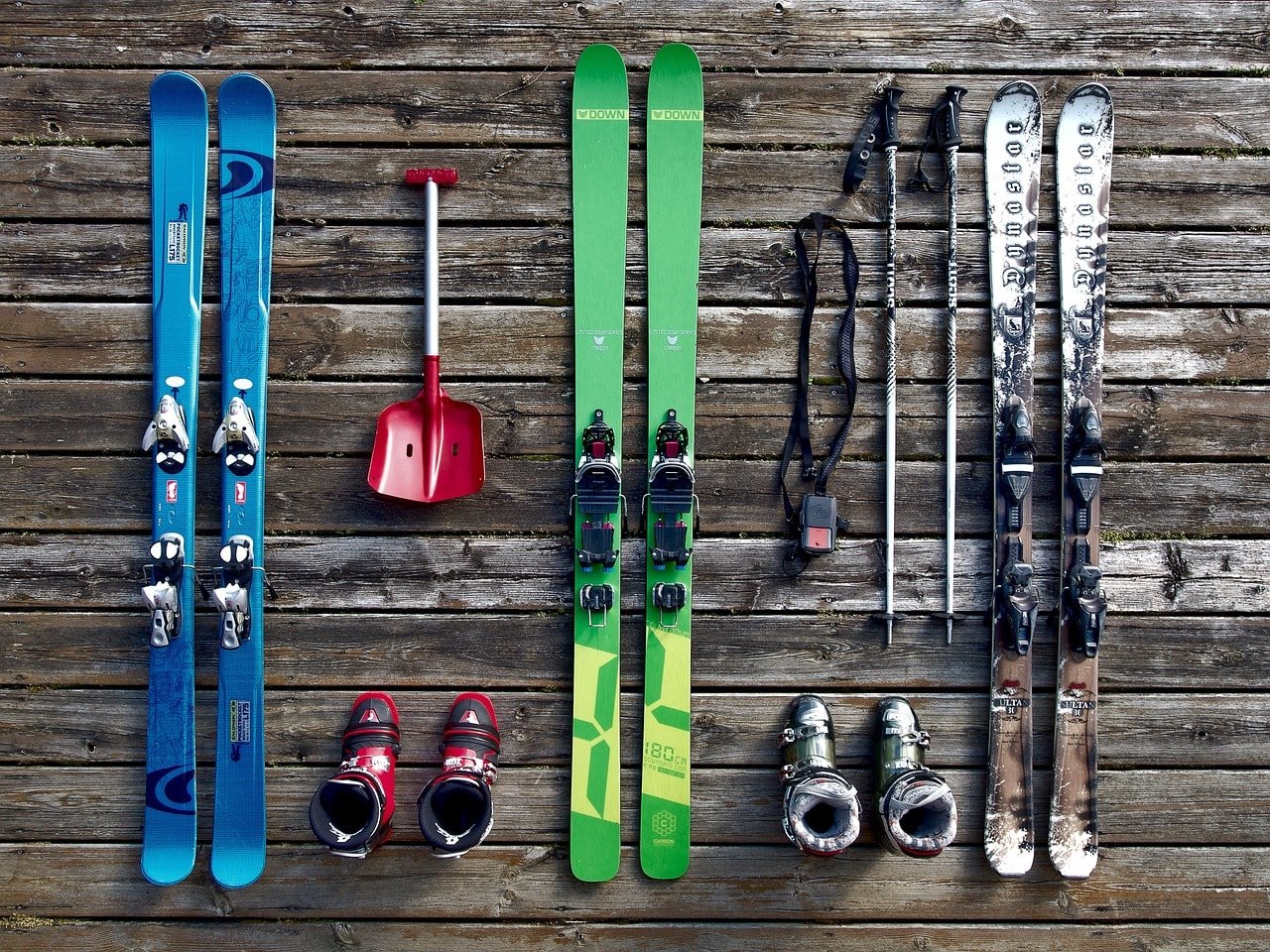 Should I hire skis or buy skis? This is one of the questions we get asked most often, so we thought we would put a guide together and help you reach the right answer.
There are pros and cons to each option, and which is the best option for you depends on a number of factors.
To help you decide on the best option for you, we present a quick guide to hiring skis vs. buying skis. With help from our ski hire friends at SKISET , Plagne 1800 Sport and Intersport, and pre-loved ski equipment experts The Snow Base, the below should help you come to a conclusion so you can get on with looking forward to your ski holiday.
Why should I hire ski equipment?
Pros of hiring
Great for beginners – If you're new to skiing or still consider yourself a beginner, then hiring is definitely recommended. After your first trip you may find that you will make every effort to go skiing every year, but then you may decide that once every few years is best for you.
Ski hire companies will help you find the right pair of skis for you, which is particularly helpful if you are a beginner.
Cheaper flights likely – When you take your skis with you on a flight it is likely that you will be charged to do so. It is extra luggage at the end of the day.
Depending on the carrier, ski carriage can be free or it can cost up to £139, as we revealed in our guide to getting the cheapest flights for the 2016/2017 ski season.
Less hassle when getting to and from the ski resort – As pointed out by Arnaud from SKISET, it can also be extra hassle: "Bringing skis and boots to the mountains is a lot of hassle for families in terms of weight and volume in the luggage."
Ben Keown from Ben's Bus gave us his opinion from the perspective of a ski transfer company: "From a transport perspective, hiring skis seems to have become a much better option in recent years. Lugging around heavy skis, bootbags and your holdall as well as hand luggage can put an unnecessary strain on your body before you even hit the slopes.
"If you do want to take you own skis and boots, remember to factor in the extra cost of getting a bigger taxi from your home to the airport and potentially the extra cost at the other end, from the airport to your ski resort. Some ski transfer companies charge extra for this. Ben's Bus does not charge anything extra for carrying skis."
You can change your skis whenever – If you fancy changing your skis or snowboard during the ski trip, even switching from skis to snowboard if you fancy a go, you can just pop into the shop and they'll sort it out then and there.
If you find that your ski equipment needs change during the week, such as if your skill level improves or you want to try skis designed for different snow conditions, like powder skis, you can do so easily.
As Chris Moran from Intersport points out, there's no charge for changing your skis so you can change your skis as many times as you like: "Basically, you can hire skis for the week and have your own personal ski test."
Latest model skis that are taken care of – Chris also told us about the lengths they go to every year to get the best equipment, "we have brand new ranges every year, and each ski is used for a max number of days before being retired.
"After every hire (even if it's just for a few hours) our technicians service the skis, so you know every time you take them out they will be as good as they can be – i.e. sharp edges, freshly waxed bases and well-maintained bindings."
Christelle from Plagne 1800 Sport says it's the same across Sport 2000 shops too: "When you rent you have new models all the time and these are well prepared for the snow conditions with the edges and wax looked after."
If you buy your skis you will hope that they last for a number of years, which of course means that you won't be able to take advantage of brand new skis every year.
Get discount – If you book with Mountain Heaven you can get online discount on ski hire from a number of our recommended suppliers, including Sport 2000 and SKISET. Get your discount code here.
Cons of hiring
More tailored needs probably won't be catered for – If you need skis for specific conditions, but also need particularly short or long skis because of your height and weight, they may not have it in stock. Some have quoted that as they needed skis a lot shorter than 160cm they struggled to get anything other than a beginner's ski.
You won't get much choice in terms of how they look – Functionality comes first in ski hire and there is a limit to the stock they have, so you may not get your favourite skis in terms of appearance.
Who should hire ski equipment?
So this mainly comes down to two things: cost and experience.
If you will go skiing once a year or less, it will work out cheaper to hire skis. Ski equipment provider Intersport worked out that it costs an average of €8 per day when you hire skis with them.
SKISET also reveal: "Prices of ski rental have gone down significantly for the past 10 years, chains of ski rental shops such as SKISET propose high discounts for clients who book online on SKISET.co.uk or through their partner tour operators such as Mountain Heaven (up to 50% off)."
If you're unsure if you will go skiing frequently, such as if you're a beginner, hire your skis. If you're at a stage where your skill level is changing every day, hire your skis. If you quickly improve, you may find in the course of a week that the skis you had at the beginning of the week are no longer the best for you. Hiring gives you flexibility when you're at the early stages of developing your skills.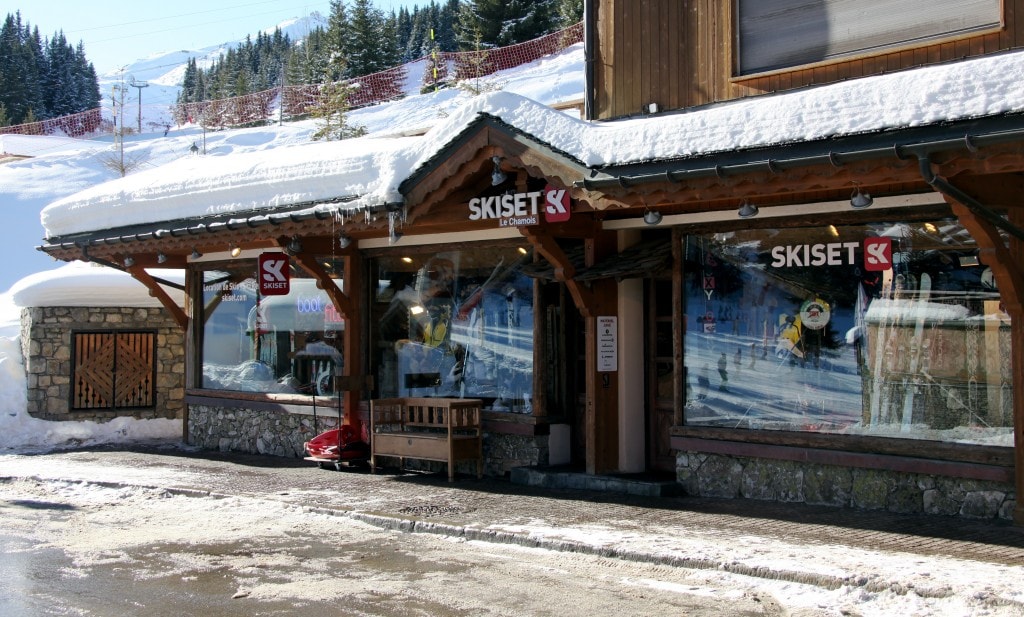 If you've booked a catered ski holiday in La Rosiere, La Plagne Montalbert or Grimentz with us, SKISET is the ski hire company we recommend. They are experts in ski hire and gave us a number of insights into how ski hire:
"The trend since the arrival of parabolic skis 15 years ago is to rent skis rather than buy skis.
"On average in Europe, 2 skiers out of 3 rent their equipment. In the UK it's even more, we are close to 75% who rent their ski equipment.
"In the UK boots are less rented than skis or snowboards; a lot of British skiers are keen on keeping boots they feel comfortable with. But we feel that now boot manufacturers have really made big efforts on the comfort of ski boots recently, and we should expect boots to be rented as much as skis in a near future."
Why should I buy ski equipment?
Pros of buying
May be cheaper than you think – New skis can cost from as little as £120. You can also buy fairly good quality ex-rental skis, or buy second-hand skis. But with all things, the more expensive it is, the better quality you are likely to get.
Sam from The Snow Base is an expert in pre-loved ski gear and gave us this advice: "Buying cheap skis or boots from us is definitely worthwhile if you are a regular skier. Taking into account quality and price we offer some very good deals.
"The main area in which we really add value is through clothing. Even if you hire equipment you still need to buy clothing, and The Snow Base is a great place to do it."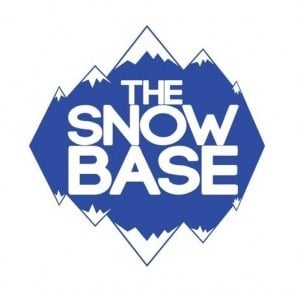 Get familiar with your skis – You'll get to know the skis better if you use them year after year, which can help you get comfortable and refine your skills.
Can use them on ski slopes in the UK – Whether you head to Scotland or artificial ski slopes, you can hone your skills on familiar skis.
You are more likely to get good specialist skis – Due to the sheer volume of lengths of skis and different types of skis available, you are more likely to get the exact ski you need by buying than if you hire.
Less hassle in resort – Although transporting them may be difficult, you won't have to join the queues at busy ski hire shops on the first day of the holiday.
Memory of good times to keep at home – As with anything you buy and keep rather than hire, you can build up memories and sentimental value.
Cons of buying
Cost and hassle of maintenance – There will be ongoing costs for maintaining the skis, including getting them serviced and waxed, and sharpening/tuning the edges. Some people quote £20-£50 per year for ski servicing, waxing and edging, or about £20 for each week the skis are used.
Of course your skis will eventually need replacing, some say their skis were ready to be replaced after 13-15 weeks of skiing, whilst others say 20 weeks plus was right for them.
A lot of thought will have to go into choosing the skis – And not just because of the cost of skis. You don't want to buy skis (and boots) that are too "high end" for what you need. And you will need to weigh up if it is worth getting different types of skis. You will have to do your research to make the right choice, or talk to trusted ski equipment sellers.
Ski carriage – Taking your skis with you can bump up the cost of your flights by quite a lot. However, some airlines will carry ski equipment for free. Top tip: consider fitting a number of skis into one bag. Check the airline's regulations, but most charge for one bag up to the weight of xx, regardless of how many pairs of skis are in the bag.
Who should buy ski equipment?
Again, cost and experience are the two main factors.
If you will go skiing a couple of times per year, it will likely be financially worth buying your own skis, even when taking ski carriage and maintenance into consideration.
It is better to buy skis after you've gained a certain amount of experience. Not only are you less likely to need lots of lessons at this point, so you can put the cost of that towards ski equipment, but with more skill you will in turn be more likely to ski frequently.
Judging the level of experience that is right for you will be different. Some say they considered buying skis once they got to the stage where they could parallel turn, others say it was when they were comfortable on red run pistes.
On a more personal level, if you like your gadgets then you will likely prefer to have your own set of skis and learn about them inside out!
Image credits: SKISET, The Camp of Champions Snowboard & Ski Summer Camp (flickr.com), The Snow Base