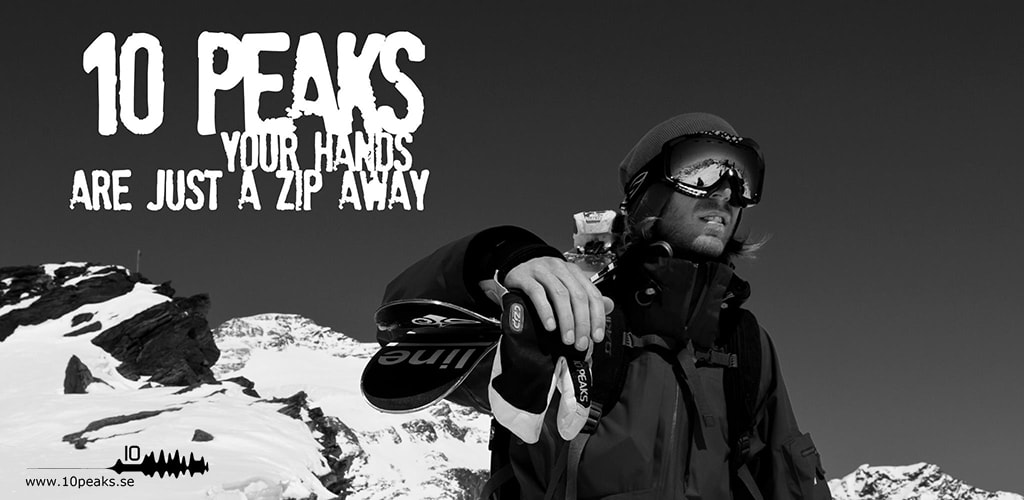 A simple revolution in snow gloves
With ski or snowboard gloves we tend to fasten the baffle around the cuff to make that nice seal with the jacket and get going. Then we want to handle a phone or GoPro or grab a drink and have to unfasten the gloves and tease them off again. The snow under the ski lifts always display a glove or two dropped after their owner tucked them under an elbow whilst taking a selfie. So ski gloves can be a pain when you want to use your hands.
Sometimes the best inventions are the ones that seem so obvious after they've been released to the public. Sometimes we have problems we didn't realise we had until someone gives us an alternative.
The 10 Peaks C-Zip snow gloves are exactly like this. About three years ago I spotted these gloves at the Ski and Snowboard show in Hammersmith. At first they looked just like some nicely made snow gloves, I saw 5 fingered gloves, 3 finger 'talon' grip gloves and mittens. Then I saw their party piece, the gloves have a waterproof zip running across the front of the hand but behind the thumb. I bought a pair and have sworn by them ever since, I finally got around to make a little review video on a trip to Chalet Boulle de Neige in La Plagne 1800 in December 2016.
C-Zip ski and snowboard gloves – Video review
What a difference a zip makes
You put on the C-Zip gloves in the normal way and they feel like a great glove comfy and sturdy, but when you want to get something out of your pocket you just unzip the chunky waterproof zip and pop your hands out. It's so convenient and comes in handy so often on the slopes. When taking pictures, applying lip balm, fiddling with my bindings and ordering a coffee I just pop my hands out of my gloves in a couple of seconds.
I've found them to be very capable gloves in their own right standing up to long days and plenty of punishment. If you're going to the arctic you'll want heftier gloves than these but for piste activities they're plenty warm enough. The only time my hands get wet is when I leave the zip open. If you're in the market for a new pair of gloves for skiing and snowboarding you can only get this convenience from 10 Peaks which is why I'll keep using these on all my trips.
If you'd like to take a look at C-Zip gloves, they retail direct through their website: 10peaksgloves