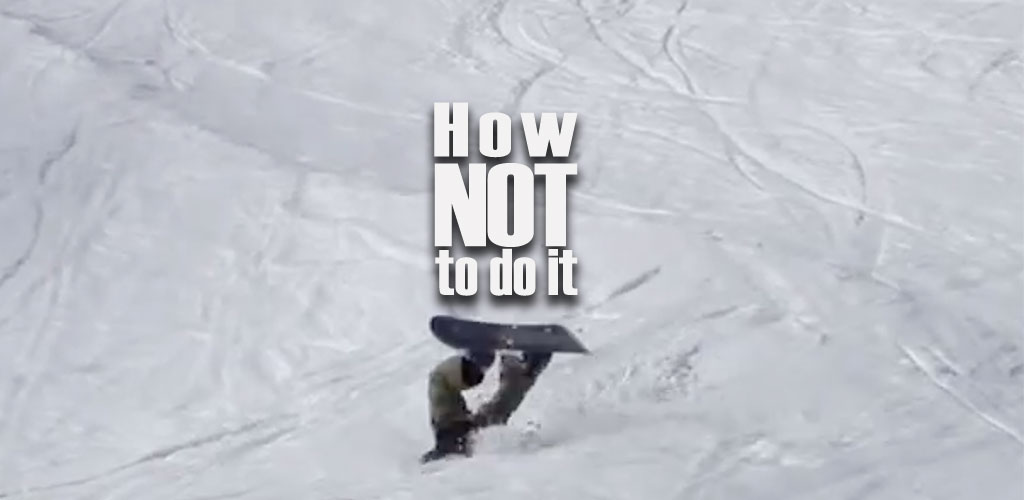 When you go off the piste today you're in for a big surprise…
We're back with another episode in our 'How not to do it' series. This time we look at some of the funnier outcomes of an off piste accident. Before we get on with the hilarious action, let's take half a moment to remember that sometimes accidents off piste are no joke, check out avalanche safety, protective ski gear and speak to some experts before doing anything rash out there. That said, let's learn a few things about how not to do it off piste!
Careful of going in head first
Unlike a nicely groomed piste, the snow on a mountainside can be quite yielding. This changes the dynamic on both skis and snowboard but it also allows for a different class of crash when it goes wrong. You just can't get stuck like this on a piste!
Make sure you get it right when you're showing off

If you're going to get your girlfriend to film your off piste skills, make sure you really nail it. You wouldn't want to stack it right in front of the camera…
Watch out for holes!l
These guys think like us. Their title says it all "When skiing off piste, watch out for holes…"
Trees…
Trees aren't a problem when you stick to the piste, in fact they're sheltering and quite lovely. When you get in amongst them on skis or a board they become a potential problem so control is vital.
And this old gem
This video has been in circulation for years but when it comes to getting it wrong off piste in stunning fashion, this is a classic.
The moral of this tale?
The piste is designed to be predictable, when you head out onto the mountain, expect the unexpected. Always remember to keep your camera running and keep an eye out for our next purely educational 'How Not to Do It'!
Want to see more 'How not to do it?"
Episode 1 – Ski lift fails
Episode 2 – People causing crashes
Episode 4 – The Snow Park