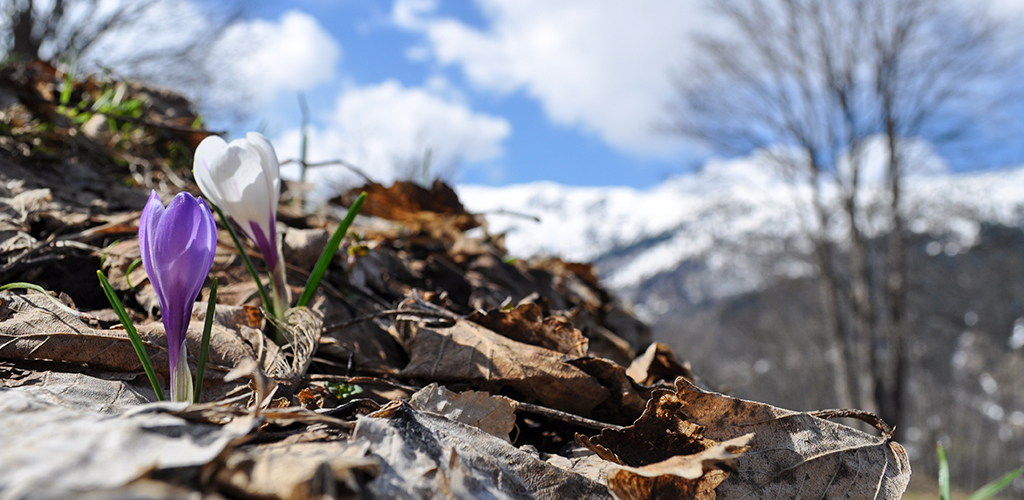 We were alarmed and disappointed with the latest climate change report issued by the Intergovernmental Panel on Climate Change (IPCC), the BBC news article headline was 'Final call to save the world from 'climate catastrophe'. In short our planet is getting warmer and our attempts to avoid this fate have so far been insufficient. The importance of the global environment goes well beyond the ski industry and will affect us all. We know that foreign ski holidays consume an enormous amount of energy and materials and no matter how hard we try, we can't reduce the impact of Mountain Heaven ski holidays to zero. So should we just stick to business as usual? No way.
We strongly believe we must do whatever we practically can to reduce the impact our holidays have on the environment. This is an ongoing process for Mountain Heaven and we're taking steps to make the 2018/19 season our most environmentally friendly yet but expect to better ourselves every year. We know we're not going to single handedly make a dent in global warming but if we all do what we can, the problem could become more manageable.
Our environmental risk reduction steps for 18/19 season
We'd like to let you know what we're doing this season to reduce our impact on the environment.
Reducing plastic consumption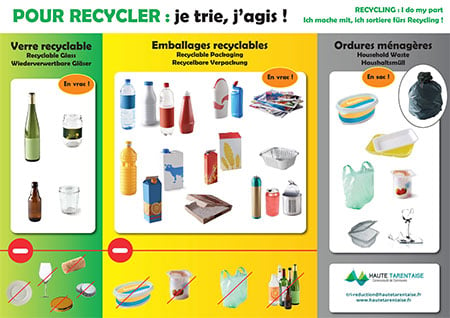 Catering for hundreds of guests every season involves lots of goods that come in lots of packaging. We've been looking at our purchasing practises to identify areas where we can reduce the amount of plastic packaging we consume. This season we will be using refillable dispensers for shampoo and hand wash and buying our products in recyclable bulk containers. This means we'll prevent the use of hundreds of little plastic bottles.
Our tea bags normally come in small plastic bags but we've found we can buy enormous containers of our favoured Yorkshire Tea. Chalets will seal up all the teabags they need in resuable kitchen storage boxes and so that's one more waste item taken out. We realised we'd been using lots of leaflets to communicate local information to guests, we've now created our Chalet Information Book which consolidates all that information making it easier for guests and saving years worth of leaflets. We'll be looking at all of our supplies and finding ways to cut out plastic bags and other packaging wherever we can. We hope we can reduce our plastic usage significantly and learn to do it better next season.
Training staff in green hosting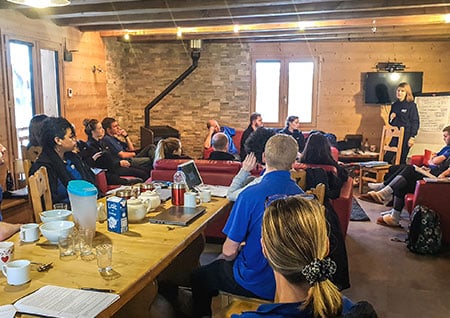 If we're going to take this seriously and get results we'll need the support of each and every one of our chalet hosts. To make sure we support them, we're giving them training in how to conserve energy, avoid waste and gently encourage the guests to do the same. We've found our hosts are very receptive to the idea and hope we'll all be able to come up with some good new ideas that we've not thought of yet as the season progresses.
Our staff training is largely delivered directly from we the owners of Mountain Heaven, that's Vicki in the pic with our 18/19 season hosts. We are glad to take personal responsibility for the training we offer, it means we can be absolutely sure that our hosts will do a fantastic job for our guests. We'll be stressing our sincere support for these environmental practices to each and every one of them and ensure everyone is on board and ready to deliver.
Focusing on food
Which foods we stock and where we source them has always been of paramount importance to Mountain Heaven, after all, we take pride in the deliciousness of our menu. Now we've been looking again at the carbon footprint and environmental impact of our food and where it can be reduced. This season we'll be cutting out palm oil products in favour of more sustainable oils. We've also been using some of the plastic coffee pod machines in some of our chalets, we are phasing these out immediately, you can make good coffee without throwing away a little piece of plastic each time. These are our first steps but we're actively looking for ways to reduce the environmental impact of our menu in ways that improve the service to our guests and only make the meals more delicious.
Recycling
One of our main areas to improve on is recycling. This year we're going to make sure we sort as much of our waste as possible for recycling and get it taken to the recycling centres around our chalets. This is going to be central to the chalet host training and something we're going to be checking on throughout the season. We hope to deprive the landfill of as much rubbish as we can.
More efficient transfers
Vehicle sharing is a significant part of plans for more energy efficient and lower polluting transport and the ski industry is taking note. We've made shared transfers the standard option for our catered holidays. We used to include private transfers with whole chalet bookings but now we're offering shared transfers. Our partners Skidy Gonzales (the guys who wear sombreros at the airport) have enough scale and organisational skills to plan efficient journeys and make sure the vehicles are largely full and journey times are short. This is good for costs but it's essential to minimise the number of vans making the transfer run every season.
Energy efficiency in chalets
We use a lot of energy keeping our chalets warm, clean and full of light but we're finding there are lots of ways we can make sure we use only what is needed. Making our chalets more efficient is partly down to the hardware we install, features like timer lights and insulation that directly reduce energy usage. We're always looking at how we can improve our chalets and as technology improves our options, we expect to make further investments in the efficiency of the chalet facilities and equipment. The other side of energy efficiency in chalets are the people, our hosts will be trained to ensure heating is well managed, lights get turned off and cooking is completed with an eye on the power consumption.
We're sure there's more we can do and will be reviewing our environmental impact every year to make further improvements. If you've got ideas about how we can save energy or reduce waste we'd like to hear your suggestions, please feel free to comment on this article below. If you're as concerned about the environment as we are, you might wonder what you can do about your environmental impact this season. Here are a few ideas to start you off.
What you can do to reduce your ski footprint?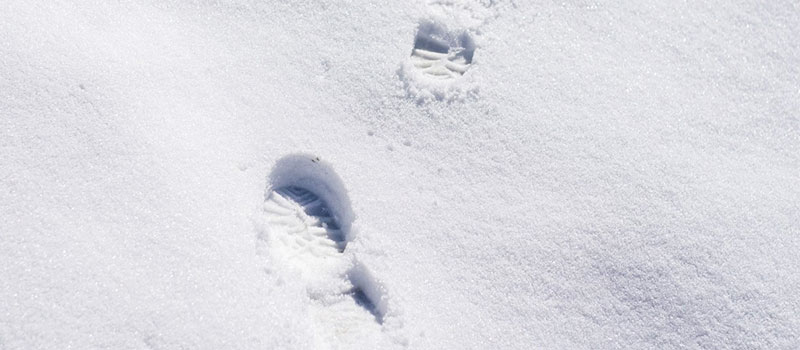 Consider how you travel
Big groups in a people carrier or coach typically use less carbon per person than flying. Couples or individuals may use less carbon per person flying to the Alps than driving from the U.K so driving isn't always better. Getting the train is probably the lowest practical carbon footprint and with Eurostar services to the Alps going from London to Lyon in under 5 hours, it's not actually much slower than flying and many would say, more pleasant. If a shared transfer is an option, maybe don't hire a car at the airport if your party wouldn't fill it and you don't really need it.
Remember rubbish is pollution too
Hopefully it goes without saying that you should dispose of all your rubbish properly and especially on the mountain. If you smoke, little metal pop out ashtrays are usually on sale or even free at ski resort gear shops (usually by the lip balm), keep one in your pocket and you need never leave a butt stubbed out in the snow. Some of us even pick some rubbish after others, snowboarder trouser thigh pockets are big enough to stuff bottles, packets and other junk left on the pistes and it feels good to remove that stuff and get it in the bin as you coast around. Top tip, if you litter pick on the slopes, don't forget to put a plastic bag inside your rubbish pocket or something nasty will end up soaked into your ski gear.
Reward companies that take care of the environment with your custom
When you buy a snowboard, a coat or even a holiday and you find companies are taking steps for the environment, take it into account. When we researched for our article on wooden ski and snowboard gear we found quite a few products made with sustainability as a core value. Eco friendly ski products are out there and they seem to be on the rise. Once businesses understand that customers will strongly favour environmentally friendly products, the world might be in with a chance of some significant change. It's up to you to take the environment into account when you decide who gets your money, there's real power in that simple idea.