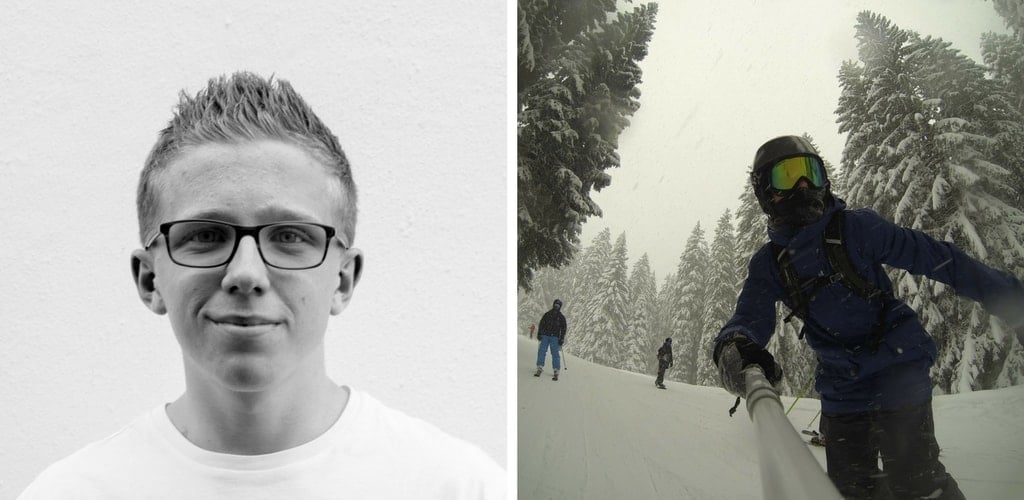 We know that ski holidays are amazing fun, but what if you've never been before? What can you expect?
To prepare you for what's in store, we've spoken to Jacob Whitmore, who has recently been on his first snowboarding holiday in Morzine with some friends and has been telling people about it through his blog, Instagram and YouTube channel. He also told us what he thought of the resort in a recent blog about Morzine as a great resort for beginner snowboarders.
The short version of his story is that his snowboarding holiday was awesome. The longer version is below; read on to find out what you can expect from your first skiing holiday and get some tips on how to get great photos and videos whilst you're at it.
What experience have you got of snowboarding?
I got into snowboarding by my friends. They were going to a snow centre in England and they kindly invited me along. I only did snowboarding a few times before heading out to Morzine.
Morzine was great! Such a nice French town in the Alps. Lots to do and the locals are great. You can do lots of skiing and snowboarding as you can venture up both sides of the valley.
What did you enjoy most about your holiday?
This was the first holiday I had been on with my friends. The best thing had to be racing each other down the mountains. I had such a laugh with them!
What is your favourite memory from your snowboarding holiday?
This is a hard question as there were lots. One would be the first day skiing down the mountain playing music full blast and taking in the scenery.
The funniest story has to be all the failed attempts in the snow park. I just kept on face planting the floor.
What is your top tip for getting the most out of a ski holiday?
Make sure you have eaten lots and have some snacks whilst snowboarding as it takes a lot of energy out of you.
What do you like about Instagram when it comes to snow sports?
I love that you can interact with other snow sports enthusiasts and see their perspective of the sport.
What location was most inspiring for capturing photos?
Another hard question as everywhere was photogenic. One of the best locations was near Les Gets. You could see Mont-Blanc!
What is your top tip for getting good photos?
Take lots and lots. At least one will be great.
Here are some of our favourite posts from Jacob's Instagram, including one of beautiful Morzine:
What do you like about YouTube when it comes to snow sports?
You can see how others capture and do the sport.
What location was most inspiring for capturing video footage?
It had to be the snow park as it was the most fun and memorable.
What is your top tip for getting good footage?
Again capture lots. Also get a selfie stick for your camera, this can help to get lots of different perspectives.
Below you can see the first in Jacob's series of YouTube videos about his trip to Morzine. It covers getting to Morzine and his first impression of the resort. There's the early morning start to contend with, but it's clear to see two of our own favourite ski holiday moments: the excitement of seeing the snow for the first time and getting paired with the equipment that will see you through your weekend of adventure.
You can see the rest of his series on his YouTube channel.
If you're interested in creating your own photos and videos from your ski holiday, you can take a bit more inspiration from Jacob. On WhitoMedia.com you can see some more examples of his video skills. In terms of software he uses Final Cut Pro X to edit his videos and he uses the following cameras:
GoPro Hero 3 (black edition)
Canon G7X
Canon 650d
IPhone 6s
DJI OSMO
And if you fancy going on your own adventure, there are plenty of great ski resorts for beginners. As well as Morzine, we recommend Meribel and Courchevel in the Three Valleys, and La Plagne in the Paradiski ski area.
Image Credit: Jacob Whitmore
Share this article