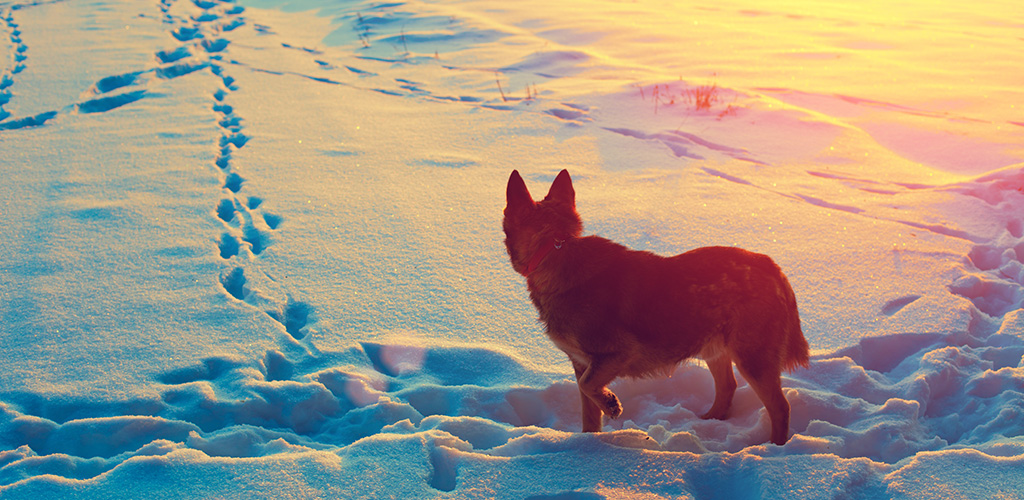 Your dog is a member of the family, so why shouldn't they join you on a great ski holiday?
It's safe to say we love the snow and the majority of dogs do too. Have you ever wondered why they become so energetic when snow arrives? It's because it's something new for them to play with even if they have no idea what it is! They'd be in snow heaven in the Alps.
We understand how difficult it may be to leave your pets at home while you experience a great winter getaway in the mountains but what's stopping you from bringing them with you? We believe your companion should enjoy a break in the mountains too which is why we have ensured a few dog friendly chalets are available in selected resorts. Not only will you have the opportunity to experience a new environment and try new foods, your beloved pet will too, like the rest of the family.
Dogs enjoying the snow!
In case you need some convincing here's some proof that dogs love the snow! This is our favourite from YouTube, this dog is a total sledgend.
Basil, Mountain Heaven's furry guest of the year
And here is Basil a guest of Mountain Heaven in La Plagne (see below for details), he had a smashing week, he's been learning to sledge after seeing that Collie on YouTube.
Do you have pics of dogs in the snow? We can't get enough, we'd be delighted if you'd share them to our Facebook page

Are you thinking of a ski holiday in La Plagne? We have 3 chalets that welcomes our four legged friends.
Dog friendly catered chalets in La Plagne 1800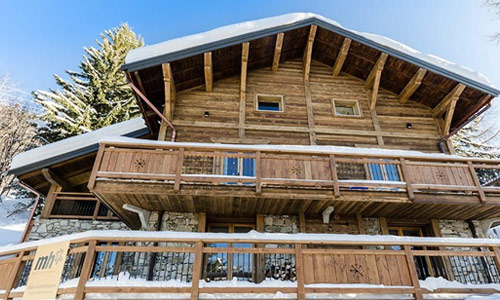 Chalet Ammonite
Chalet Ammonite is situated in the heart of La Plagne 1800 and it is a true gem. It is a 8 bedroom chalet which sleeps 15 guests. It has all en-suite bathrooms an outdoor hot tub and a log fire for those nights when you want to relax and get cosy. The chalet is positioned just above the centre of the village with easy access to the main lift station and plenty of trees all around! If you're thinking of bringing your furry friend, we're certain they'd love it here.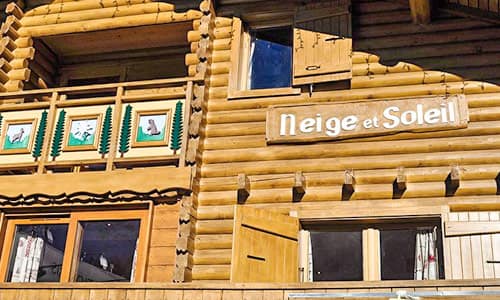 Chalet Soleil
Chalet Soleil is situated in the heart of La Plagne 1800 just 30m form the pistes and right by the lifts. It is a 5 bedroom chalet for 10 guests with all en-suite bathrooms a hot tub and log fire. It's a well equipped, comfortable and in a perfectly convenient location for you and your best friend to enjoy all La Plagne has to offer.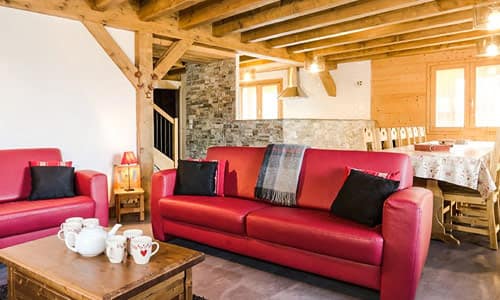 Chalet Boule de Neige
Chalet Boule de Neige is situated right beside Chalet Soleil in the centre of La Plagne 1800. It is a 7 bedroom chalet which sleeps 14 guests who enjoy a hot tub on the balcony a log fire and comfortable surroundings. Just like Soleil, you are very close to the lifts and piste as well as the amenities of Plagne 1800. There are plenty of paths to walk in local woods with your dog, you'll both have the time of your lives.