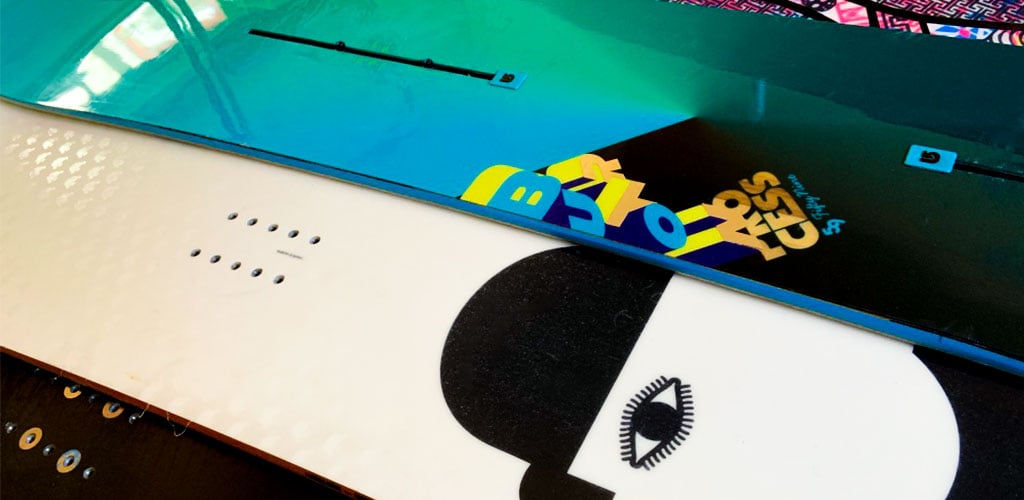 There are snowboards, there are bindings and then there's the way those bindings attach to the board. If you're going to get your ideal snowboarding set-up you'll need to make sure you take into account how you'll fix your bindings to your board. If you buy incompatible bindings for your board, you'll find it hard to rip up the slopes on your Courchevel chalet holiday. The first step is understanding the different binding systems out there. If you're also learning about snowboards, click here to find out about different types of snowboards.
There are 4 main types of snowboard binding system out there.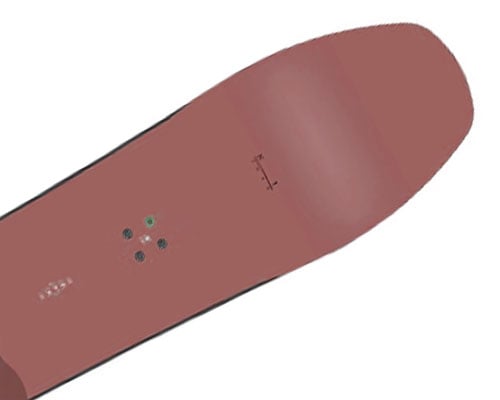 4×4 System
The 4×4 system is nice and straight forward. You get holes that are 4cm apart in rows that are 4cm apart. You often get 3 rows for each biding so you can set the binding 4cm forward or back from the prescribed central position. This works with the standard 4×4 binding disks. There's nothing wrong with this system, you use 4 bolts per binding and the board mounting points determine your option as to where you position your bindings.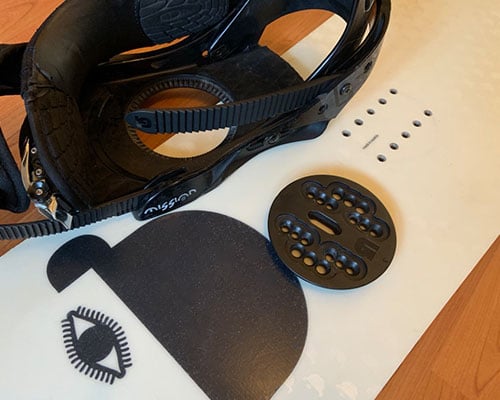 2×4 System
This is where you have holes that are still 4cm apart width-wise but in rows that are just 2cm apart up and down the board. You might have 6 rows of these per binding and compared to the 4×4 system it simply gives you extra holes and extra choice over where you fasten the binding. These also work just fine with standard binding disks, you still fasten 4 bolts through the disk in a 4×4 configuration, it just gives you more options to position your bindings on the board. For example with all-mountain boards you might want to set up your mounting position for the piste and park and then move it back down the board for some off piste powder.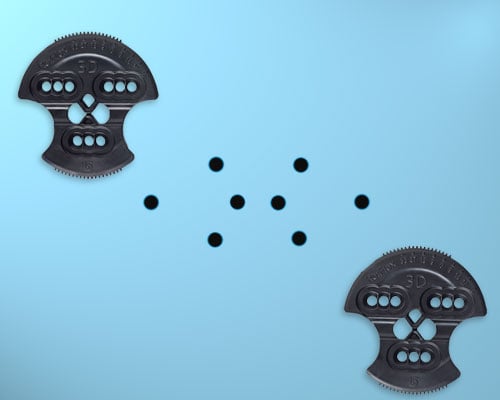 Burton 3-Hole 3D System
Burton like to do things differently. The 3D hole system is no longer available on new Burton boards but there are plenty of older ones still out there. These uniquely shaped plates make use of only 3 screws. Most bindings are available with different disks compatible with the 3D system but the standard baseplates do not usually work. A multitude of converter plates are available for different bindings so tread carefully if you're trying to fit bindings to a Burton 3 Hole board. These days all Burton boards come with their 'Channel system' which brings us smoothly to our next and final binding system.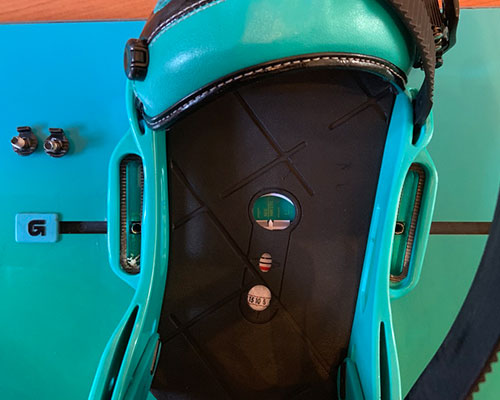 Burton Channel System
Burton invented an all new way to fasten bindings to a board and it boasts a few benefits over the 'discs and bolts' methods above. There's a pair of reinforced slots in the centre line of the board. If you use Burton's own EST bindings you have no disk under your foot, two small screws clamp down on the outside of your bindings into the metal fasteners in the snowboard slot. If you use Burton ReFlex bindings or most other snowboard bindings, you can mount to a Burton Channel board but using the plate under your foot. Most bindings can be bought with a special baseplate that's compatible with Burton Channel but take care because some don't and others sell it separately. Doing it this way works but you don't quite get the full benefits of the Channel System as you have your fastenings under your boot, only with Burton EST bindings do you get the full benefit of their Channel system.
Benefits of Burton Channel
It gives you total freedom of positioning, you can slide the bindings and clamp them down exactly where you want.
It's quicker to adjust and set up than 'plate and bolt' bindings.
Your foot is closer to the board (by a few mm) which gives you a touch more control and tactile feedback from the flexing of the board (with EST bindings)
This type of fastening allows the board to flex more naturally as it spreads the points of contact (with EST bindings)
It can all weigh a little less. You save a bit of weight using the EST bindings with a Channel System board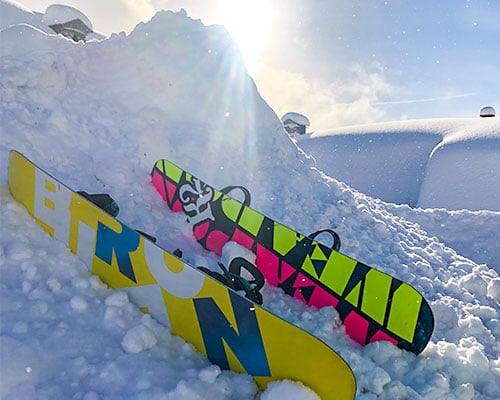 Our review
We have several snowboards, all use the 2×4 system apart from the newcomer. When we last bought a snowboard, we concluded we needed to check out the difference between 2×4 and the Channel system and picked up a Burton Process 159 all mountain board and Burton Custom EST bindings.
It's hard to be sure how much of the performance is the binding system but we did feel in control and in touch with the board when using the EST bindings and channel, the channel system is certainly easy to live with and adjust, however we found it can come loose after a few days of use. We always advise boarders have a screwdriver with them out on the pistes, we favour adjustable ones with removable heads that your store in the handle. It means if we fall, it doesn't have a pointy end to land on. A few moments with a screw driver and loose EST and Channel bindings are secured easily, if we didn't have the screwdriver it could be a major pain.
We also ride boards with the good old fashioned 2×4 system and get great performance. Olympic freestyle stars use a variety of binding systems so no way is the right way. We feel we might prefer the Burton Channel but are quite happy to ride boards with standard fittings if we prefer the board. Although all fastening methods work well enough, it's clever of Burton to create a system with some advantages over the standard one that works with most bindings but best of all with their own bindings. We can't tell you which system to go for, in fact we can tell you that you'll be fine with any system as long as your bindings properly match the system used on the board and you've got a board, bindings and boots that suits your ability and style.