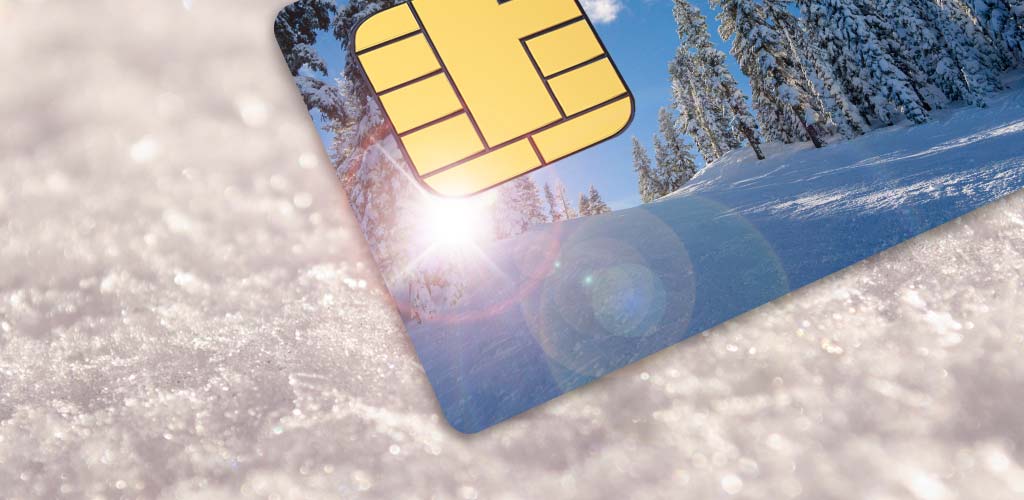 Are pre-paid currency cards, the best way to do foreign exchange?
The vast majority of Brits who go skiing will need foreign exchange but how we go about that varies, we have a lot of different habits. If you haven't seen it, you can check out our article on keeping your money safe but in this article we look at one of the increasingly popular solutions, using a prepaid currency card.
What is a currency card?
A pre-paid currency card (also know as a 'travel money card') will be backed by Master Card or VISA so it's accepted anywhere but it is not a credit card.
You get the card for free or a nominal fee from an FX (foreign exchange) provider like Fair FX or Caxton. Then you top it up with a pre-payed currency of your choosing.
You take the card away on your skiing trip and can use it at a cash machine or to pay directly using card machines.
So once you have the card it works very similarly to using your credit card it works a few main advantages.
Advantages of using a currency card on a ski holiday
Control your spending. You can top up what you want to spend so you don't end up checking your account & having a shock.
Hand out funds to others. Families and ski groups can find currency cards really useful. You can get a currency card for each member of the group and can choose to top them up with a holiday or even daily budget.
If you lose the card you've not lost your funds. When a card is lost you can cancel it easily & order another. If you feel this is a risk you're able to take out another card for the same account & so have a spare just in case.
The exchange rates are competitive. Compared to the good old Bureau de Change at the the airport you'll find exchange rates are very competitive and give you little reason to shop around.
Very low fees – Unlike many debit & credit cards used abroad there are few extra fees or above market exchange rates involved in making payments & withdrawing cash. Different currency card providers offer different fees and benefits but the overall cost is low.
It's all controlled quite simply over the internet. Topping up your card or checking your balance takes very little time & you only need your phone so managing your foreign exchange is easy.
Last season we lost a wallet whilst visiting our chalets in Courchevel, which because we'd stopped using cash cost us very little to replace, years ago I once dropped a wallet with over €500 in it. Using a currency card won't change your life but we've found them to offer an attractive mix of convenience, value for money & security when it comes to taking money abroad.
Comparing currency cards
There are dozens of different travel money cards on the market, they can be compared across a number of features. To assess which is best for you, you need to know what to look out for & find a card that fits your spending habits. We hope we can help you understand the features of the card & give you some tips on how to choose.
Transation fee – Are there charges applied when you spend money or top up?
Cash withrdrawl fee – Is there are charge for using the card to withdraw cash in the U.K or abroad?
Coverage – Which currencies can be loaded onto the card?
Exchange rates – Different providers offer different exchange rate policies across different currencies. Looking at transaction fees alone may leave you out of pocket if you are getting a less than ideal exchange rate.
Monthly fee – Is there a cost just to have the card? Some of the best cards for frequent users have monthly fees, but these monthly fees or 'dormancy fees' (where you are charged if you don't use it enough) can be unwelcome for those who use a card infrequently.
Card fee – Is there a cost to get the card in the first place
Lost/Stolen replacement fee – If you need a replacement, what is the fee?
With all these features to compare it can be tricky to weigh it all up. To make it easier to choose, try and make a guess and how you're going to use the card by asking questions like these.
What currencies will I use?
How much might I top the account up with over a year? Would I top it up in many smaller transitions or in one big transaction?
How will I spend with the card? Will I only be withdrawing cash or only paying by card? Maybe I'll do a bit of both?
Will I be an frequent user?
So if you'll be topping up in large chunks of just one currency & spending it in large chunks you'll want a card with an excellent exchange rate in that currency & one that does not apply a % charge to your top up and transaction amounts. If that card cost £5 and had a small monthly fee, that might be perfectly acceptable if you got a great overall rate.
Maybe you'll use it just once a year, top it up once & spend that money in cash & card transactions throughout a week. In that case you might be looking for a card without monthly fees that offers a good exchange rate & low transaction rates. Remember if you make small transactions regularly a percentage rate may be better than a fixed charge per transaction.
Where to shop for currency cards?
Websites designed to help you shop for financial products are the best place to go to compare the features and benefits of different cards. Sites like Money Supermarket can give you a up to date information on the cards available & the various rates on offer.
We've been using cards from Caxton FX and Fair FX. They differ slightly on the fees and exchange rates but the overall value has been very similar indeed. Both have been equally easy to top up & manage. We would advise that it's important to have a credit card as backup as some hotel card systems or those that 'pre-authorise' payment don't like currency cards.