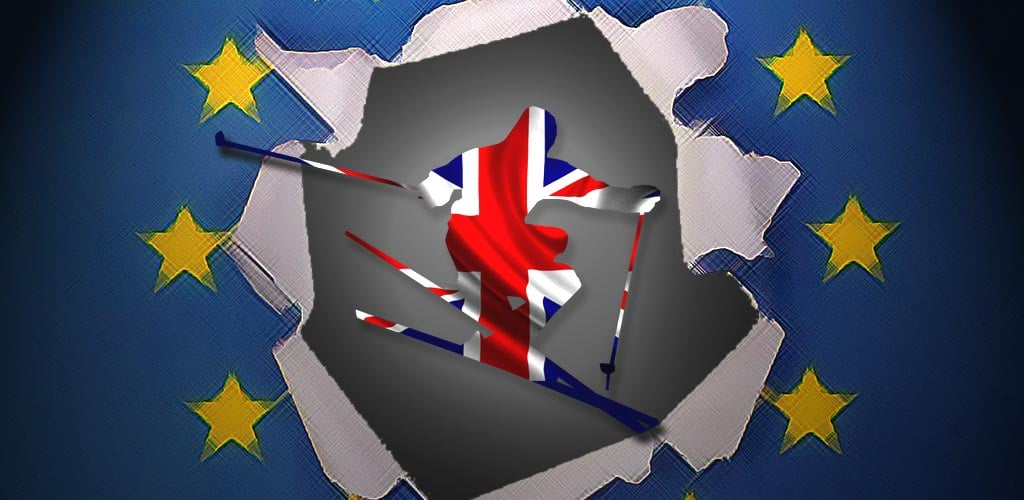 The prospect of the U.K's exit from the E.U and its likely effect on Mountain Heaven and the British ski industry in general.
We the Brits stand on the brink of a once in a generation decision about our membership of the E.U. The issue has split political parties & the general population but fewer industries.
In recent months Mountain Heaven have looked at the prospect of facing a so called 'Brexit', as have many businesses trading in and around Europe. We've been talking to our friends and colleagues throughout the industry and have noted the recent report from ABTA entitled, 'What Brexit might mean for U.K Travel'.
We feel we must speak out and offer our conclusion to our customers & online audience in general.
We have concluded that the cost of skiing in Europe will rise significantly if we leave and that Brexit is not at all good for British Skiing.
MD of tour operator Le Ski was quoted as saying

You can basically add £50 to £100 onto the cost of your ski holiday if we leave.Nick Morgan | Le Ski
And in speaking to our own M.D at Mountain Heaven, Nick Williams

The ski holiday as we now know it will not exist if we come out of the E.UNick Williams | Mountain Heaven
How skiing in Europe will get more costly, there will be several key changes that will drive this rise in price
Exchange rate – You are likely to get fewer Euros for your pounds if we leave the E.U. This would affect all the costs where pounds become Euros. Whether directly, like your lift pass costing more pounds, or indirectly, like the cost of your holiday going up because your food is bought in Euros.
Imports of goods – The E.U has made it easy for U.K ski companies to move goods out to their chalets without tariffs and charges. Mountain Heaven run vans of supplies like HP Sauce, Marmite & tea bags every year which will likely attract charges without the E.U agreements in place.
Cost of employing chalet hosts – The costs of employing staff in the E.U will rise for all kinds of reasons. Including rising costs to insure them and the possibility of new visa or work permit arrangements from the host country.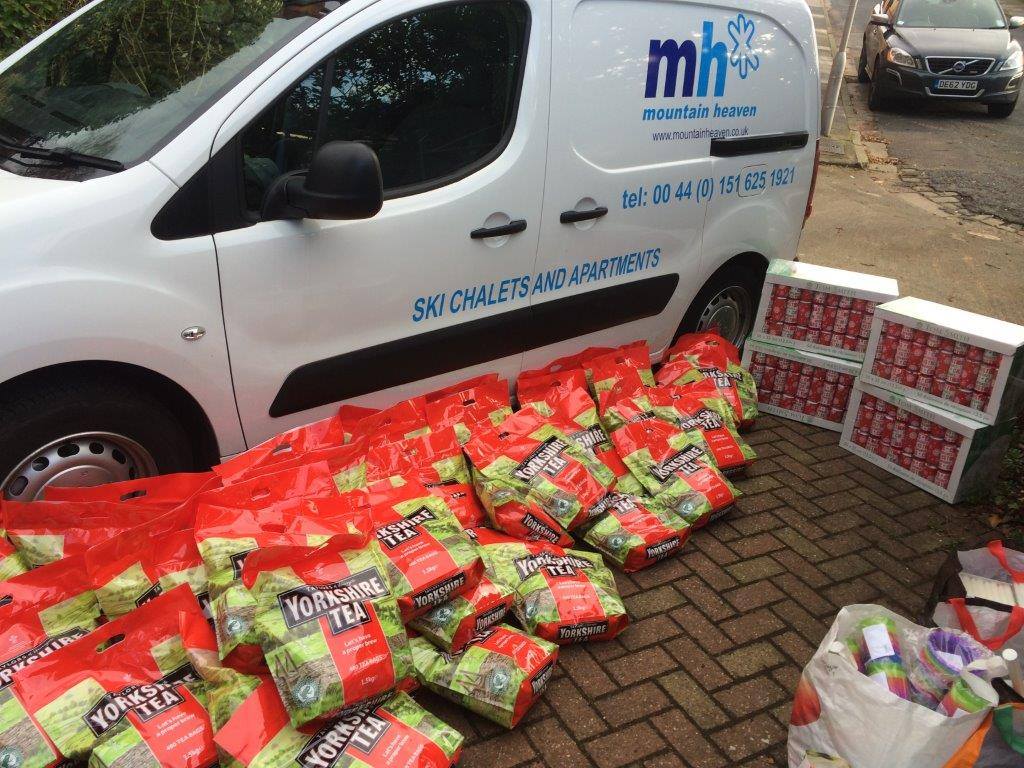 It will cost us so much more money to employ people & will play a part in increasing all our costs, it'll be a disaster if we come out of the E.U Nick Williams M.D | Mountain Heaven
Now despite our conclusion we are not saying that we feel the E.U is a flawless institution offering us only benefits and no drawbacks. We understand many of the arguments for leaving, we simply hope those that want us to leave take the travel industry into account.
Infographic
ABTA the U.K's largest travel association released a press campaign in February highlighting the benefits of our E.U membership on travel within the E.U. The handy infographic below sums this up well.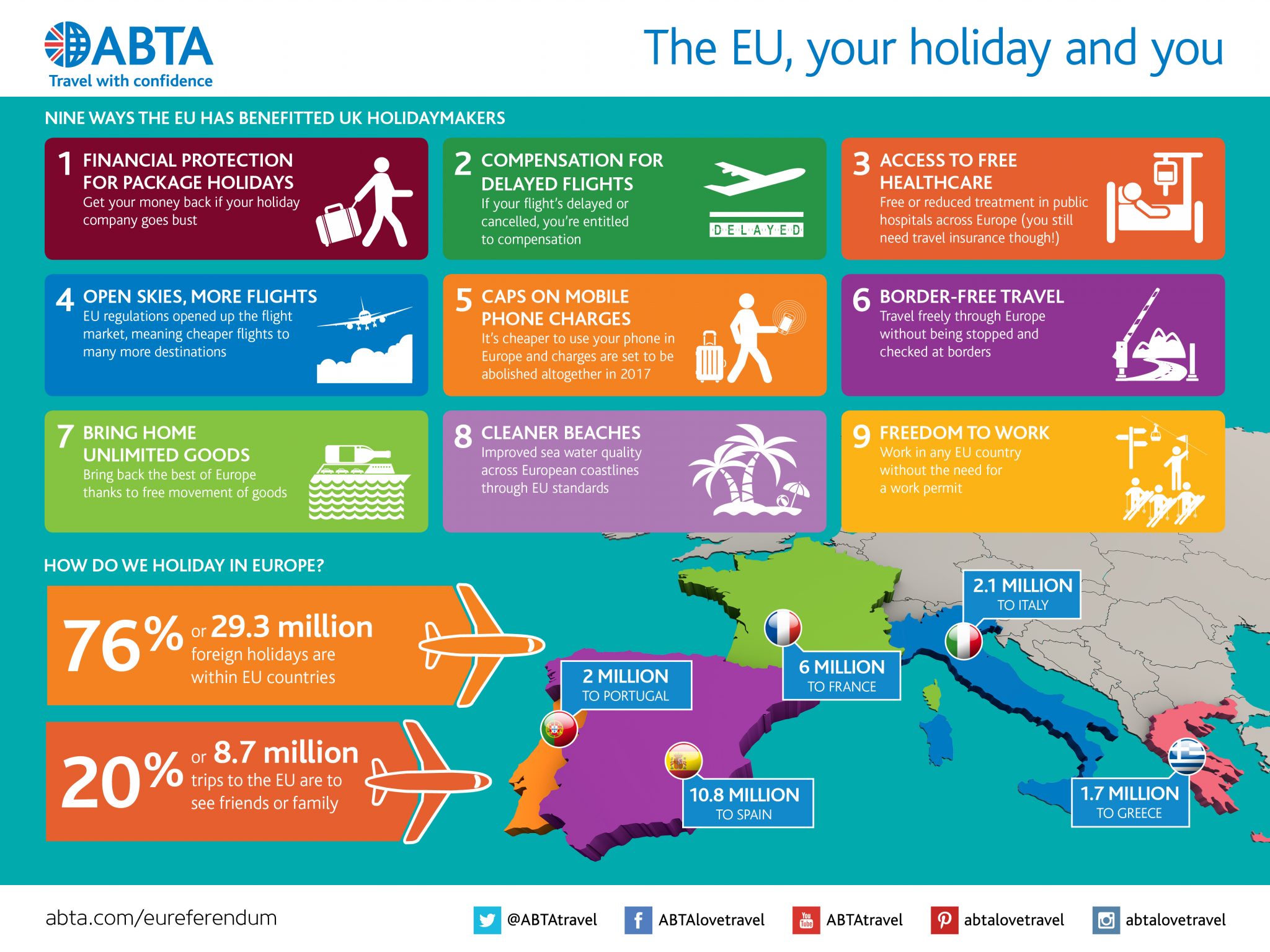 As your your friend, let me say that the E.U makes Britain even greater
Barack Obama