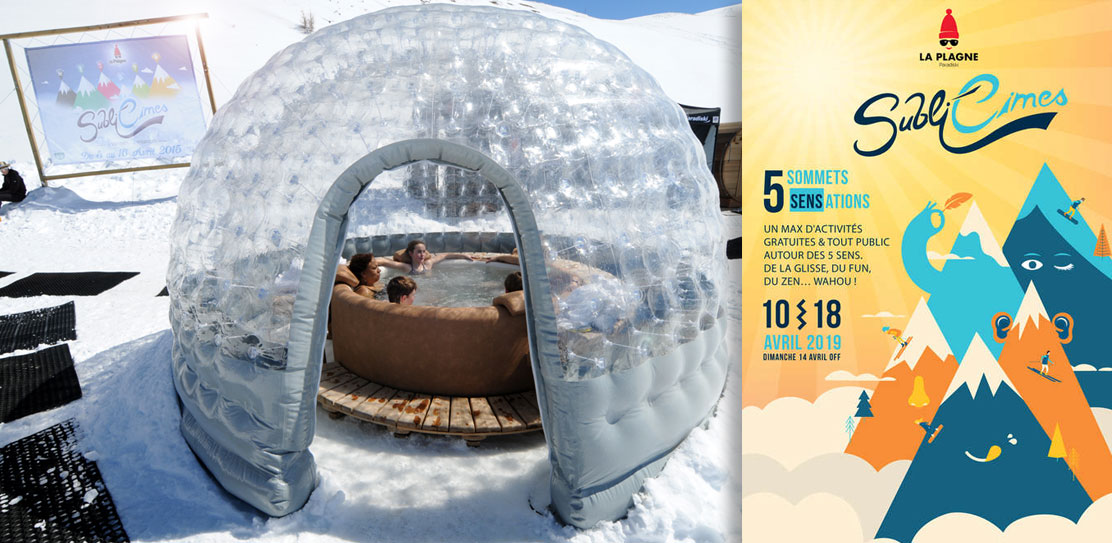 Spring is a special time to be high in the mountains. There's nearly always plenty of snow on the mountain but there's likely to be a fair bit of slush lower down. The sun is out and the smell of new growth from the valley is in the air.
You can start at the top of a high peak in cold winter conditions and find yourself skiing down to spring at the bottom. People are out in T-Shirts and even less, what a great time for some fun, games and a bit of a party!
In La Plagne they make this an extra special time by holding the massive Subli Cimes event across the ski area, it's on from 10th to the 18th of April 2019.
Subli'Cimes is free!
The best bit, it's totally free! You only need a lift pass to get up there.
Check out the teaser video
What's on offer at Subli'Cimes? The 5 Senses!
Every year diverse attractions come to the La Plagne ski area, they're set up at 5 peak locations on the pistes, all with great views but each with a different theme.
This year the theme is 'The 5 senses' and there'll be 5 peaks each with their own range of attractions.
Sound – Grande Rochette (2500m)
Described as 'the peak that will whisper in your ear' (but maybe something was lost in translation!), the Grande Rochette will host attractions based around sound. There'll be music, dancing, interactive music technology and I'm sure there'll be somewhere to get yourself a drink and spend some time enjoying the soundscape.
Sight – Roche de Mio (2800m)
Aptly described as 'the eye-catching peak', the view from Roche de Mio is fantastic. It's one of those places we always gravitate to when we're out around the pistes in La Plagne. Subli'Cimes is brining virtual reality experiences to this high altitude location. So you'll be able to see more than ever before from up there.
Smell – Fornelet (1970m)
The perfumed peak! There'll be a maze of flowers, an aromatherapy igloo and a perfumery in a yurt. I doubt many of us can say we've seen all three of these things, worth checking out?
Touch – (2400m)
This peak's attractions are focussed on wellbeing, they call it 'the peak with a light touch'. Most importantly they have jacuzzis out on the snow. It's got to be something special to take in the view from 2400m in the sunshine from a jacuzzi.
Taste – Rossa (2380m)
There's going to be food, an ice grotto shaped like a mountain and something called the 'smoothie-on-a-bike' activity which sadly we can get no further details on. It's got to be worth a visit just to find out about the smoothie thing.
Sound like fun?
So it's going to be a lot of fun touring the peaks of La Plagne and finding out what each peak has in store. Find out a bit more from the La Plagne Tourist Board.
We're fully booked for the April 6th to 13th in La Plagne but you can catch the last 4 days of Subli'Cimes with one of our catered chalets in La Plagne from 13th April. We've just made some price reductions and the event is free, so in many ways it's a great deal, 2 seasons (winter and spring) and 5 peaks of attractions.