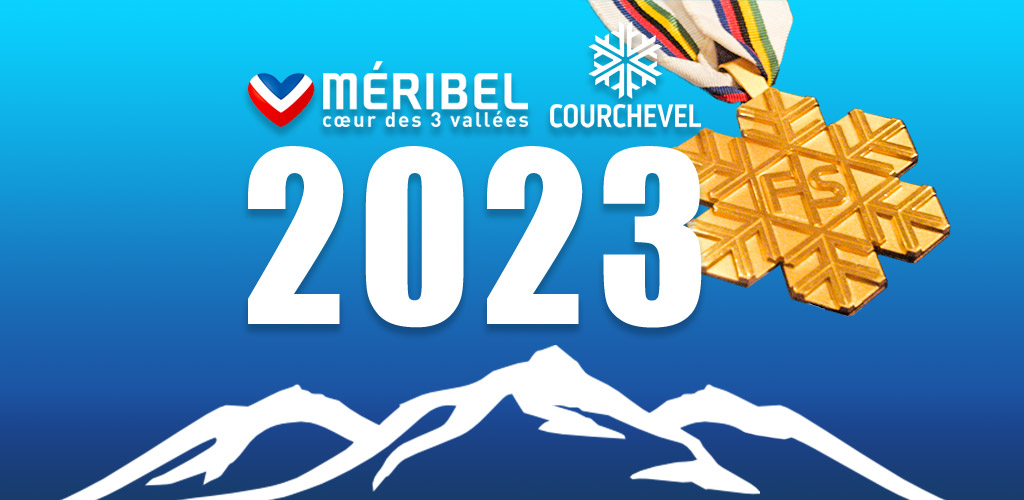 Meribel and Courchevel are 2 of the 3 major resorts of the famous Three Valleys and after a showdown with Saalbach Hinterglemm in Austria, have won the bid to host the Alpine World Ski Championships in 2023 by a vote of 9 to 6. The International Ski Federation (FIS) announced this decision at their annual congress hosted in Costa Navarino, Greece. This will be the first time France has hosted the championships for 14 years, the news has been welcomed by many French alpine skiing stars and has created great excitement in the resorts themselves, we're very excited as we currently have 8 ski chalets between the two resorts and will certainly be seeing plenty of the event ourselves.
The bid of Courchevel-Méribel was very appealing with two top-level resorts offering essentially men's and ladies' venues, which is sure to facilitate scheduling and logistics. The French Organizers are sure to put on an excellent show for the athletes, media and fans
FIS President Gian Franco Kasper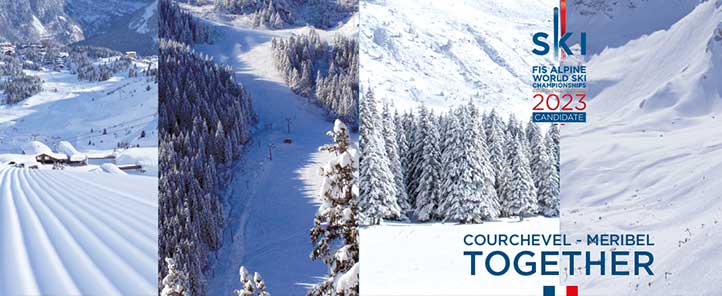 The Austrian bid team were fabulously gracious in defeat.
Lots of work and passion went into that bid, but with Courchevel-Meribel we had a very strong contender. We are now supporting our friends from France and cross fingers for great events in Courchevel-Méribel in 2023. On our side, we are not giving up: we will be candidate for the 2025 FIS World Ski Championships and hope to bring the event to Saalbach
Bartl Gensbichler, president of the Salzburger Ski Assosiation
Courchevel and Meribel 2023
What can you expect as a spectator?
The Alpine World Ski Championships are a showcase of world class slalom skiing with 10 events and some of the fastest men and women skiing to win the gold. Attending a major competition like the Alpine World Ski Championships is a great and inspiring experience for skiers young and old.
The resorts will still be largely open for business with areas zoned off for events and competition business, a buzz will be in the air and you'll need to have booked tickets to view the events you're most interested in. So you can have a great ski holiday around seeing the competition.
The event is planned to take place from 6th to 19th February 2023. The resort gets very busy during the competition and visitors are well advised to book ski accommodation in Courchevel well in advance.
They're also a lot of fun, check out the opening ceremony at the 2017 event in St Moritz.
Opening Ceremony 2017 Alpine World Ski Championships, St. Moritz
FIS Alpine Ski World Championships of the recent past, and near future
We thought it might be helpful and interesting to compile a list of the last 5 and next 3 events. You can find a full history on wikipedia.
The last 5 world championships
| Year | Resort | Country |
| --- | --- | --- |
| 2009 | Val d'Isere | France |
| 2011 | Garmisch-Partenkirchen | Germany |
| 2013 | Schladming | Austria |
| 2015 | Vail/Beaver Creek | United States |
| 2017 | St. Moritz | Switzerland |
The next 3 world championships
| Year | Resort | Country |
| --- | --- | --- |
| 2019 | Are | Sweden |
| 2021 | Cortina d'Ampezzo | Italy |
| 2023 | Courchevel-Meribel | France |