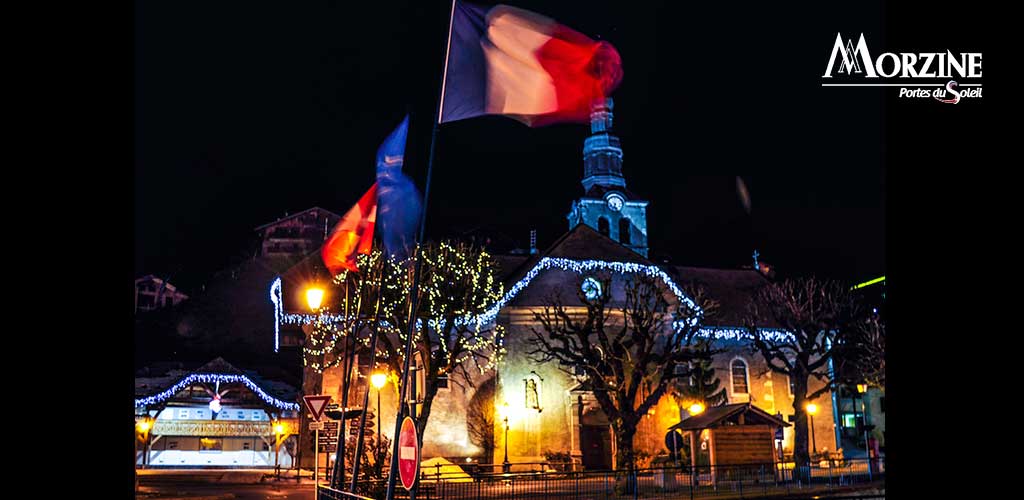 All ski resorts are different to each other and it's impossible to say which is best, we can only say which we love and what we love about them. When you peruse the top ski destinations for U.K skiers you always see Morzine in the top 20 resorts and it's likely to be the French resort with the most British ski holiday companies, in this article we explain the reason for this and help those who have never stayed at a chalet in Morzine to get the sense of this special ski resort.
Location
Morzine is in a very special location in several ways, there are few resorts in the Alps that can match it on transfer time from major airports and its location as the market town of the valley on the edge of huge mountains makes it a great place to stay especially if you love to ski from a more traditional and pretty resort.
Any skier or boarder who has been around a range of resorts will know that you get few beautiful and traditionally styled ski resorts at high altitudes. The reason for this is very simple, in older days local farmers would almost never build permanent villages high up on the mountainside, they'd build them in the valleys so as not to freeze every winter! As such you'll not find a resort at 1800m+ that's full of traditional buildings, they're more likely to be made up of modern apartment blocks. Resorts like Val Thorens (at 2300m) demonstrate this ever so clearly. There are almost no original buildings and the vast majority of the ski accommodation are apartments or hotels. This works as a roof over your head by the snow but won't give you an authentic French mountain town experience. Morzine is the exact opposite. Morzine has been a busy market town in the Alps for over 500 years as agriculture and mining gave way to tourism over the last 100 years, it has retained its original buildings and style despite growing into a modern and lively resort.
Morzine has a fantastic location in other respects. It is one of the closest major ski resorts to Geneva airport, the most popular airport with British skiers. A transfer from Geneva takes about 1 hour 20 minutes, that's a full hour less than visiting the Three Valleys. This makes it that bit more convenient than nearly every other French resort for the British.
Finally Morzine is located in the giant Portes du Soleil ski area with access to a huge network of pistes and lifts, there'll be more on this later in our article. Just on the basis of location, Morzine has so much going for it and is hard to beat.
The resort
As we explained when talking about location, Morzine is a traditional market town that has tastefully evolved into the ski resort that it is today. When you go for a walk around the town you see a range of 'low-rise' chalet roofs coating the treelined valley and a pretty Church spire at the old town centre. Although Morzine has a clear and defined town centre it also has a couple of sister villages just out of town, Essert-Romand is further up the valley and Montriond in an adjoining valley with its stunning lake of the same name. The grand Morzine suspension bridge to Montriond is a pretty sight and suits the town well.
If you like a lively resort centre, Morzine will not disappoint. You'll find a range of shops, plenty of places to hire skis in Morzine and plenty of bars and restaurants. If you happen to be staying at Mountain Heaven's chalet in Morzine or one that's similar, you will find that your chalet hosts have the night off on one evening allowing you to head out and find a restaurant. Although there are lots of places worthy of praise, in this article we can only recommend one. We are of the mind that if you're in France in the heartland of Alpine food culture, then it's best to sample a great example of local cooking rather than go hunting for the kinds of foods you can easily find back home. If you agree with these sentiments then we expect you'll love dinner at L'Etale, which you'll read more about a little later.
The lifts & pistes
The ski lifts in Morzine are varied with many modern 2-speed chairlifts, fast Telecabine lifts like the Super Morzine or the Pleney and cable cars like the Nyon but there are also a few older chairlifts that can be a bit slow going up the mountain and tricky for beginners as the chair comes through into the back of the legs. There are nursery lifts around the learning slopes and plenty of ideal facilities for learners at all levels. A friend of our blog and budding digital media action man Jacob Whitmore took his first trip to the Alps and visited Morzine, he told us about how it was to learn to snowboard in Morzine, but in short he got on great and really liked the resort.The Morzine and Les Gets area has a vast and quite complex lift system that a takes you around a range of peaks and into different valleys around the area. There are varied pistes at mostly an intermediate level, you can find exposed technical reds and blacks (see Pointe de Lyon and La Rosta) and jolly tree-lined blues like those around the Pleney. You can spend at least a week exploring Morzine and Les Gets and not want for more piste but those who are wanting more will not be disappointed. Morzine and Les Gets is just one part of the vast ski network of the Portes du Soleil. From Mozine you can link up with Avoriaz via shuttle bus and take on a whole new area which itself links to several more all included on a Portes du Soleil area pass.
The ski area is known for its great powder. A popular theory as to why is again, down to the location of Morzine. Being amongst the first high mountains on the French Alps side of Lake Geneva gives Morzine and the Portes du Soleil an extra snow boost as moist air comes off the lake and up into the cooler mountains. When the conditions aren't great lower down in Morzine you often find they are up on the mountain or take a trip to Avoriaz to access even higher altitudes.
Food & Drink
Food and drink on the piste is generally reasonable with the usual ski resort markup from your average cafe but nothing extreme. There are plenty of lodges with good local and pub food and drinks to suit all tastes.  If you fancy a bite out on the slopes it's nice to take a trip down to the lovely village of Les Gets. There are all kinds of cafes and restaurants there, see our recommendations for the one that's worth the visit.
Would recommend
Les Notes Gourmandes for lunch
Les Notes Gourmandes is a lovely bar restaurant in Les Gets, the staff are friendly and very accommodating and the food delicious. When it comes to customer service we've found many piste-side and resort restaurants to be lacking, staff often seem rushed or sometimes are just plain rude. Les Notes Gourmandes is completely different, we went twice and had a lovely experience both times. Plus it's got style! It's refreshingly modern, fun and full of colour with music and arts references and memorabilia on the walls. There's attention to detail too, we noted the vinyl records pinned to the wall with coloured drawing pins each had perfectly matching coloured drawing pins! There is outdoor seating, with blankets provided for chilly days and an awning overhead so you can sit happily watching the snow fall as your drink your beer and eat a burger. We'd definitely recommend the omelette, burger American or the croque monsieur and advise you to prepare for large portions.
L'Etale for an evening meal
When looking for traditional French cuisine in Morzine you'll be spoilt for choice but we would highly recommend visiting L'Etale, close to the Pleney lift. Make sure you book ahead and ask to be seated downstairs as the two levels of this fantastic restaurant are quite different. You enter a friendly looking cafe style restaurant serving pizza and burgers amongst other things but as you descend the stairs to the lower level you enter a beautiful candle lit restaurant with walls decorated with traditional farming tools. The service is first class with attentive and helpful waiters and the food is absolutely delicious. Their menu is varied with a wide choice of dishes to suit most tastes, for starters we would recommend the seared scallops or escargot in garlic butter sauce. For the main course their steak tartare is divine and the duck breast, which comes topped with a decorative flower, is also extremely tasty.
Would not recommend
Le Grand Pre, at the base of the Troncs and Charniaz chairlifts, is not one we'd would recommend. At least not when it's a busy day. We found ourselves waiting at the service window for some time, while staff were busy bustling around inside, without being acknowledged, which left us wondering whether we could even order from the service window. In the end we found that we could, but then found that we had to pay extra for a napkin, so wished we'd chosen a different piste side bar to stop at.
Where to stay
Morzine has retained its traditional styling by allowing only wooden low buildings (mostly chalets) and there are lots to choose from. Being a real town means it's not been positioned with access to the slopes in mind and being also a town comprising of chalets dotted around the valley margins, location is really important in Morzine. It also comes down to your priorities. If you want to stay right in the middle of the action but don't mind a short walk to the lifts, the resort town centre is the place to be. If you want to be very near the lifts and a walk from the town centre, Chalets like Mountain Heaven's Chamois d'Or are ideal but rare.
Mountain Heaven are big fans of this pretty resort, so much so that we've invested in building a chalet there. Hopefully for the 18/19 season we'll be announcing a brand new chalet for our guests to enjoy.
About Chalet Chamois d'Or
Incredible location for the lifts, few chalets in Morzine have such easy access
Great views out across the valley, down to the river and above to the peaks of the ski area
The outdoor hot tub with views down the valley is a real treat
The chalet has plenty of space to relax in