Penthouse Chalet
La Rosiere, France
Call us on 0151 625 1921
Catered
14 people
6 bedrooms
Overview
La Rosiere is known as a modern, well-equipped and family-friendly resort with an exciting ski area that stretches over the border in to Italy. High calibre accommodation is hard to find however so The Penthouse is something particularly special here.
The spacious Penthouse boasts a stunning panoramic views across the Tarentaise Valley which you can enjoy through the large full length floor to ceiling picture windows or out on the balcony these open out to. Indoors there's a huge open-plan lounge and dining room with plenty of comfortable, stylish seating centred around a feature fireplace, and six large bedrooms, all en-suite. You can enjoy a glass of wine while the sun sets over the mountains or relax in the hot tub after your day on the slopes.
At a Glance
6 en-suite large bedrooms sleeping 12 adults and 2 children
Huge open plan living and dining area
Outside Hot tub
Floor to ceiling picture windows
Approx 200m from lifts and ice skating rink
Real fireplace
Television with UK Freeview DVD player,and blue tooth speaker
Free WIFI
Boot room with boot warmers
Underground parking upon request
Hairdryers in all bedrooms
Staff live in
In Detail
Bedroom 1 is a twin downstairs overlooking the valley
Bedroom 2 is a very large master bedroom downstairs overlooking the valley and with a private balcony with stunning views
Bedroom 3 is a twin downstairs looking up the mountain
Bedroom 4 is a double looking up the mountain
Bedroom 5 is upstairs and is a double looking up the mountain and in addition has a room with 2 single beds in it making this an ideal family suite. This room has restricted height in a number of parts
Bedroom 6 is upstairs and is a twin looking up the mountain
Location
The Penthouse is located approximately 200 metres from the main Les Eurcherts Express chairlift, ESF Ski school meeting point and the piste. Les Eurcherts has its own bustling centre with shops, bars, restaurants, a bowling alley, ice rink and ski school.La Rosiere centre is a short free bus ride away or a pleasant stroll along a pretty forest track, which is well lit in the evenings.
Group Discounts
When you book the whole chalet you get one free child place.
What's included
Our catered price includes:
7 nights' accommodation
Continental breakfast with daily hot option on 6 days (self –service breakfast on the chalet staff day off)
Afternoon tea with freshly baked cakes on six days
3 course evening meal on six nights
A selection of complimentary hand-picked bottled wine served with the evening meal
Children's dinner at 6pm (if required)
Complimentary toiletries from the Bath House
Free WIFI and UK satellite TV and Bluetooth speakers
Dedicated and helpful service from all the Mountain Heaven team in resort
Pre-holiday assistance with help with booking you ski passes discounted equipment, lessons, massage and other activities in resort
Complimentary airport/train transfers (discounts are available if not required)

Fully private transfers from any local Alpine airport/station (whole chalet bookings only)
Shared transfers from Geneva for room by room bookings (strict terms and conditions apply)
Additional optional services available:
Fully private transfers at a small additional cost if booking on a room by room basis
Wine upgrade to our Flagship chalet wine
Massage
Free underground parking upon request
Discounts/Notes
Children under 12 - 10% discount
We do not accept babies under 2 in any shared chalets, only as part of a whole chalet booking. For any babies above the maximum occupancy there will be a charge of £100 per baby plus any additional private transfer costs if applicable. Please note we do not provide any baby food, fresh milk or due to hygiene rules we do not provide any baby bed linen, towels for babies etc, but we do provide travel cots and high chairs if prebooked and are available
Unoccupied beds - If you occupy a double/twin room by yourself unfortunately we have to charge the empty bed at the full rate less £100.
When using the family area in bedroom 5 then children up to the age of 16 only are priced at 50% of the normal price (not any discounted rates) however this is only available for large groups we do not accept bookings for this room only
Note: Please note that no child or other discounts apply to the whole chalet price
Testimonials
Please read our reviews below and also checkout our Tripadvisor reviews by clicking on their logo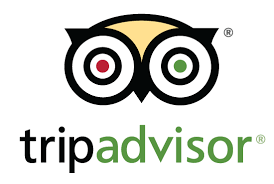 Thank you for a fantastic holiday. The food and hospitality have been formidable

A wonderful stay. Christmas week was made special, thank you. The chalet hosts were very professional and friendly.

Great stay. Tracey and Andy fantastic hosts. Excellent location, comfortable chalet. High tea for children worked really well

We have had a fantastic stay. Tracy and Andy have looked after us incredibly well and so patient whilst we dealt with our kids

What a fantastic week we have just had. Good food, good accommodation and good skiing

This week has been one of the best we have ever had. Great chalet, Fab food, Fantastic skiing

First guests of the season, first time in La Rosiere, beautiful off-pistes, bright blue skies, delicious food, lovely hosts, and a very memorable week. Thank you for letting us stay here. It was amazing and the food was lovely. The slopes are really good, there's loads of brilliant off-piste. The best bit was the food that was amazing!

Amazing lovely chalet hosts who were good company. There was really tasty food and excellent skiing! Would come back to Mountain Heaven again!!

It has been such a pleasure to be looked after by such a lovely team. Georgie, Charlie and the wonderfully cheerful Kiri have not only fed us royally and always on time, they have answered all our questions and been such good company along the way. The whole chalet has got on extremely well together even though there were three separate parties and this certainly has a lot to do with the Mountain Heaven crew. A very easy week and a total break. Thank you Mountain Heaven.

The hot tub was well received but was a small addition to an excellent week in a superbly welcoming chalet

We have had a fabulous stay. Tracy and Andy have been great hosts. The chalet location is good, close to the chair lift, bars and shops. This was our 4th time back in La Rosiere!!!

Wonderful hosts, chalet was beautiful

Thank you for being such fun, hospitable hosts. You made coming back into the chalet like returning home. Skiing holidays will never be the same again we have been spoilt rotten. Thank you for a fantastic week; nothing has been too much trouble, great hosts, great food and brilliant company.

A lovely chalet really pleased with all aspects especially the hosts

Thank you very much for a great stay. Hosts Charlie & Georgie were fantastic and a credit to the company. Would happily recommend to friends.

Thank you for a lovely stay, efficient competent service.

Thank you for a really fantastic week. Delicious food. We love the hot tub, the array of cakes and the roaring log fire

Fantastic chalet and both Charlie and Georgy could not be more helpful! Found the hot tub to be a fantastic way to relax and unwind. Thanks again and we will be back!

Wonderful, friendly hosts that made the stay easy and stress free. A good location with great views. Access to the slopes was easy.

The hospitality has been great and the hosts made us feel welcome with their willingness to always go the extras mile. Each night we felt like we were dining in a Michelin star restaurant

Fantastic chalet, brilliant hosts, Tracey and Andy are wonderful hosts, with amazing food and the children were so well fed, they loved it.

Great holiday, lovely chalet thank you for being excellent hosts

Fabulous week, accommodation lovely, food really made the week - excellent menu. First class chalet hosts

We've had a fabulous holiday and we've been very well looked after by Tracy and Andy.

We were back again it was as good if not better than last year. Another amazing holiday in La Rosiere Thank you

Georgie and Charlie were fantastic diligent hosts and prepared super food consistently. We enjoyed their company and they were extremely helpful on advice on things to do. All very good thank you

Excellent stay with great company! Highly recommended we will definitely be back. The only thing we all said would be good (but out of your control) would be ski lockers at the slope. Thanks for having us. Haselgroves,bishops and Jarvis's

I have had a fab time; I really want to come again. I love the food - the sofas were cool!

Wonderful stay in a gorgeous chalet, the hosts looked after us so well and the food was gorgeous

Tracy and Andy were excellent hosts - thank you so much. They were friendly and looked after us including wonderful cooking, and adapted timings to help us. We've stayed at Ch Penthouse before and found it again comfortably to meet all our needs. The new sofa arrangement made the sitting room much more sociable. The ability to leave skis at the rental shop was an added convenience.

Charlie and Georgy were first class hosts. Nothing was too much trouble. They are a credit to Mountain Heaven and their parents. The food was outstanding quality and plentiful. The wine was very good too. Georgy is an excellent cook, we returned each day to some freshly made creation which went down well with the troops!

Great stay at the penthouse chalet, hosts Andy and Tracey were great, a real credit to the company. Every meal was perfect and good knowledge of the area. Overall enjoyed our stay and would recommend Mountain Heaven to anyone.
Beds were the most comfortable I have ever slept in.

Thanks for your marvellous chalet hosting, the food was fantastic and as for the home baking!! Both the chalet and the company were excellent.

Lovely chalet in a great position next to the slopes. Good size, great for a group. Tracey and Andy were very welcoming and helped with all our needs. We would recommend this chalet and stay again.

Great welcome on late arrival.
Hosts very happy to help at all times.
Chalet clean , warm and great for group stay.
5 star service at all times, our group of ten people loved the whole experience and we would all recommend this chalet in the future.
Tracy and Andy were superb throughout the week .A big Thank you to them from the Marskell Party
Caroline Auckland

Dec 2015

Mike, Charlotte etc,

Feb 2015

Frances Vinycomb

Feb 2016

Sophie and Katie

January 2014

The Fielding & Vitty Families

Gill and Scott Murray

March 2015

Porter Family

February 2014

Stuart Haselgrove

Feb 2016

Hylands, Simpsons and Bowes
Meet your host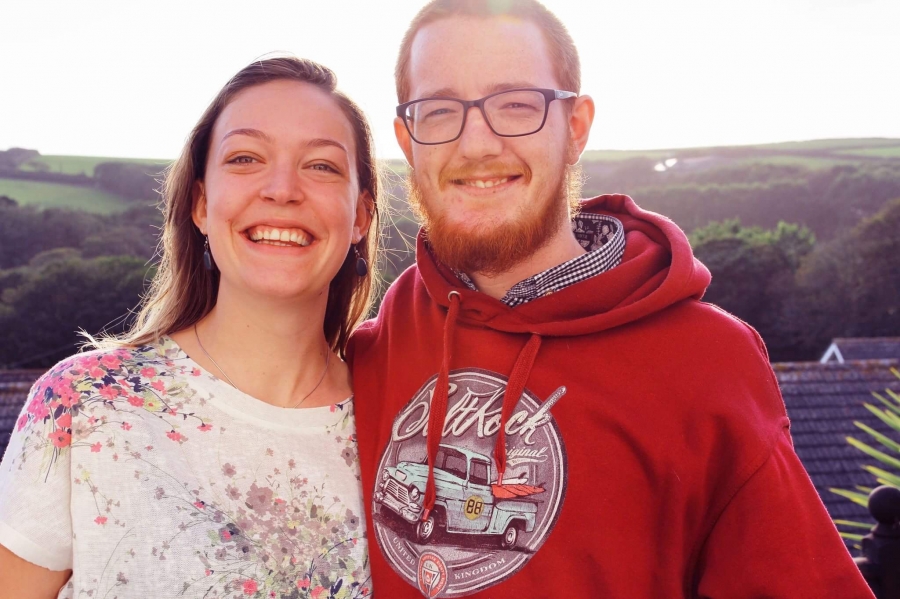 Alex and Lily
Hi we are Alex and Lily and we will be hosting the penthouse chalet for the season. Alex is 22 and Lily is 21. We have known each other since a young age but finally became close after leaving school. We have been together now for over 5 years and have loved being able to explore and grow together. Sharing a massive love for the outdoors from growing up in Cornwall we saw this as the perfect opportunity to develop a new chapter of our lives and meet a vast range of people. Alex has a love for board sports and extreme sports and Lily has a love for art and loves getting sucked into a good book. We have only spent a couple of days in the mountains so don't have a huge amount of skill when it comes to skiing or snowboarding, but that was all it took to fuel the fire and kick-start our dream of working a winter season. We are both excited to learn and can't wait to begin our adventure! We have both worked in hospitality for a number of years and love the social aspect of the job, meeting new people and learning about all sorts of different walks of life. We picked Mountain Heaven because of the friendly approach, beautiful chalets and amazing locations. We can't wait to start our season, develop our passion for skiing and snowboarding and meet a lot of amazing people along the way. We believe we can make this a season for you to remember with lots of new memories and experiences gained.
Food & wine
Mountain Heaven is a small company with a big wish: for you to enjoy an amazing ski holiday. So put your feet up and let us look after you, taking care of all the cooking and cleaning so you can make the most of your precious time. During your stay we will serve you hearty breakfasts, tasty home-made cake for afternoon tea and a delicious three course evening meal each evening for six nights of your stay, all complimented with unlimited bottled wine.
Breakfast
As skiers ourselves, we know how important breakfast is to set you up for a good day on the mountain so take your pick from porridge and eggs cooked to order, French bread, preserves, flaky croissants, yoghurt, muesli, cereals and each day a differing cooked option which includes sausages and bacon, fluffy pancakes, scrambled eggs with smoked salmon, all served alongside fruit juice and freshly brewed coffee or our specially imported Yorkshire tea.
Afternoon Tea
It's a favourite chalet tradition, coming back to your chalet at the end of a hard day on the piste to a freshly baked cake along with tea and coffee.
Dinner
Put your feet up and relax with a Vin Chaud while your host cooks your delicious three course candlelit dinner. Our evening meals are friendly and sociable so you can take your time and enjoy the food in a dinner party atmosphere.
Our menu is freshly prepared to create delicious wholesome dishes that range from local mountain favourites such as a traditional rich boeuf bourguignon to delicately fragrant chicken all served with delicious accompaniments and seasonal vegetables. We finish with scrumptious desserts such as a classic warming apple crumble or a melt in your mouth chocolate fondant. All of our food is complimented with a choice of handpicked wines supplied by our wine merchant Le Verre Gourmand and finally we round off the evening with freshly brewed coffee and tea.
Wines
Your host will serve our house wine throughout the meal which we have specially chosen to accompany the dishes on our menu. We have a good selection of white and red wines based on our pre-season wine tastings which we do every year plus invaluable feedback that we receive each year from our guests. In addition when you book the whole chalet you may upgrade to our premium selection please contact us for details
Children's Meals
We are always happy to provide an earlier evening meal of family favourites, for our younger guests, just let us know their likes and dislikes and we will do the rest.
Special Diets
If you have any particular dietary requirements please talk to us beforehand so we can do our best to get things just how you like it. We are able to source some ingredients for you as long as we know beforehand. Vegetarian options are available on our normal chalet menus and there is no charge for this.
We can cater for other special diets such a vegan, gluten-free, dairy-free, wheat-free, specific food allergies. Etc. There will be a charge of £40 per person per week. Any dietary requirements must be advised to us at the time of booking in order for us to be fully prepared. Due to our delivery service for food it does mean that we cannot cater for any special diets that have not been notified to us at least 2 weeks before arrival.
Staff Day off
Our chalet staff have one day off during your stay. On their day off breakfast is provided for you and it will be all laid out the night before. In the evening it's a great chance to try out one of the local restaurants; your chalet host will know all the good ones and will be pleased to make a reservation for you.
Mountain Heaven "Plus" Service Option
We offer a Mountain Heaven "Plus" option to all guests who have booked a whole chalet and wish to upgrade to this service. This enhanced service includes, canapes, our candlelit three course dinner accompanied by our premium wine together with a local cheeseboard and freshly brewed coffee, tea and chocolates. Please let us know a couple of weeks before your holiday and we will arrange everything for you. For full information including the charge see our extras page or contact us.
Sign up to our newsletter!